FDA hastens development of Novartis' Kymriah in follicular lymphoma
News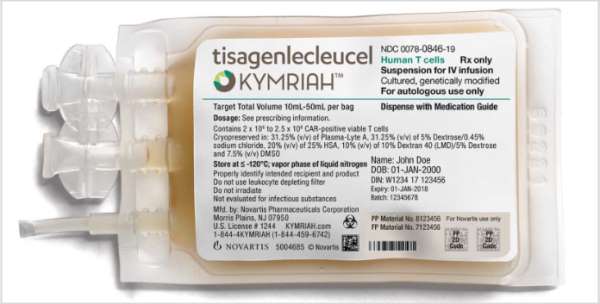 Novartis will receive extra help from the FDA during the development of its CAR-T cancer cell therapy Kymriah for follicular lymphoma, after the regulator deemed it to be an advanced regenerative medicine.
The Swiss pharma is developing Kymriah (tisagenlecleucel) in a new use to treat patients with relapsed or refractory follicular lymphoma.
And on the path to this potential third indication, the FDA said it will provide extra support and potentially a faster six-month review after granting the drug Regenerative Medicine Advanced Therapy (RMAT) status.
RMAT status was created under the 21st Century Cures Act, which came into force in 2016 and is designed to encourage development of novel cell and gene therapies that aim to treat, modify, reverse or cure serious diseases.
The FDA granted RMAT designation for Kymriah in follicular lymphoma based on preliminary clinical evidence from the ongoing phase 2 ELARA clinical trial, which is designed to determine efficacy and safety of the cell therapy in adults with relapsed or refractory disease.
Follicular lymphoma is the second most common form of non-Hodgkin lymphoma (NHL), a slow moving but incurable disease that represents around 22% of NHL cases.
Novartis pointed out that although there are therapies in third or later lines of treatment, their efficacy rapidly drops off with each round.
As the disease relapses patients typically receive at least five types of therapy, but may receive up to 12 lines of treatment.
The company is aiming to provide an option for those who do not respond or quickly relapse, who may exhaust treatment options but are still healthy enough to receive active treatment.
Kymriah was the first CAR-T (chimeric antigen receptor T-cell) therapy approved, and involves a patient's own T cells being harvested and modified to fight cancer, and injected back into their bodies.
It was developed in collaboration with the Perelman School of Medicine at the University of Pennsylvania.
Kymriah is already approved in diffuse large B-cell lymphoma, another type of NHL, and acute lymphoblastic lymphoma, with Gilead's Yescarta (axicabtagene ciloleucel) competing in the same indications.
There are two other CAR-T under FDA review from Bristol-Myers Squibb, which it added to its pipeline following its merger with Celgene late last year.