Exercise prescription platform Physitrack selected for London accelerator
News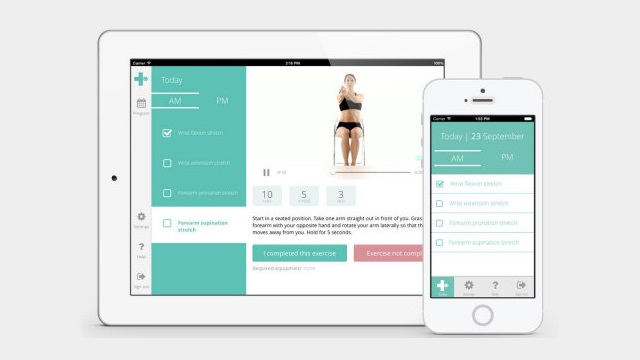 London's first digital health accelerator unveiled its first cohort of companies last week – one of which is the exercise prescription platform Physitrack.
Among the 32 small-to-medium businesses selected for the Digital.Health Accelerator programme, Physitrack is the only company that focuses specifically on exercise prescription.
The programme aims to foster digital health start-ups and improve their working relationship with the NHS, and aims to increase the uptake of digital health innovation in the UK's health service.
Physitrack is a web-based and smart device app which has been developed by physiotherapists, exercise physiologists and clinical experts.
Many patients need extensive exercise and rehabilitation programmes to aid recovery after illness or surgery, but many individuals fail to follow the advised exercises.
NHS patients are often given paper handouts which advise on post-operation exercises to assist their recovery, but there is often confusion about how to do the exercises properly, along with no easy way of keeping track of the exercises results. This can result in low compliance levels, something which frequently hampers a patient's recovery and can lead to readmissions to hospital.
In contrast, Physitrack can provide real-time data on both adherence and patient experience has the potential to fine-tune that process, preventing unnecessary readmissions.
The app allows doctors to prescribe physiotherapy programmes to their patients, building full training programmes from a video library that includes over 3,200 narrated videos.
Doctors can fully customise the training programmes to their patient's exact needs and choose what element they would like to track such as patient adherence or pain rating. Surveys can also be attached to the programme.
Data captured by the app is delivered in real time to the healthcare professional who can alter the programme if necessary.
"The opportunity for Physitrack to participate in London's first comprehensive digital health accelerator is a fantastic opportunity for us to better navigate the pathways into and within the national health service, not just in the UK but all around the world," said Physitrack's CEO and co-founder Henrik Molin.
He said the accelerator initiative would help the company prove the platform can produce better patient outcomes and engagement without increasing the workload on the healthcare practitioner or the healthcare system overall.
Physitrack will now join the likes of virtual nurse app developer Sense.ly, diabetes tracking tool company MumoActive, and appointment management tool company DrDoctor, among others.
Medical adherence is regarded as one area in which digital health solutions could make a difference. Internet of Things providers such as Philips are working on methods to help improve medication adherence through connected devices. The company's Medido device impressed in a trial that included over 1,300 patients, achieving adherence rates of 96% over an average usage period of 6.7 months.