ESMO21: Libtayo extends survival in first-line NSCLC, challenging Keytruda
News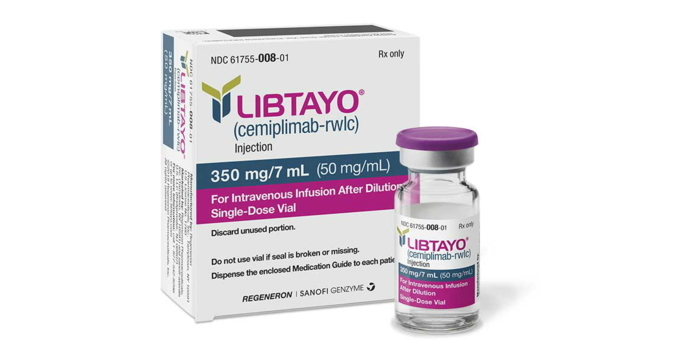 There's no shortage of cancer immunotherapies trying to knock Merck & Co's Keytruda off the top of the tree in previously-untreated non-small cell lung cancer (NSCLC). Sanofi and Regeneron have reported new data for Libtayo that suggests the drug could be a contender.
Libtayo (cemiplimab) given in combination with chemotherapy looks broadly to have matched Keytruda (pembrolizumab) plus chemo in newly-diagnosed people with metastatic NSCLC, reducing the risk of death by 29% versus chemo alone in the phase 3 EMPOWER-Lung-3 study.
Overall survival (OS) was 22 months with the combination, compared to 13 months with chemo on its own, while progression-free survival was eight and five months respectively, a 46% improvement.
That's less impressive than the 50% reduction in death in Merck's KEYNOTE-189 trial of Keytruda in non-squamous NSCLC – which was behind its approval for first-line NSCLC alongside chemo in 2018 – but in the same ballpark as the 36% reduction seen in the KEYNOTE-407 trial in squamous NSCLC.
EMPOWER-Lung-3 enrolled subjects with both squamous and non-squamous tumours and all PD-L1 expression levels, so Libtayo's efficacy comes against a more heterogenous patient population.
On the other hand, it also included patients with less advanced disease than the Keytruda trials that – hypothetically at least – could have pushed the overall survival numbers up.
Drawing any comparisons between studies is always a challenge, and the bottom line is that Libtayo/chemo joins a select group of PD-1/PD-L1 drugs that have shown efficacy in first-line NSCLC.
It is the only treatment other than Keytruda to improve survival in previously-untreated patients irrespective of histology both as monotherapy and in combination with chemo, according to Sanofi and Regeneron.
The combination also achieved a 43% response rate compared with 23% for chemo alone, with a duration of response of 16 months versus seven months, respectively.
Libtayo – the sixth PD-L/PD-L1 inhibitor to reach the market – is already approved to treat newly-diagnosed advanced NSCLC patients with 50% or more PD-L1 expression along with a couple of other skin cancer indications.
The new trial could give it a much better chance of competing with Keytruda in first-line NSCLC – one of the biggest markets in cancer – although Merck's established presence and the familiarity of oncologists with Keytruda will doubtless be hard to overcome.
Other rivals are also trying to grab a slice of the first-line NSCLC market however, including Bristol Myers Squibb's combination of PD-1 inhibitor Opdivo (nivolumab) and CTLA4 inhibitor Yervoy (ipilimumab), Roche's Tecentriq (atezolizumab), AstraZeneca's Imfinzi (durvalumab)/tremelimumab combination, and a regimen based on Innovent's Tyvyt (sintilimab) and Eli Lilly's Alimta (pemetrexed).
Analysts have previously suggested Libtayo could capture up to $1 billion in sales from the NSCLC category as a monotherapy alone, and the Empower-Lung-3 combo data has just delivered what looks likely to be an upside to those projections.