eLucid plans to link Pill Connect device to smart watches
News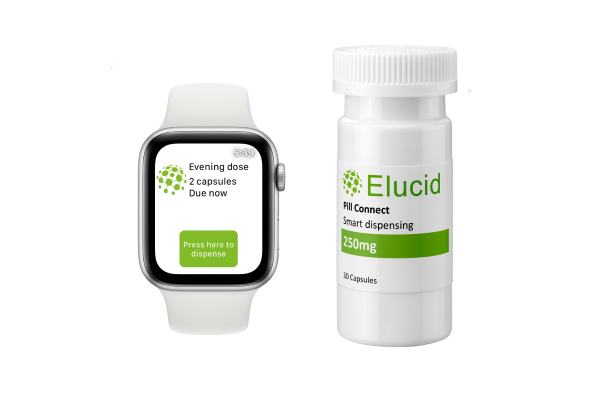 Health tech company eLucid says it plans to extend the compatibility of its Pill Connect device for medicine adherence to smart watches as well as phones.
The Pill Connect system consists of a pill bottle that automatically dispenses a pill when patients respond to a reminder via an iPhone or Android smart phone app, with additional reminders being sent by text or a phone call if the patient misses a dose.
Now, eLucid says it is developing the patented technology to link the bottle directly to a smart watch, extending the capabilities of the platform.
The company's chief executive Dr James Burnstone said that with many patients not taking their medicines as directed "we want to make it as easy as possible both to provide a reminder to the patient and also to let the doctor or researcher know."
Organisation for Economic Co-operation and Development (OECD) figures published last year estimate that non-adherence to oral medicines cause 200,000 premature deaths a year in the EU – at a cost of €125 billion – with the equivalent cost in the US around $105 billion.
Smart watches have taken some years to gather momentum among consumers, but there are signs of an uptick in popularity.
Market research firm Strategy Analytics said in August that 12 million watches were sold in the second quarter of 2019, with the Apple Watch accounting for around half of the total, well ahead of rivals such as Fitbit.
That's only a fraction of the 368 million smart phones sold in the same period, according to Gartner research. But while the sale of smart phones declined slightly by almost 2%, with high-end models slowing down the most, smart watch numbers grew at 44%, driven by consumers wanting to accessorise their phones with fitness-focused wearables.
Apple has made health and fitness a key fous for its devices with features like step counting on the iPhone and heart rate monitoring via the Apple Watch, and it's no surprise that eLucid wants to tap into the fastest-growing part of the smart device market.
"Smart watches are becoming increasingly popular and it was a natural step to link the bottle to these devices," said Burnstone.
eLucid completed a clinical trial of its system earlier this year which tested the system over 13 days, initially dispensing a twice-daily dose and building up to 12 pills a day, and found that 91% of doses (486 capsules) were dispensed successfully.
The company has since said that lessons learned from that trial mean that its accurate dispensing rate has now risen to 99% reliability.
eLucid says it is working with a number of healthcare organisations – including contract research organisations and pharma companies – who have expressed "particular interest in using the system in clinical trials where non adherence can substantially alter the results and for very expensive drugs so that the doctor can track adherence."