Diggelmann leaves Roche's diagnostics division
Roche has been hit with another exec departure after it said Roland Diggelmann will leave his role as CEO of its diagnostics division to "pursue his career outside of the company".
The Swiss pharma giant did not disclose a reason for Diggelmann's departure but said in a statement that he is going to leave the company at the end of September.
Diggelmann, who started his career with Roche ten years ago as the diagnostics region head for Asia Pacific, was then promoted to his current role as the global CEO.
The business arm headed by Diggelmann develops tests and equipment for a multitude of diseases and constitutes around 20% of the company's annual sales.
A few months ago, Diggelmann's team won a significant approval from the FDA for Cobas CT/NG detecting chlamydia and gonorrhoea in both symptomatic and asymptomatic patients.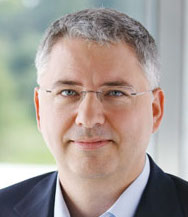 Severin Schwan, CEO of Roche, commented on the announcement: "I am grateful to Roland Diggelmann for his many valuable contributions during his 10 years at Roche and I wish him all the best for the future."
Michael Heuer will take over the leadership on an interim basis and become a member of the Corporate Executive Committee until a permanent successor is named.
He currently serves as region head of Europe, Middle East, Africa, and Latin America for Roche Diagnostics. Schwann said Heuer is a "very respected leader with a wealth of experience in diagnostics."
Heuer came to Roche through its 1998 acquisition of Boehringer Mannheim, which he joined five years earlier. He held numerous roles, including leadership positions in sales, marketing, and product development in Germany, Austria, and the United States.
Roche has seen a number of changes at the executive level in the last few months.
At the beginning of this year, John Reed, head of Roche Pharma Research and Early Development (pRED) decided to leave the company and was later appointed as Sanofi's head of R&D.
In June the company announced Sophie Kornowski-Bonnet, head of Roche Partnering, was leaving the company and a month later she took a position as a partner in healthcare fund, Gurnet Point Capital.
More recently, the global head of cancer immunotherapy, Dr Dan Chen, left the firm for the position of chief medical officer at dynamic biotech start-up IgM Biosciences.
Don't miss your daily pharmaphorum news.
SUBSCRIBE free here.