Boosted by new drugs, Boehringer shrugs off patent expiry
As the EU patent expires on its flagship respiratory diseases product, Spiriva, Boehringer Ingelheim is looking to newer diabetes and respiratory drugs under the leadership of a new CEO.
Formerly the company's chief finance officer, Hubertus von Baumbach has been in post since last June when he took over from Andreas Barner, and is overseeing strong growth.
Prescription drug sales were up 7.4% in 2016, adjusted for currency changes, to 12 billion euros.
For the next year BI predicts "mid single digit" growth said finance director, Simone Menne, following questions from journalists at the company's annual results press conference.
Von Baumbach, the great-grandson of the company's founder, Albert Boehringer, was making his first appearance in front of journalists gathered at the meeting.
He outlined how the company has been restructured, with its human pharma business focusing on prescription drugs, along with the integration of a new animal health business bought from Sanofi, and investment in contract biopharmaceutical production.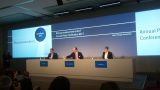 But sales of Spiriva, approved in chronic obstructive pulmonary disease and asthma, have declined by almost 15% although it is still BI's biggest drug, generating sales of around 3 billion euros.
The main US patent expires next year, and in the meantime BI is looking to move patients over to its newer Spiriva and Spiolto Respimat formulations to plug the gap.
Anticoagulant Pradaxa's sales jumped 6.8% to 1.4 billion euros, though the drug lags behind its rivals, Bayer/J&J's Xarelto and Pfizer/BMS's Eliquis, in market share terms.
Meanwhile diabetes treatmeant Trajenta increased 23.1% to 1.1 billion euros, and recently launched pulmonary fibrosis drug Ofev is powering ahead, with sales growing 106.4% to 600,000 euros.
Sales of SGLT2 inhibitor diabetes treatment Jardiance were 433 million euros, ahead of analysts' expectations in the region of 365 million euros. Last year the drug achieved a landmark in the US, gaining the first FDA approval for a diabetes drug to carry a claim of cardiovascular benefits. This is likely to see Jardiance, co-marketed with Lilly in the US, become a blockbuster in the near future, rising to a predicted $4 billion by the early 2020s, though other diabetes drugs are in hot pursuit of its lead.
Despite the strong figures, Boehringer seems more focused on integrating its animal health acquisition, Merial, bought from Sanofi at the beginning of the year, into the company.
Menne said there is no specific M&A planned for 2017 but added that the company will "attentively observe the market", and won't pass up opportunities as the company has considerable financial muscle.
Total net sales for 2016 were 15.9 billion euros, up 7.1%, and operating income increased 27% to 2.9 billion euros, the company said.
In the US, sales were down 1.6% following the sale of Boehringer's generics operation there, while European sales were up 19% to 5 billion euros, boosted by a one-off milestone payment from AbbVie of around 500 million euros for psoriasis drug BI 655066.
Don't miss your daily pharmaphorum news.
SUBSCRIBE free here.