AZ/MSD's PARP inhibitor shows promise as first-line ovarian cancer treatment
News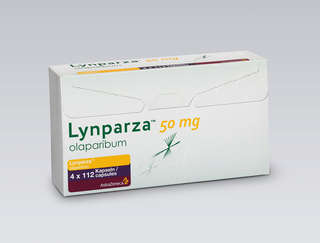 AstraZeneca and MSD's Lynparza has scored its second Phase 3 win in the space of a week, this time in first-line treatment of advanced ovarian cancer.
Results from the  PAOLA-1 study showed that the PARP inhibitor drug significantly increased the time women lived without disease progression when added to the standard-of-care, Genentech's Avastin (bevacizumab), 
The trial met its primary endpoint with a statistically-significant improvement in progression-free survival (PFS), increasing the time women taking Lynparza plus bevacizumab lived without disease progression or death vs. those taking bevacizumab alone. 
Though the drug is already approved for treatment after chemotherapy in ovarian cancer, AZ and MSD will be hoping these results pave the way for approval in first-line treatment.
The safety and tolerability profiles were generally consistent with those known for each medicine.
The full results will be presented at a forthcoming medical meeting. 
Lynparza is a poly (ADP-ribose) polymerase (PARP) inhibitor that works by preventing this protein in cancer cells from repairing damaged DNA in patients with BRCA mutations.
This causes cancer cells to die but does not affect healthy cells, which are not reliant on the PARP protein to survive.
The drug has been the trailblazer for this class of medicines, which evidence suggests can be used in a wide range of cancers as long as certain mutations are present.
It has also been approved in breast cancer, and has recently shown promise in pancreatic cancer. 
Last week AZ and MSD announced phase III results showing Lynparza could extend progression-free survival in combination with enzalutamide or Zytiga (abiraterone acetate) in metastatic castration-resistant prostate cancer (mCRPC).
Calquence granted Breakthrough Therapy Designation
In other AstraZeneca news, the company's Calquence has been granted granted US Breakthrough Therapy Designation for chronic lymphocytic leukaemia.
The FDA granted the designation based on positive results from the interim analyses of the ELEVATE-TN and ASCEND Phase III clinical trials – both of which were stopped early after positive results.
Together the trials showed that Calquence alone or in combination significantly increased the time patients lived without disease progression or death, with safety and tolerability that was consistent with its established profile.