AZ claims another Imjudo approval, in big first-line NSCLC market
News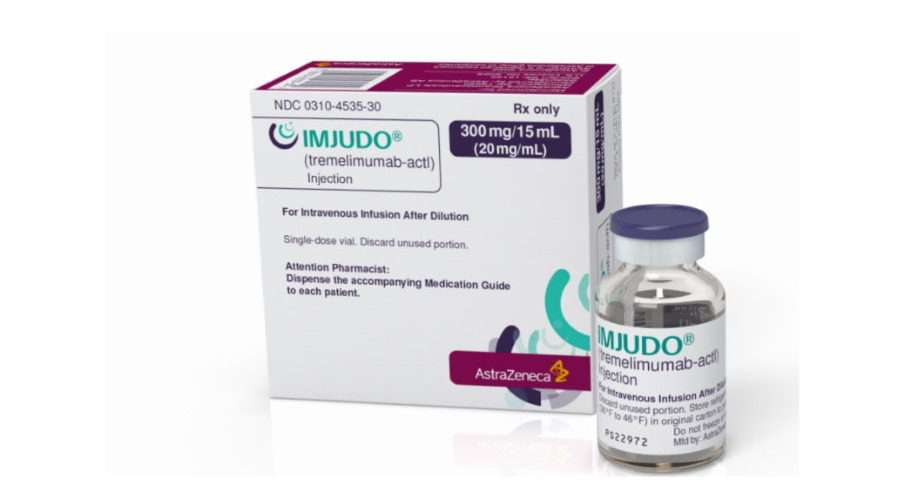 Just a couple of weeks after finally getting its first FDA approval for CTLA4 inhibitor Imjudo for advanced liver cancer, AstraZeneca has picked up another – and in a much larger patient population.
The FDA has now cleared Imjudo (tremelimumab) in a regimen alongside AZ's PD-L1 inhibitor Imfinzi (durvalumab) and chemotherapy for the treatment of adult patients with previously-untreated metastatic non-small cell lung cancer (NSCLC).
The approval is underpinned by the POSEIDON trial, which found that the triple regimen of Imjudo, Imfinzi, and chemo reduced the risk of death by 25% compared to chemo alone in both squamous and non-squamous forms of NSCLC, the most common form of lung cancer.
The Imjudo regimen also reduced the risk of disease progression or death by 28% compared to chemo at two years. Moreover, an update at three years showed that the effect on overall survival had deepened to a 25% gain, with 25% of patients still alive at three years compared to around 14% of the comparator group.
It gives AZ another option in first-line NSCLC as it tries to win market share from Merck & Co's PD-1 inhibitor Keytruda (pembrolizumab), which currently dominates the treatment of previously untreated NSCLC, mainly as a combination regimen with chemo.
Previously, Imfinzi had been approved only for NSCLC patients with stage 3 disease whose tumours are not able to be surgically removed and have not progressed after treatment with chemotherapy and radiation, as well as other cancer indications in small-cell lung cancer (SCLC) and biliary tract cancer.
AZ was also forced to withdraw an approval for Imfinzi in bladder cancer last year after a failed confirmatory trial, but that hasn't stopped the immunotherapy growing strongly, adding more than $2 billion to AZ's top-line in the first nine months of the year.
That's still small in comparison to the $15.5 billion made by Keytruda in the same period, albeit from a much wider range of indications, but nevertheless the new approval is a key part of AZ's plans to build its immuno-oncology revenues.
"This approval underscores the importance of delivering novel treatment combinations that extend survival in metastatic non-small cell lung cancer, a complex setting where many patients still face a dismal prognosis," said Dave Fredrickson, head of AZ's oncology business unit.
AZ has also filed for approval of Imjudo in Europe, Japan, and other territories in this indication based on the POSEIDON results.