ASH: Gilead, BMS CAR-Ts square off in relapsed lymphoma
News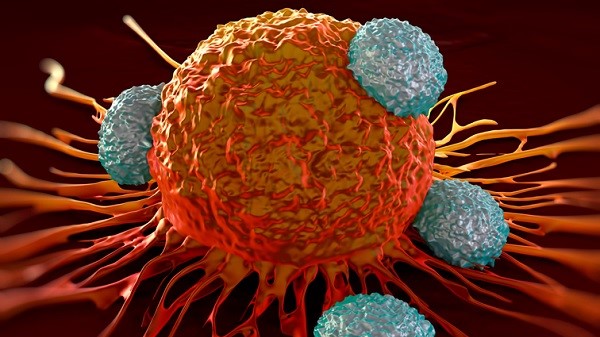 A pair of trials have suggested that CAR-T therapies could offer an improved option for patients with large B cell lymphoma (LBCL) who have relapsed after or haven't responded to first-line treatment.
The results of the ZUMA-7 and TRANSFORM trials, reported at the American Society of Haematology (ASH) congress, could see Gilead Sciences' Yescarta (axicabtagene ciloleucel) and Bristol-Myers Squibb's Breyanzi (lisocabtagene maraleucel) move up the treatment pathway for this type of lymphoma.
LBCL is the most common type of non-Hodgkin's lymphoma (NHL) in adults, accounting for around a third of the 77,000 new cases diagnosed in the US.
In ZUMA-7, second-line treatment of relapsed or refractory LBCL patients with Yescarta extended median event-free survival (EFS) to 8.3 months from 2 months for standard-of-care chemo followed by a stem cell transplant, after a follow-up period of more than two years.
Overall, 41% of those treated with Yescarta and 16% of those taking chemo survived for two years without needing additional cancer treatment or experiencing cancer progression.
Meanwhile, interim results of the TRANSFORM trial of Breyanzi in the same second-line setting revealed a median EFS of 10.1 months with the CAR-T, versus 2.3 months with chemo followed by a stem cell transplant, after around six months' follow-up.
Two thirds of patients treated with Breyanzi had a complete response to the therapy, compared to 39% of the standard care arm.
Both Yescarta and Breyanzi are CD19-directed CAR-T therapies currently approved as third-line options for LBCL after two prior systemic therapies.
"The current standard of care consisting of chemotherapy and transplant is not effective at curing most patients with high risk relapsed large B-cell lymphoma, representing a huge unmet need in our field," commented Manali Kamdar of the University of Colorado Cancer Centre, a TRANSFORM investigator.
Around a third of patients with NHL relapse after receiving first-line immunochemotherapy, and another 10% to 15% do not respond even to initial treatment. For them, prospects are very poor, with a median survival time of just one year.
ZUMA-7 lead investigator Frederick Locke of Moffitt Cancer Centre said meanwhile that the data heralds a "paradigm shift" in the treatment of  LBCL patients.
"Patients with lymphoma not responding to initial treatment or relapsing within 12 months should have the opportunity to get this therapy," he added.
While CAR-T therapies are known to have the potential to cause serious side effects including potentially life-threatening cytokine release syndrome (CRS), clinicians are becoming increasingly adept at minimising them.
That was backed up in both CAR-T studies reported at ASH with most cases manageable and reversible with supportive care.
Gilead has already filed for approval to extend the label for Yescarta to include second-line LBCL in the US and Europe, and is anticipating an FDA decision by 1 April next year.
BMS meanwhile is in the process of preparing marketing applications for Breyanzi, which was approved by the FDA for third-line LBCL in February.
The third CD19 CAR-T on the market – Novartis' Kymriah (tisagenlecleucel) – failed to improve standard care in the BELINDA clinical trial in second-line lymphoma.