Akari soars ahead of read-out for Soliris rival
News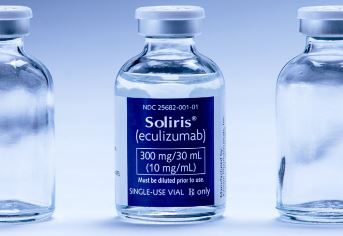 Investors are anticipating good news from a potential rival to Alexion's rare disease blockbuster Soliris, with shares in the company behind it soaring.
Shares in Akari Therapeutics have tripled in value since 31 March when the company announced that the FDA had granted Fast Track designation for Coversin, a late-stage candidate for paroxysmal nocturnal haemoglobinuria (PNH) in patients who have polymorphisms.
This means the disease in these patients is resistant to Soliris, the standard treatment for the disease.
Alexion has become one of the industry's leading rare disease-focused companies thanks to Soliris, which achieved sales of $2.83 billion in 2016.
However a number of companies are now developing similar complement inhibitor drugs, and could steal market share from Alexion.  The company has also been distracted by a controversy around sales reporting and its now ex-chief executive and chief financial officer.
Coversin also has a major practical advantage over Soliris in that it can be administered subcutaneously, rather than intravenously.
The drug is a second-generation complement inhibitor that acts on complement component-C5, preventing the release of C5a and the formation of C5b–9 (also known as the membrane attack complex or MAC), and also independently inhibits activity of another molecule, LTB4.
Akari, led by chief executive  Dr. Gur Roshwalb, is expected to unveil interim results from the first phase 2 trial of Coversin on 24 April.
The New York headquartered firm is also developing Coversin for a range of other indications in which Soliris has an established presence.
Most notably, it plans to begin a phase 2 trial of Coversin in atypical Hemolytic Uremic Syndrome (aHUS), Soliris' other big-earning indication, in the first half of 2017.
Meanwhile a phase 3 trial in paroxysmal nocturnal haemoglobinuria will commence in the second half of 2017, with a phase 2 in in Guillain Barre syndrome (GBS) patients also set to begin shortly.
Akari also has in its pipeline a long acting version of Coversin, and a dual action C5+LTB4, scheduled to begin early trials later this year.
For its part, Alexion now has a new chief executive, and recently filed Soliris with the FDA for a new indication, myasthenia gravis, a rare neuromuscular disorder.
However the drug didn't achieve its primary endpoint in its pivotal study, which means FDA approval is far from a foregone conclusion.
Nevertheless, off-label demand for the drug from doctors and patients, plus the paucity of treatments options, may help convince the US regulator to give the trial data the benefit of the doubt.