AbbVie/Roche seek first-line CLL use for Venclexta combo
News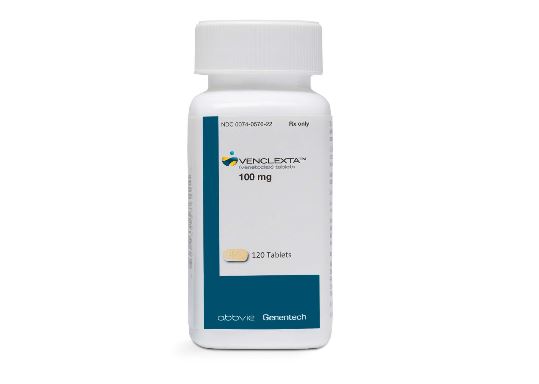 AbbVie and Roche's Venclexta is making headway as a second-line chronic lymphocytic leukaemia (CLL) treatment, and a new US filing could extend its use into the first-line setting.
Roche has filed for approval in the US for BCL-2 inhibitor Venclexta (venetoclax) plus its anti-CD20 drug Gazyva (obinutuzumab) for patients with previously untreated CLL with co-existing medical conditions and has been granted a breakthrough designation from the FDA that could set up a speedy review.
The filing is based on the results of the phase 3 CLL14 trial which showed that the combination was able to achieve a significant reduction in the risk of disease worsening or death (progression-free survival) compared to Gazyva plus chemotherapy, which has become a standard first-line therapy in this setting since getting approval in 2013.
The FDA is reviewing Venclexta plus Gazyva under its real-time oncology review (RTOR) pilot programme, which came into effect in September 2018 and means that the agency can start to evaluate clinical data as soon as trial results become available.
It is one of a series of initiatives implemented under outgoing FDA Commissioner Scott Gottlieb  designed to accelerate access to new therapies, and means that the agency can approve a new indication soon after an applicant files a marketing application. AbbVie said recently it was hoping for an approval before the end of the year.
Venclexta already has a fairly broad label in the relapsed/refractory CLL population, but the previously-untreated patient group represents another 20,000 or so potential patients in the US alone, according to Roche's chief medical officer Sandra Horning.
If the regulator does give the go-ahead for the regimen, oncologists will have another treatment option that avoids the use of chemotherapy, along with AbbVie/Johnson & Johnson's Bruton's tyrosine kinase (BTK) inhibitor Imbruvica (ibrutinib) plus Gazyva which was approved for first-line use in January.
Many newly-diagnosed CLL patients are ineligible for intensive chemotherapy, says Horning, and Venclexta plus Gazyva provides an alternative that – unlike Imbruvica plus Gazyva which is given indefinitely – has a fixed-duration regimen.
"We are working closely with the agency to bring this new option to people with previously untreated chronic lymphocytic leukaemia as quickly as possible," she added.
Roche co-markets Venclexta in the US with AbbVie, with the latter selling it on its own elsewhere as Venclyxto, and the drug is a key growth product for both companies.
Sales have been somewhat sluggish since it was first approved for CLL in 2016, but have started to gather pace after its label was extended to include second-line treatment as a monotherapy and in combination with Roche's older CD20-targeting drug Rituxan (rituximab) in relapsed CLL last year, and for newly-diagnosed acute myeloid leukaemia.
The drug made $344 million in sales worldwide last year, more than double its turnover in the previous year, and $124 million in the last quarter. AbbVie has said it expects sales this year to more than double once again to $725 million.
AbbVie is also testing Venclexta in combination with Imbruvica as another chemo-free option, as well as triple therapy of the drug with both Imbruvica and Gazyva. Meanwhile it's also in trials for multiple myeloma (MM), non-Hodgkin lymphoma (NHL) and myelodysplastic syndrome (MDS).