Digital health companies enabling R&D topped 2021 US investment, Rock Health says
News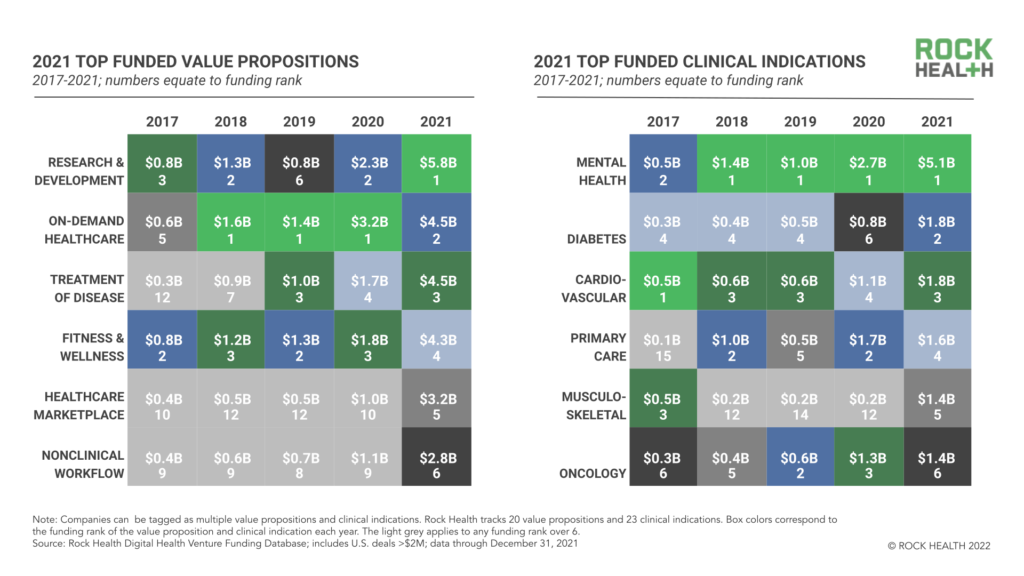 According to Rock Health's annual digital health funding report, US-based digital health companies enabling life sciences research and development raised $5.8 billion (£4.3 billion) in 2021, making it the top funded category of the sector.
This is the first time R&D has topped the chart since Rock Health began tracking US digital health funding in 2011, although it nabbed the number two slot in 2018 and 2020.
The San Francisco-based research firm attributed the category's over-performance to COVID-19's acting as a forcing function for the digitisation of key pharma processes.
"In 2021, digital health companies catalysing R&D in biopharma and medtech topped the chart with $5.8B in funding, stimulated by the COVID-accelerated adoption of real-world evidence and decentralized trials," authors Adriana Krasniasky, Bill Evans, and Megan Zweig wrote.
AI drug discovery startup Xtalpi's $400 million (£294.2 million) round from August also featured in the report's roundup of 2021 mega-deals.
The number three category, disease treatment, was also pharma-related.
"Investments in digital products supporting disease treatment grew 2.6x between 2020 and 2021 as coverage pathways for prescription digital therapeutics widened," the authors wrote.
Overall, 2021 was a blockbuster year for digital health funding in the United States with $29.1 billion (£21.4 billion) raised across 729 deals, averaging a deal size of $39.9 million (£29.4 million). That's nearly double 2021's total, which was itself a record-setting year.
Rock Health writes that while the funding boom is related to the unprecedented global pandemic, there are plenty of indications that it has staying power; that is, that it isn't a bubble. For one thing, they cite indications that remote modalities like telehealth and digital clinical trials are not just a temporary solution to the pandemic, but, at least to some degree ,a new normal. In addition, they point to the proportion of new investors and the growing rate of exits in the sector as evidence of long-term sector health.
"Over the past decade, roughly one in four (23%) digital health dollars invested has gone to companies that ultimately exited; 13% of those funds went to companies that merged or were acquired, while 10% went to companies that exited onto the public markets," Krasniasky, Evans, and Zweig wrote. "For comparison, when we last reported on sector liquidity in 2019, only 15% of digital health's investment dollars had exited."
The funding boom is good news for the sector but it does set up high expectations for 2022.
"2021 was the biggest year for digital health investment, bolstered by never-before-seen infrastructure tools and business model options," the report says in closing. "The past twelve months have taught us that when capital isn't a constraint, execution is all that's left. Companies that take in capital without investing in infrastructure, business model innovation, or talent and leadership are headed for tough future quarters to meet the expectations that come with high valuations."