Evaluate's Orphan Drug Report shows rapid acceleration in the space
Market Access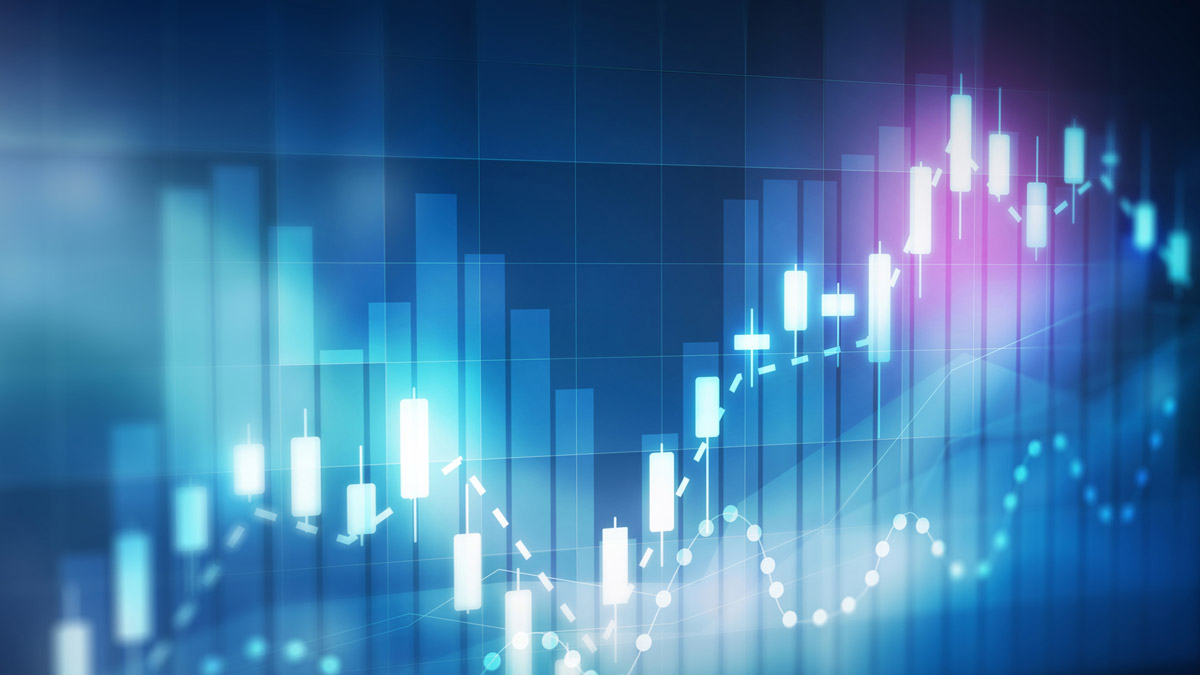 Paul Verdin, VP of consulting and analytics, and Andreas Hadjivasiliou, managing analyst at Evaluate, tell us about the company's Orphan Drug Report 2022, which highlights activities within the orphan drug market and forecasts what the future of the industry holds based on data.
Evaluate provides commercial intelligence to the pharma and life sciences sectors through annual publications. They recently released their yearly report on orphan drugs, offering snippets of what's happening in the rare disease drug market.
"We have a lot of data about pharmaceutical pipelines, sales in the market, and, crucially, about the forecasts and how the market might evolve, which is all derived from sell-side equity analysts," Verdin states.
"Orphan drugs and rare diseases are a big part of the picture for pharma."
There has been a rapid acceleration of growth within the orphan drug market as science and the understanding of diseases have progressed, leading to orphan drugs no longer being niche.
[caption id="attachment_93539" align="aligncenter" width="1305"]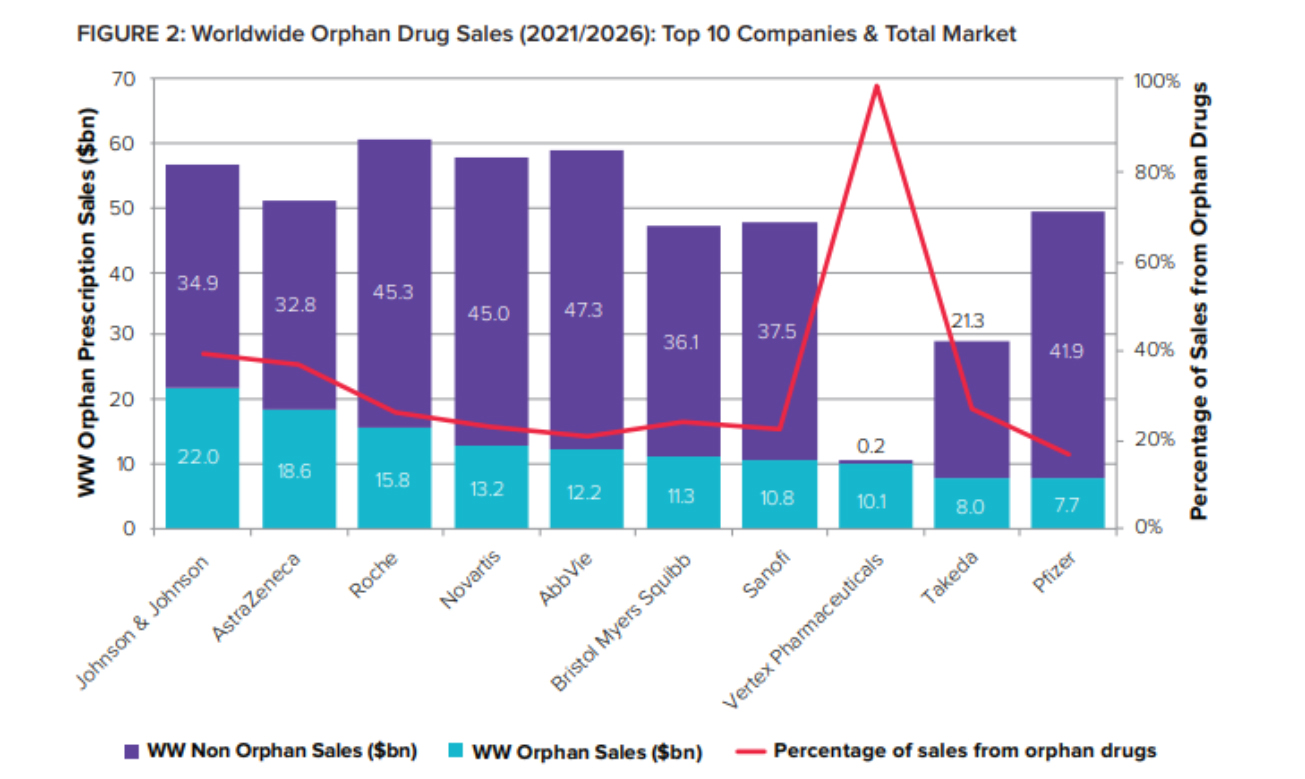 As orphan drugs graduate from niche to mainstream and reach blockbuster heights, big pharma have adopted and embraced them – just as they did with biologics two decades ago.[/caption]
The expansion of technology and the advancement of new tools have aided drug discovery and essentially brought orphan drugs into a new sphere within the drug market, renewing conversations for needed changes to legislation.
Revising legislation
There have been continued calls to reform orphan drug legislation in the US and the EU, particularly the 40-year-old Orphan Drug Act and the European Union's 1999 Orphan Drug Regulation.
In the US, there are proposals to reform the FDA's Accelerated Approval pathway, critical for orphan drugs that, as the report states, "include tighter oversight on post-marketing studies required to determine whether full approval is warranted for 'accelerated' products."
The EU is reviewing its framework for orphan drugs after a report published in mid-2020 said that in some rare diseases, the market looked similar to the traditional medicines market.
Verdin and Hadjivasiliou say the calls for change are valid, though there are two ways one can view these appeals for modifications to legislation.
"Some things highlighted in the Report are the growth in the actual budgetary impact of drugs. Some could say that when you think of a rare disease that conjures up images of super-rare genetic conditions, rather than things like oncology, which are areas that attract a lot of interest, and often designations," Verdin states.
"That's part of a driving force around some of those voices making noises about revisiting that legislation – is it still fit for purpose on that basis?"
As the report notes, the challenge for payers and regulators is that orphan incentives are applied to drugs much larger than the US Orphan Drug Act or EU Orphan Regulation originally envisaged.
Alternatively, Verdin and Hadjivasiliou say, the counterargument is that the legislation aims to promote innovation and investment and generate positive technological outcomes.
Regarding oncology, for example, much has changed about the understanding of cancer since the Orphan Drug Act in the US was signed into law 40 years ago.
"Science has progressed considerably since the legislation was implemented in the 80s. There's been a move towards oncology as a more detailed set of almost sub-diseases with genetic markers within those," Hadjivasiliou states.
"It's pretty well-known that cancer is not one disease. It's a whole host of distinct diseases with similar manifestations that are distinctly important in terms of clinical practise and responses to drugs with certain mechanisms of action," Verdin states.
Therefore, many people arguing for a change to legislation may perhaps view the legislation as not keeping with the current understanding of drugs available. Still, Verdin and Hadjivasiliou state the original purpose of incentivising innovation through this legislation has been fulfilled.
"The outcomes that we're seeing now are perhaps not exactly as intended, but they were the broad spirit of what was trying to be achieved," Hadjivasiliou states.
Positive projections
With innovation consistently improving and orphan drug sales projected to grow, the drug market has the potential to become more acceptable for the rare disease community.
"Because of the nature of the pharma industry and the time it takes to develop a drug successfully, or in many cases, unsuccessfully, that rate of change is a little bit slower. I think back over the various iterations of the Orphan Drug Report, and we've moved from a situation where pharma was very much interested in orphan drugs but perhaps hadn't fully demonstrated their commercial return," Hadjivasiliou states.
"It gradually became apparent that there is a significant commercial return here, and there's an opportunity for mergers and acquisitions in this space. If you have a pipeline, you hope to see a return, and there are patients at the end of this who do see a benefit."
[caption id="attachment_93543" align="aligncenter" width="1305"]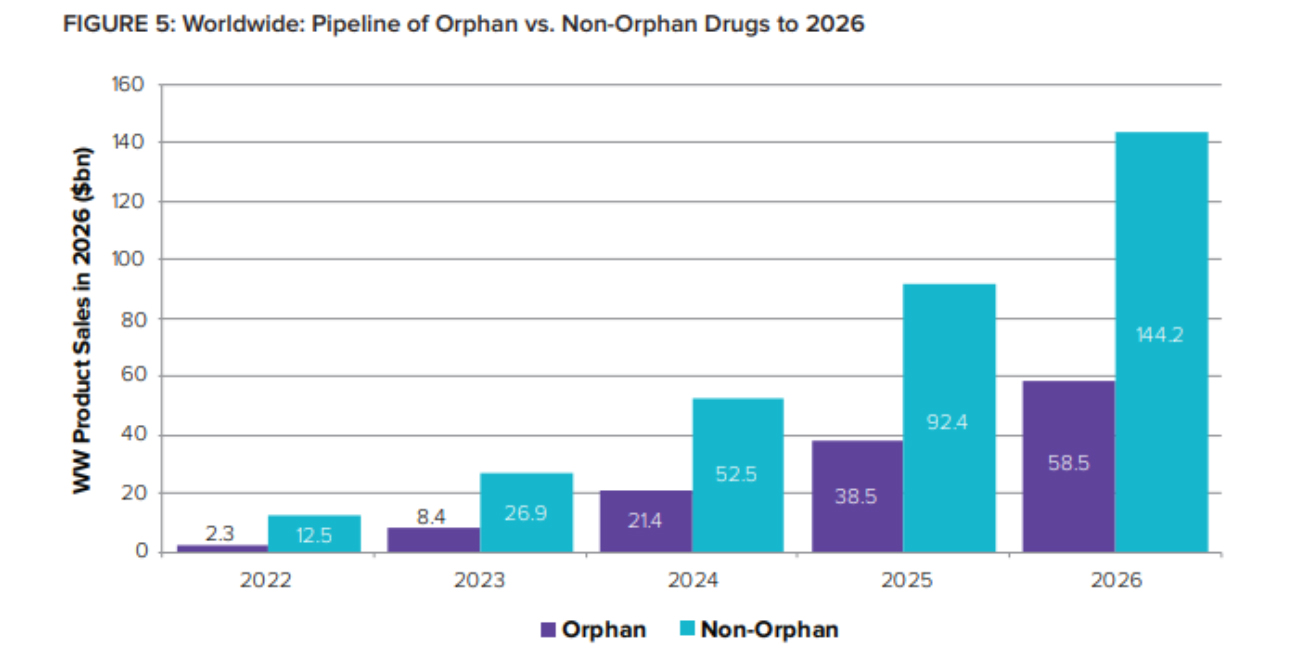 Orphans' share of global R&D pipeline value is expected to jump from 16% in 2022 to 29% just two years later – representing 2026 sales of over $58 billion.[/caption]
Developing drugs is complex and expensive, often driving costs to be passed on to patients. However, with more pharma companies entering the orphan drug market, patients can be hopeful for additional therapeutics allowing for lower-cost options.
"Pharma has clearly demonstrated the ability to generate meaningful impact with new products that change people's lives and have a material effect on one's quality of life," Verdin states.
"The key headline is that rare diseases are not a niche. It's mainstream pharma and a big part of the pharma market. Developing drugs for rare diseases is also a breeding ground for next-generation therapeutics," Verdin states.
"New sciences are coming through in this area. That's quite an exciting space, and I think that's something we're going to see a lot of over the next few years," Hadjivasiliou states.
About the interviewees

Dr. Paul Verdin is VP consulting and analytics at Evaluate. Verdin has a PhD in Neuropharmacology and leads Evaluate's custom solutions business incorporating all aspects of forecasting and valuation analysis, opportunity identification and quantification, and industry trend and outlook assessment. With over 15 years of experience across research and consulting, he has worked with a wide range of client organisations in across therapy areas and across the pharma ecosystem, including startup biotech companies, suppliers and large pharma corporate strategy groups seeking insights and external perspectives to aid decision making.

Andreas Hadjivasiliou is the managing analyst at Evaluate. He is an experienced pharmaceutical industry analyst, currently engaged in driving process change and excellence within Evaluate's Data Operations team. Most recently, Hadjivasiliou acted as a product owner leading remote and offshore teams delivering operational change. In previous roles, he helped design and deliver new data products for Evaluate, including insights on Orphan Drugs.
About the author

Jessica Hagen is a freelance life sciences and health writer and project manager who has worked with medical XR companies, fiction/nonfiction authors, nonprofit and for-profit organisations, and government entities.