The Return of 11th Annual Social Media in Pharma 2019
Events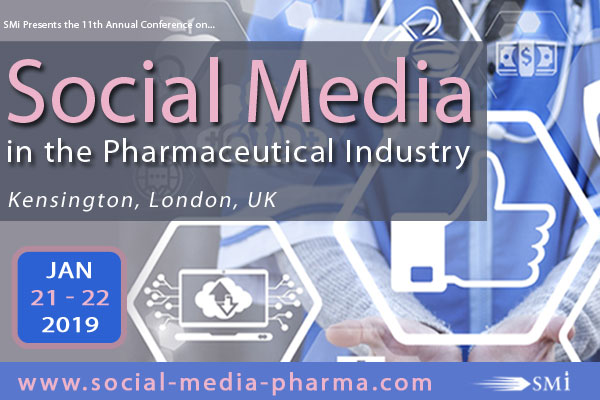 Social Media in the Pharmaceutical Industry 2019
SMi Group are delighted to present the return of their 11th annual Social Media in the Pharmaceutical Industry conference to London on the 21st – 23rd January 2019. www.social-media-pharma.com
Social media is the perfect channel for pharmaceutical companies to educate, market, listen and connect with customers, patients and physicians. How the pharmaceutical industry utilize social media is particularly complex as regulators such as the FDA have not yet written the rules about how pharmaceuticals can engage with potential customers and patients.
Join SMi's 11th annual Social Media in the Pharmaceutical Industry conference to learn the best way your company can benefit from a robust social media strategy. Hear from industry experts on how to leverage social media platforms by keeping the patient at the forefront and exploring the latest advances in digital application such as Artificial Intelligence, challenges and techniques in the field of 'social pharma'.
How Will You Benefit?
Network and learn from leading professionals such as:
[CHAIR] - Jason Browning, Global Head of Digital Communications & Social Media, Novartis
[CHAIR] - Emma Sutcliffe, Director Patient Engagement and Innovation, NexGen Healthcare Communications
Roeland Van der Heiden, Digital Director, AstraZeneca
Lin Lei, Associate Director Digital Customer Engagement, Teva
Joao Bocas, CEO, DigitalSalutem
Paul Tunnah, CEO, PharmaPhorum Media
Jacob D Flindt, Founder, pro
Alan Shaw, Director, Strategic Planet; Senior Lecturer: Digital Marketing, Northumbria University
Dennis Fink, Campaign Manager and Social Media Channel Expert, Qiagen
Stefania Alvino, Multichannel Manager, Daiichi Sankyo Co., Ltd.
2019 Featured Highlights:
Explore a result driven, value focused social media strategy in the pharmaceutical industry
Gain insight into procedures and practices required prior to the implementation of social listening
Discuss how to personalise the content relationships with AI
Understand the optimisation of disease awareness through social media channels
Learn how to use social networks and digital communication to engage HCPs
Pharmacovigilance in social media - specifically in adverse events reporting
Check out the brochure online: www.social-media-pharma.com
Early-Bird Rates
REGISTER BY 29TH SEPTEMBER AND SAVE £400
REGISTER BY 31ST OCTOBER AND SAVE £200
REGISTER BY 30TH NOVEMBER AND SAVE £100
Social Media Handles
Event Hashtag: #pharmasocialmedia
Additional Contact Info:
T: +44 (0)20 7827 6048