The 3rd Annual RNAi – Based Therapeutics Summit Returns!
Events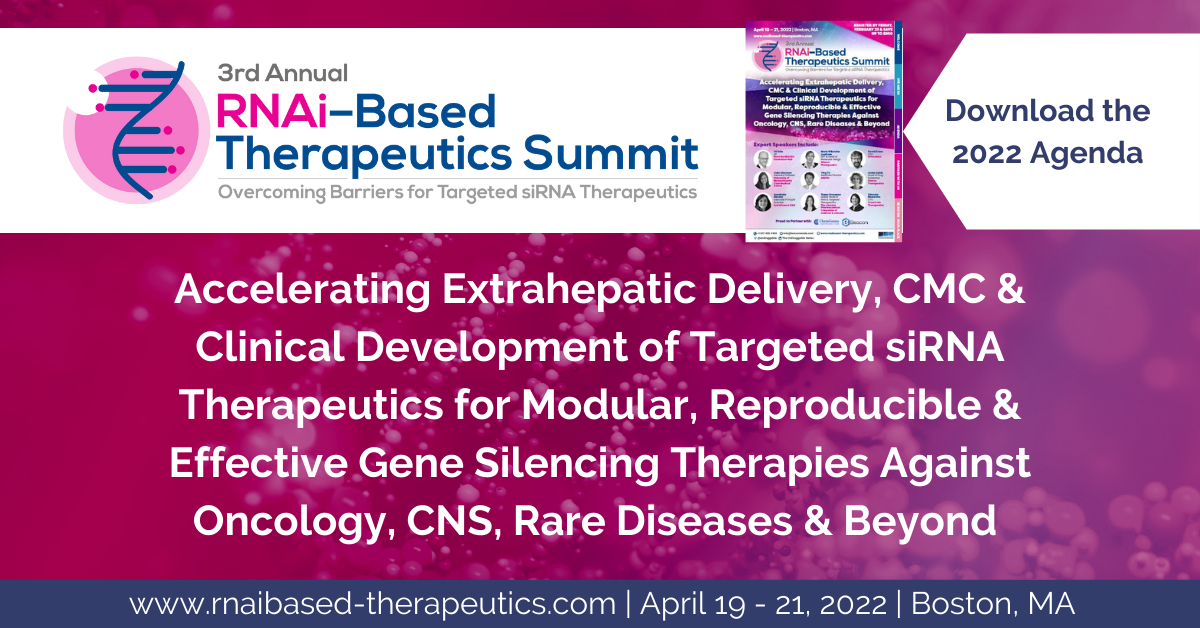 Welcome to the 3rd Annual RNAi – Based Therapeutics Summit: Overcoming Barriers for Targeted siRNA Therapeutics
Built with biopharmaceutical industry insights, this in person conference will bring together key opinion leaders to delve deep into the key remaining challenges associated with targeted delivery, translation, CMC and clinical development of targeted siRNA therapeutics for modular, reproducible and effective gene silencing therapies against oncology, CNS, rare diseases and beyond.
With 28 pioneering speakers from large pharma, innovative biotech and KOLs of academia who are ready to discuss the full and comprehensive range of RNAi drugs from discovery to development and beyond, join us in Boston to hear how they address the major challenges facing the industry.
Key Benefits of Attending
Benchmark Against the Latest Strategies to Target Extrahepatic Tissues
Delve into the latest advancements in applications of siRNA delivery to extrahepatic tissues with case studies into the CNS, skeletal muscle, oncology & more from Lemonex, Aruna Bio, Sirnaomics & TransCode Therapeutics
Develop Next Generation of RNAi Drugs with Better Stability & Efficacy
Explore latest progress in siRNA chemistry to increase activity, stability, specificity & potential off target effects to improve cellular targeting with insights from Silence Therapeutics & Aro Biotherapeutics
Debate How to Optimize Effective siRNA Delivery Strategies
Realize the full potential of RNAi carriers 2.0 beyond GalNac to enhance the performance & biodistribution of your RNAi drugs to ensure you are on the path for success with expert insights from Janssen, Vrata Therapeutics & Sixfold Bioscience
Unlock the Mechanistic Functions of siRNAs to Increase Therapeutic Potential
Leverage the understanding of the endogenous intracellular mechanisms of siRNAs & the strategies to overcome the challenges of endosomal escape for enhanced siRNA therapeutic efficacy with insights from the University of Connecticut & Sapreme Technologies BV
Effective Strategies to Advance Analytical Development & CMC of siRNA Therapeutics
As the industry continues to expand RNAi drug development, it is becoming more important than ever to overcome the hurdles of analytics, raw material supply, & manufacturing. Hear expert insights from AstraZeneca & Abbvie
Download the full event guide for the speaker faculty and session details.
Early Bird & Team Discounts available – Secure your place today