SMi's 5th Annual Pharmaceutical Microbiology East Coast Conference
Events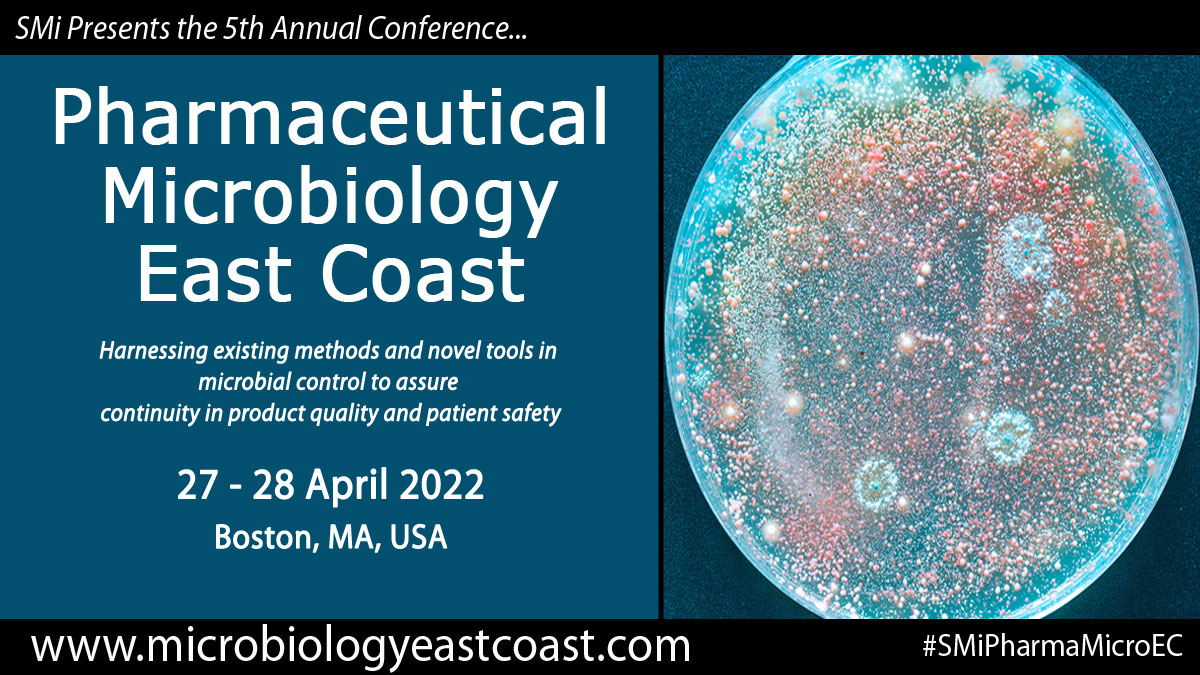 Conference: 27 – 28 April 2022
Workshops: 29 April 2022
Boston, MA, USA
http://www.microbiologyeastcoast.com/pharmaphorum
Sponsored by: Bioscience International, Associates of Cape Cod and Microbiologics
Chaired by: Jim Polarine, Senior Technical Service Manager, Head of Microbiology & Sterile Technology, STERIS Corporation 
Harnessing existing methods and novel tools in microbial control to assure continuity in product quality and patient safety
SMi's 5th Annual Pharmaceutical Microbiology East Coast Conference is taking place in Boston on April 27-28, 2022, with interactive workshops on April 26, 2022.
Microbiology remains an essential tool in reducing microbial growth in the manufacture of pharmaceuticals, to detect and eliminate microorganisms that would pose a risk to patients and jeopardise product batches.
Ensuring the sterility of the finished product continues to be one of the most critical aspects of drug development, however an array of factors are also sustaining new growth and transformation in this field. The regulatory landscape is changing, firstly with the preparation of Annex 1, in addition to increasing requirements pertaining to data integrity. Light is being shed on recent product recalls for mould contamination, and infection outbreaks serve as a reminder to pay more attention to these overlooked organisms, as well as considerations towards container closure integrity testing which is being increasingly deployed to block microbe movement.
On top of this, the developing integration of automation and robotics into the manufacturing pipeline, as well as the increased need for more rapid microbiology methods brought about in part by the surge in ATMPs, are all highlighting the necessity of the field in Pharma.
This industry is ever expanding, join leading experts in 2022 to discuss and analyse the latest advances and challenges surrounding Pharmaceutical Microbiology. Network with industry professionals, discuss revisions in regulatory and guidance documents, and gain a deeper insight into this corner of the field.
Event Hashtag: #SMiPharmaMicroEC
Key Highlights for 2022:
Review implementation guidance and validation for efficient disinfectant efficacy programs
Uncover principles in best-practice and the benefits of a robust contamination control strategy
Address fungal mould contamination and risk-based tools to tackle spore spreading
Delve into the sterility assurance assessment and holistic closure integrity testing
Explore the impact of the ongoing pandemic and the changing face of the pharma industry
Understand new unique case studies, from contamination control as it relates to microbiome products, to risk-based assessments of traditional microbiological tests2 Interactive Pre-Conference Workshops on April 26, 2022:
Workshop A: Risk Assessment and Cleaning Validation
Workshop Leader: Fred Ohsiek, SME, Cleaning Validation, North America
Workshop B: USP Microbiology 2022 – Keeping Up with Standards
Workshop Leader: Donald Singer, Chair, General Chapters - Microbiology Expert Committee, US Pharmacopeia and Ecolab Life Sciences
View the full agenda: http://www.microbiologyeastcoast.com/pharmaphorum
Who Should Attend?
Senior Microbiologist, Lead Scientist, Laboratory Manager, QA Specialist, Drug Substance External Manufacturer, QC Scientists, Heads of Quality, Business Development Manager, Pharmaceutical Microbiology Consultant, Higher Pharmacopoeia Scientist, Analytical Standards Specialist