New Technologies to Provide Connected Controlled Logistics
Events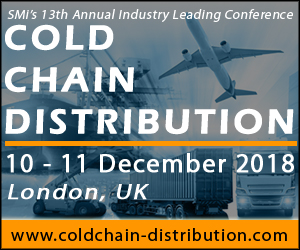 SMi proudly presents the 13th annual Cold Chain Distribution Conference taking place at the Copthorne Tara Hotel in Kensington, London between the 10th - 11th December.
The focus of the event will be the recent advances in temperature-controlled logistic solutions and the impact of regulatory changes on this multi-billion-dollar industry. Digitalisation of the industry will be discussed in detail and how the industry, from biotechs to pharma, need to adapt. Also, under the spotlight will be the crucial challenges of supply chain visibility and data integrity in the cold chain market.
The two-day event will also look at various developments within the industry, guiding companies on how best to ensure costs are kept low, and quality remains high, whilst simultaneously staying compliant to global regulations.
This year's event will continue to lead with its unrivalled panel of experts bringing you the most insightful presentations and issues in the field of temperature-controlled distribution:
Chairs for 2018:
Bob Hayes, Director, SeerPharma (UK)
Tony Wright, CEO, Exelsius
Featured Speakers:
Stephen Mitchell, Quality Lead Logistics Partnerships, GSK
Gianne Olaes-Dénis, Supply Chain Quality Manager, Sanofi Genzyme Europe
Stefan Braun, Managing Director, SmartCAE
Gianpiero Lorusso, Director, Supply Operations and GS, Merck
Francicso Rizzuto, Cargo Specialist, Manager for Europe, IATA
Marco Gaudesi, Pharmacist - GDP and Cold Chain Referent, MSF
Nigel Cryer, Head of Compliance & Inspection Readiness, Sanofi
Key Highlights to expect this December:
Evaluate the current GDP guidelines, with reference to the recently published PQG/ECA guide and discover the implications for everyday practice
Explore the overwhelming digitalisation of the supply chain and identify the subsequent security issues involved
Discover the temperature-controlled logistic solutions to best optimize your supply chain
Discuss the technical agreements within the supply chain and find out what questions you should be asking
Identify the challenges for the supply chain within emerging markets and discover the best solutions for optimization of your process
Cold Chain Distribution 2018
Date: 10th – 11th December 2018
Location: Copthorne Tara Hotel, London UK
Website: www.coldchain-distribution.com/pr2
---end---
Contact Information:
For all media inquiries contact Neill Howard on Tel: +44 (0)20 7827 6164 / Email: nhoward@smi-online.co.uk
About SMi Group:
Established since 1993, the SMi Group is a global event-production company that specializes in Business-to-Business Conferences, Workshops, Masterclasses and online Communities. We create and deliver events in the Defence, Security, Energy, Utilities, Finance and Pharmaceutical industries. We pride ourselves on having access to the world's most forward-thinking opinion leaders and visionaries, allowing us to bring our communities together to Learn, Engage, Share and Network. More information can be found at http://www.smi-online.co.uk