Drug Delivery Devices Symposium
Events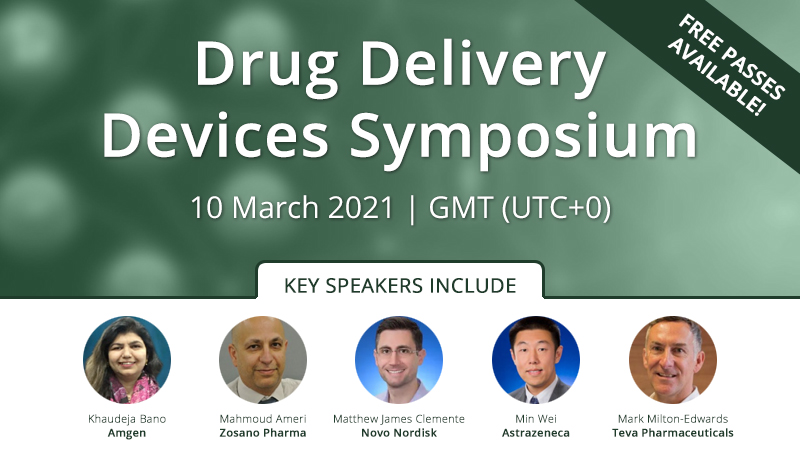 Drug Delivery Devices Symposium
10 March 2021 | GMT (UTC+0)
We have the distinct privilege of unveiling Oxford Global's Drug Delivery Devices Symposium, taking place on the 10th of March, 2021.
Free Passes Now Available: https://bit.ly/2YoWrId
This one-of-a-kind event brings together global leaders in the Drug Delivery Technology and Medical Devices field for an intensive one-day meeting on the latest updates and innovations for device developers.
✔️ Learn about the Latest Advances in Connected Devices and Smart Technologies/AI with Matthew James Clemente, VP of Device Development, Sanofi and Mark Milton-Edwards, Head of Digital Health, Teva Pharmaceuticals
✔️ Discuss Combination Product Development & Engineering with leading experts such as Andrew Yum, United Therapeutics and Ning Yu, Biogen
✔️ Discuss Regulatory Guidance and Safety for combination products with Mike Wallenstein, Novartis, John Barlow Weiner, FDA and Khaudeja Bano, Amgen
Attendees should not miss out on panel discussions on critical topic areas such as International Perspectives on Regulatory Pathways & Device Design and Engineering.
This event is for professionals working across the drug delivery device industry seeking to broaden their knowledge and engage in interactive discussions with like-minded experts.
For more information visit the website: https://bit.ly/2Ym3IIT
Download the full agenda: https://bit.ly/2M5apg6
#FDDSeries21