6th Microbiome Movement - Drug Development Summit
Events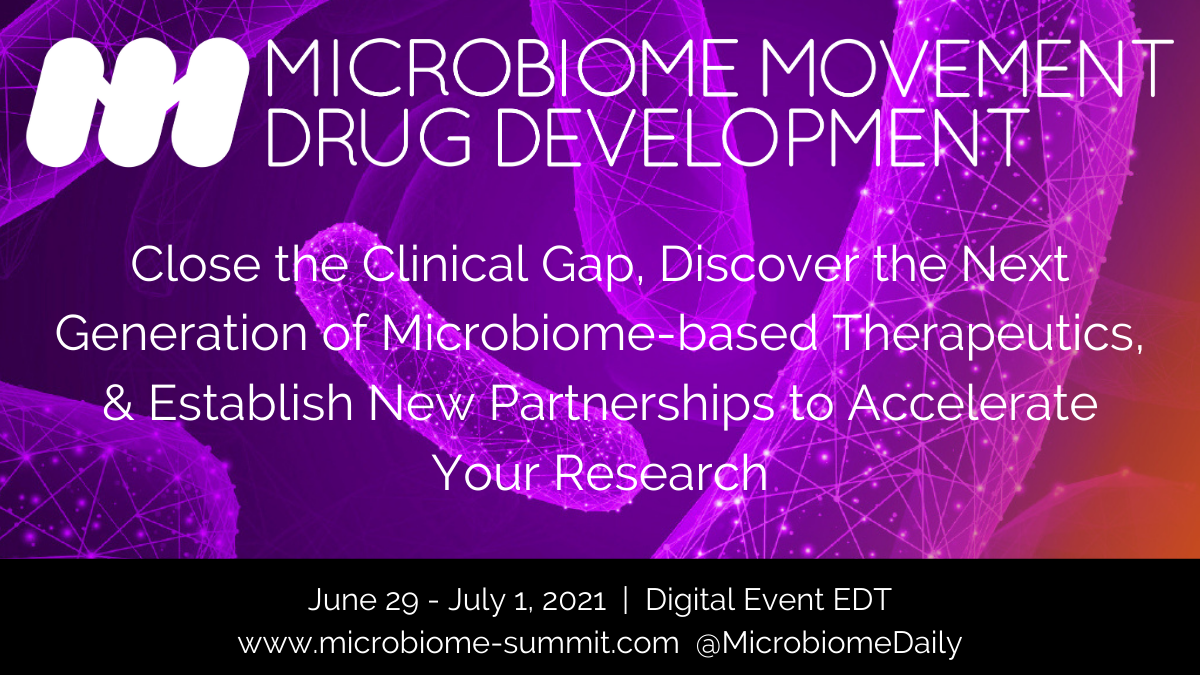 Close the Clinical Gap, Discover the Next Generation of Microbiome-based Therapeutics, and Establish New Partnerships to Accelerate Your Research
The most comprehensive forum for microbiome drug developers, the Microbiome Movement – Drug Development Summit returns for its sixth iteration!
We will continue to unite forward-thinking researchers from the biopharmaceutical and academic communities to pursue the causal role of the microbiome in disease, making this the must-attend conference for those translating microbiome science into clinically successful therapeutics.
Our 65+ expert speaker faculty includes:
Matthew Henn, Executive VP & CSO, Seres Therapeutics
Ken Blount, CSO, Rebiotix
Gokul Swaminathan, Associate Principal Scientist, Investigational Biology, Merck Exploratory Science
Paul Carlson, Principal Investigator, FDA
Fyza Shaikh, Instructor, John Hopkins Medical School
Sonia Timberlake, VP, Research, Finch Therapeutics
Julie Schwedock, Associate Director, Microbial Development, Takeda
Taylor Cohen, Principal Scientist, AstraZeneca
Andy Nuzzo, Computational Biologist, GSK
Emily Drabant Conley, CEO, Federation Bio
Bernat Olle, CEO, Vedanta Biosciences
Stephanie Culler, CEO, Persephone Biosciences
Although there has been recent late-stage clinical success, there still remains a number of challenges that need to be overcome in order for the potential of this complex science area to be realized. From understanding microbiome functionality, leveraging lessons from clinical development and scaling manufacturing processes, through to utilizing microbiome biomarkers for patient stratification and diagnostics, our discussion will cover the latest scientific findings and industry updates from the end-to-end development of microbiome therapeutics.
The 6th Microbiome Movement – Drug Development Summit will provide the perfect opportunity for a collaborative approach to develop a new generation of microbiome-targeted therapeutics that improves patients lives.
Access the official agenda for more information.