Eye on ESMO: Day Three - Merck & Co. wins big lung cancer battle
ESMO2016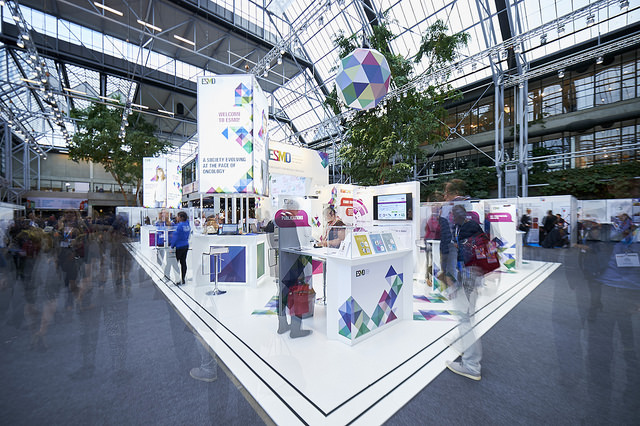 Day three at the European Society for Medical Oncology 2016 congress belonged to Merck & Co., and may well be seen as a hugely significant day in the future of lung cancer treatment.
Revolutionary, spectacular, breakthrough and transformational were just some of the adjectives used to described the latest data presented on Merck's immunotherapy Keytruda (pembrolizumab) as first-line treatment for advanced non-small cell lung cancer. In one phase 3 trial, KEYNOTE-024, Keytruda (pembrolizumab) cut the risk of disease progression or death by 50% compared to chemotherapy in patients expressing PD-L1 levels of 50% or greater.
It improved progression-free survival by 10.3 months, versus six months for chemo, while overall survival was also significantly prolonged - 80% of patients on Keytruda were alive at six months compared to 72% on chemo.
https://twitter.com/jsoriamd/status/785136888617271296
Presenting the data, Martin Reck of the Lung Clinic Grosshansdorf, Germany, said it will "completely change the management of patients with advanced NSCLC" and should become standard of care for first-line treatment for the 30% of patients who are high expressers of PD-L1. He added that "the new treatment algorithm should include upfront testing for PD-L1 expression to identify patients who will benefit".
If that were not positive enough, in the phase 2 NSCLC trial KEYNOTE-021, Keytruda plus the chemotherapy combo of carboplatin plus pemetrexed achieved a 55% objective response rate compared to 29% for chemo alone, the standard of care, and reduced the risk of disease progression or death by 47%. This was the first time that the combination of immunotherapy and chemotherapy to show benefit.
Great news for Merck, but it has only added to the misery suffered by Bristol-Myers Squibb since it announced in the summer that its rival immunotherapy Opdivo (nivolumab) failed to demonstrate superiority over chemotherapy for first-line NSCLC.  It has now published the full data set from the CheckMate 026 trial, which included patients with 5% or higher PD-L1 expression (remember the 50% threshold in the Keytruda trial).
It revealed that progression-free survival was 4.2 months with Opdivo compared with 5.9 months with chemotherapy. Put simply, BMS bet big, hoping Opdivo would work in a very broad population of treatment-naive patients, but the gamble has not paid off. Even worse, in patients with tumours expressing 50% PD-L1, there was no significant difference in disease progression or survival between Opdivo and chemo.
The company put a brave face on the results and its oncology chief Fouad Namouni said they "strengthen our belief that the majority of previously untreated NSCLC patients may require combination therapy". The company is testing Opdivo in combination with its other immunotherapy Yervoy (ipilimumab) as first-line for lung cancer.
Staying with lung cancer and PD-L1, Roche had a good day too. Data from a phase 3 study of its immunotherapy Tecentriq (atezolizumab) showed that it helped people live a median of 13.8 months, 4.2 months longer than those treated with docetaxel chemotherapy.
The study evaluated people with NSCLC whose disease had progressed on or after treatment with one or more platinum-based chemotherapy. Interestingly, even people whose disease had low or no observed PD-L1 expression still showed a significant benefit from the medicine.
This prompted Prof Reck (the same presenter of the Keytruda data) to suggest that "we have a problem with using PD-L1 negativity as an exclusion factor for treatment". He went on to argue that "PD-L1 is perhaps one imperfect surrogate marker to describe the activity - it's a good enrichment factor but we need additional markers" to see who might and might not benefit from these treatments.
For more exclusive insight from ESMO 2016 please click here.