Pharma's digital inflection point
Digital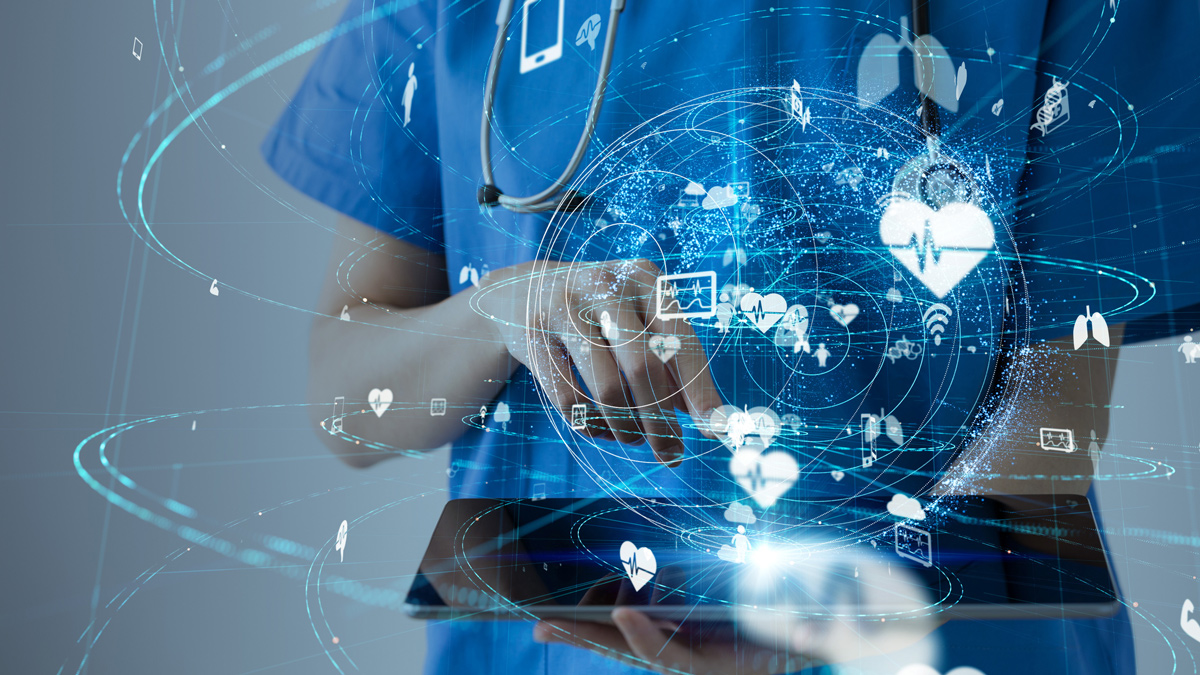 Billed as the world's most influential technology event, this year's CES show saw its first ever keynote from a healthcare company when Abbott CEO Robert Ford took to the stage in Las Vegas last month.
For Ford, the focus was on his company's new range of consumer 'biowearable' health devices, but his appearance was also another reminder of the increasing importance of 'digital' in all its forms across the life sciences sector.
Alongside buzzworthy metaverse, NFT and cryptocurrency offerings, this year's CES also saw updates in remote patient monitoring tech, mobile games for better mental health and a slew of wellness devices.
"Health tech is at an inflection point," as Ford put it in his CES keynote. "COVID-19 has powerfully underscored the importance of health and the growing value of the technologies that protect and advance it."
Building on the huge digital shifts the pandemic began in 2020, the question now is "what's next?" Where does pharma – and healthcare – go after all the digital advances we've seen in the last two years?
Digital health: investment, integration and expansion
Digital health venture funding had yet another blockbuster 12 months last year, with 2021's figures potentially reaching $57.2 billion, depending on which reports you read.
The boom in digital investment interest has already been built on this year by public listings from health gaming company Akili and the Chinese firm ETAO. Deals like these will continue to bring forth innovative ways of tacking health issues and it's advances like these that are drawing attention from the highest levels of government.
In the US, for example, the health department recently backed 15 COVID-focused digital health start-ups, as it looks to address health inequalities and mitigate the pandemic's effects. In tandem the White House has launched a fact-finding mission to investigate how to effectively use digital health technologies in community settings.
Meanwhile, technology could soon be even more integrated with healthcare plans and pathways. With one eye on customer experience, the FDA is seeking public input on the 3D printing of medical devices at the point of care that could enable health care professionals in the US to quickly create patient-matched devices and anatomical models for surgical planning.
There was also digital health expansion last year from the big technology companies, whose healthcare ambitions show no signs of fading. Amazon gained a corporate client for its telehealth services by signing up the Hilton hotel chain, and the company's many-headed healthcare plans also saw it support a series of start-ups. Somewhat unsurprisingly, the up-and-coming firms picked by its digital health accelerator included those with a focus on AI and voice technology.
Elsewhere in the tech space, Apple recruited J&J's outgoing CEO Alex Gorsky to its board, as it continues to ramp up the health features of the Apple Watch with fall detection, though with fewer sensors than some observers would like. And over at Google's parent Alphabet, last year saw the formation of a new AI-driven drug discovery unit that wants to achieve nothing less than "reimagining the entire drug discovery process".
Digital transformation in pharma's clinical and commercial organisations
Could pharma reimagine its entire clinical and commercial 'value chain' in a similar way to Alphabet's lofty ambitions?
The sector has certainly been on a rapid transformational journey during these last two COVID years and there are clear signs that even more progress, and lasting change, is upon the industry.
As Novartis' chief technology transformation officer Elizabeth Theophille noted last year,  "the outbreak of COVID-19 sparked a mass movement to digital systems almost overnight".
"From drug discovery and development through to manufacturing and patient treatment, technology will create new opportunities at every stage of the healthcare process."
One of those opportunities is to improve patient outcomes through greater digitalisation of clinical trials. As interest in, and support for, elements such as decentralised trials increases, a wider role for the digital technology that would underpin them is something industry regulators are looking to bring online.
Just before Christmas draft FDA guidance looked at how digital health technologies like smart and wearable devices could be used to capture data remotely from participants in clinical trials of new drugs or medical devices.
The US regulator provided outline advice on technology design and selection, how sponsors can verify and validate them as fit-for-purpose, as well as the sort of information needed to be included in trial or marketing approval applications. Initiatives such as this will provide welcome support for clinical trial technology, but there are signs things are already changing.
Early in the pandemic many clinical trial sites were still reluctant to integrate digital technologies, with cost and complexity among the main barriers cited, but the number of digital holdouts is declining.
Looking at all the global interventional studies launched from October 2020 to March 2021, our most recent digital clinical trial tracker report found 67% of the 150 trial sites actively recruiting participants used digital tools to support clinical trials, up by 10% on the previous study, with patient recruitment the biggest focus.
There are some positive signs for the commercial organisation side of the industry too, in our most recent study on digital excellence maturity.
Amid all the upheaval since 2020, and the overnight switch to digital that Novartis' Theophille referenced earlier, pharma's average digital excellence score increased by eight percentage points between 2019 and 2021 and, overall, two-thirds of the companies we surveyed scored in the Good or Excellent range.
That's no mean feat, when you think about the magnitude of change over the last two years in healthcare and pharma, and – as IBM's Watson selloff shows – the complexity of integrating health tech into our current systems. But if pharma firms want to maintain this upward trajectory, we found several things they should be thinking about.
To name a few, there's still a need for significant progress to be made on behind-the-scenes digital capabilities like analytics and CRM, and firms must further strengthen their capabilities and more effectively communicate their digital vision internally, in order to get a critical mass to accept the changes in people's jobs that digital technology triggers.
About the author

Dominic Tyer is a research director at DT Consulting, an Indegene company. He has more than 20 years of pharmaceutical business research and publishing experience at leading industry titles and is an influential author on the digital transformation of the healthcare sector.