IVRHA 2022: Exhibiting pioneers of medical XR
Digital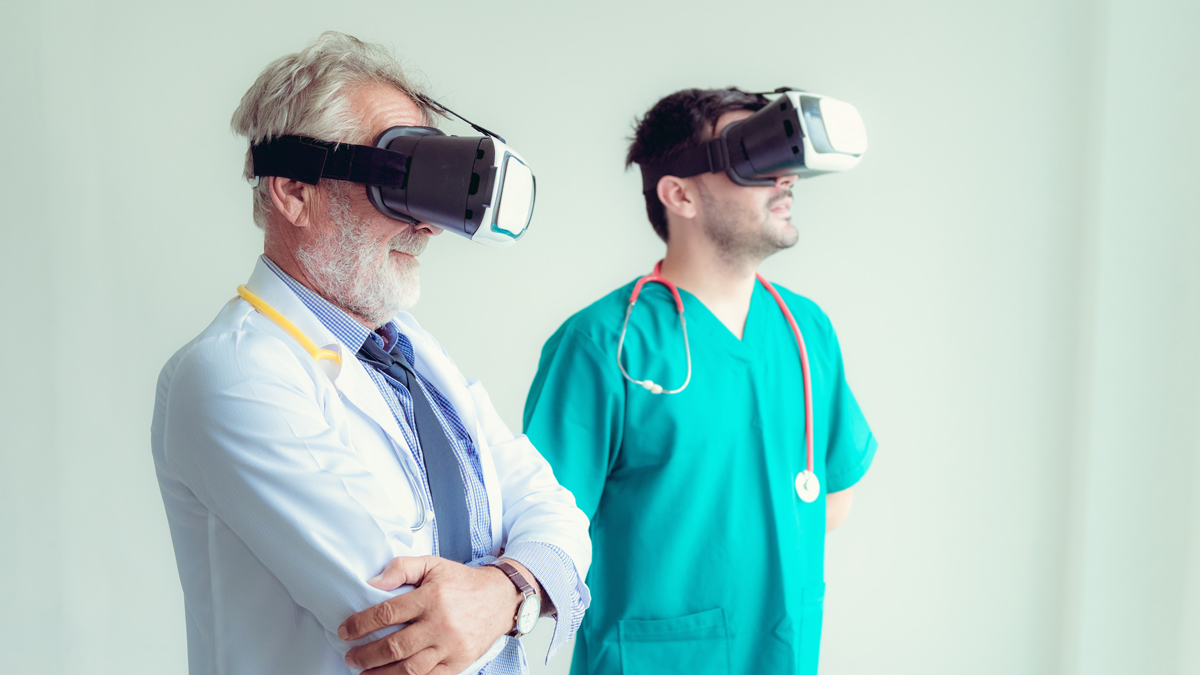 The International Virtual Reality Healthcare Association (IVRHA) held its 6th annual conference in Nashville, Tennessee, showcasing medical extended reality (XR) experiences and the companies impacting the healthcare ecosystem.
As Adam Elsesser, CEO of Penumbra, stated in his keynote, when many people think of virtual reality, they often think of gaming. But this conference showcased a growing number of medical XR experiences utilising this technology in new and innovative ways, striving to change the healthcare industry as we know it.
In a crowd of 200 attendees, guests included medical XR start-ups, hospitals, and research universities from around the globe.
Alongside those organisations sat well-known companies and agencies, such as the National Institute of Health (NIH), Johnson & Johnson, HDMS of CVS Health, Microsoft, Meta, and HP, determined to be part of the fast-growing immersive reality industry.
These large companies are realising the potential of 3D environments in medicine – from training medical students to providing therapeutic modalities for patients who've suffered a stroke or aneurism.
The opportunity for data collection alone via tracking a patient's eye movements is coming into focus for businesses, such as HDMS of CVS Health.
Additionally, the continued growth of medical XR use by hospitals, physicians, and therapists will allow for scores of new data to be amassed.
Over the past five years, medical XR companies that were smaller start-ups have evolved into multimillion-dollar enterprises, partnering with pharmaceutical companies to supply digital therapeutic solutions using 3D immersive technology.
Though many pharma companies are noticing the impact immersive technology can have on patient care, a lack of pharma's presence at the conference was noticeable, particularly when considering the massive players in healthcare that were present.
Few events exist where face-to-face meetings can easily be scheduled between start-ups, medical XR pioneers, and Fortune 500 companies without hassle.
If pharma joined the event, it would undoubtedly expand the reach of these solutions. Simultaneously, the innovative, digital collaborations sought out by so many pharma companies may be more readily accessible.
Beyond the networking opportunities, there was a range of XR exhibitors presenting their experiences, showing the extent to which immersive solutions are progressing and impacting the healthcare community.
Medical XR evolution
The number of health-based experiences in the industry has expanded and use cases have changed over time.
Many previous VR event exhibitors showcased restorative platforms with general landscapes and calming music to distract or ease stress and anxiety.
Those experiences still exist, but the applications of what immersive environments can assist with have increased as the technology has progressed.
GigXR is a great example of an augmented reality (AR) experience changing current training methods using technology.
The company focuses on educating future healthcare professionals using an immersive 3D training tool.
Via the AR headset, users can see the real world around them, but with a digital patient placed in the same room in which they reside.
GigXR allows a student to analyse what they call a "holographic standardised patient" using Microsoft's HoloLens while seeing the patient's vitals on the screen.
Students can walk around the patient, just as they can in real life, and examine any visible injuries to the body.
The exhibitor booth for GigXR sat directly across another VR company's booth that focused on training differently.
Primal Pictures showcased its experience Primal VR, which provides the world's most detailed anatomy model in virtual reality.
Primal VR is an educational tool where users can evaluate the anatomy of a human body via 360-degree models and rotate and study each structure.
Students can also highlight a specific anatomy structure to hear its pronunciation, highlight and inspect structures, and learn contextual information.
Numerous other up-and-coming medical XR vendors showcased their experiences, but, for all, one clear intention was noticeable – medical XR will change the way healthcare is taught, delivered, and received.
Big players in XR
Still, several companies prominent at the event have already established a large following and are affecting change in healthcare through their experiences and partnerships.
To date, Nashville-based virtual reality firm BehaVR has become one of the best examples of a successful medical immersive reality company.
In 2021, the behavioural health company and Sumitomo Dainippon Pharma Co. in Japan announced their partnership to develop and commercialise prescription digital therapeutics and general wellness products to treat social anxiety disorder, generalised anxiety, and major depressive disorder.
The potential $140 million agreement is one of the largest deals announced in medical XR history.
BehaVR was a diamond sponsor of the IVRHA 2022 conference, and Sumitomo was one of the few pharma enterprises with an affiliate company at the event.
Another major player within medical XR is Penumbra, Inc., a publicly traded global healthcare company that manufactures medical devices for patients who've suffered a stroke or aneurism.
Penumbra exhibited its REAL System, a virtual reality upper body rehabilitation technology, focusing on strength, range of motion, and postural control.
The System allows therapists to monitor a patient's progress through motion data tracking while providing rehabilitation through an immersive environment.
Penumbra's other medical device offerings include its FDA-approved Indigo Aspiration System Lightning 12, which allows for the treatment of pulmonary embolism via removing fresh, soft emboli and thrombi from vessels of peripheral arterial and venous systems.
The development of innovative technologies, such as the REAL System, and the attendance by massive companies prove immersive 3D technology will be a considerable part of the healthcare ecosystem as time progresses.
Medical XR companies will continue to strive for improved efficacy of healthcare offerings. It is unforeseeable what fruitful advances will be made in the next decade – especially with the assistance of huge companies bearing extensive resources.
About the author 

Jessica Hagen is a freelance life sciences and health writer and project manager who has worked with VR health companies, fiction/nonfiction authors, nonprofit and for-profit organisations, and government entities.