From evidence-based medicine to digital-based health
Digital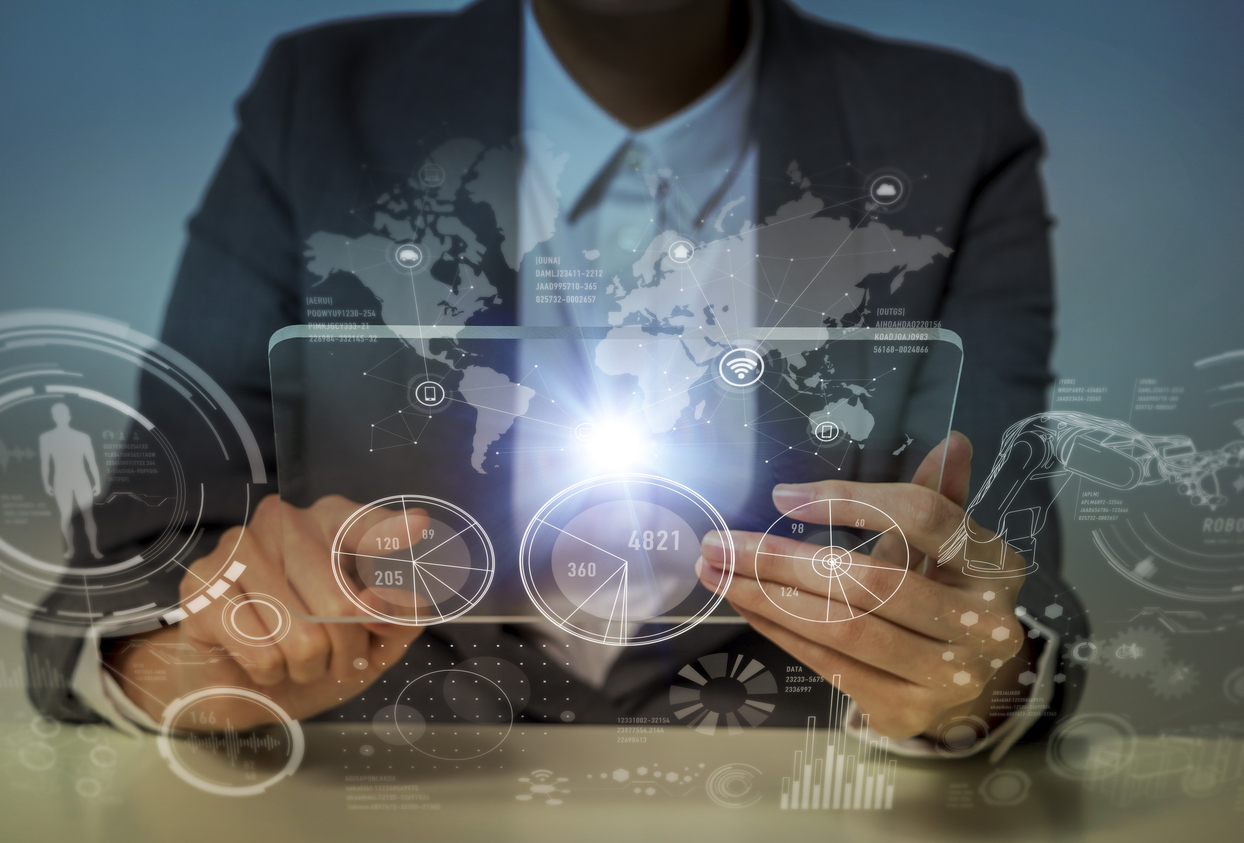 The concept of evidence-based medicine (EBM), coined by Gordon Guyatt in 1992 to refer to the use of modern, best evidence in making decisions about the care of individual patients[1], might need to be revised.
The breakthrough developments in the digital technology space, including mobile health apps, wearable sensors, cloud-based computing and artificial intelligence, are driving a massive evolution of what evidence means in healthcare – as well as how it is measured, analysed and used.
In this context, we might soon need to be talking about digital-based health as the next step for evidence-based medicine. Here are five ways digital health will make a difference to patient-care.
Solving adherence with connected apps, AI and 'digital medicines'
Connected apps are becoming a standard of care in certain chronic disease areas, such as asthma or diabetes. There are at least 18 smart inhalers on the market targeting the 30-70% of asthma patients who are not adherent and all of them track usage, with some also providing functionalities such as peak flow and lung function testing. They can also help patients adjust their inhalation technique or alert their physician about the need to switch therapy. Similarly, most diabetes companies now integrate connected pens and pen caps into their offerings allowing patients to track their insulin usage via medical mobile apps to try and reduce more than 50% of patients who are not adherent to medication[2].
In the mental health space, Otsuka and Proteus Digital Health received approval last November for a combination comprised of a drug, an ingestible sensor, a smartphone app and a web-based digital medicine. The system records medication ingestion and communicates it to the patient and healthcare provider. In addition, it can collect data on activity level, as well as self-reported rest and moods[3]. Proteus has published results proving that patients who choose to use what they have coined as DigiMeds consistently take their medication about 90% of the time, compared to 50% of patients on normal drugs[4]. In April Proteus announced plans to develop an additional 31 digital medicines beyond mental health to areas such as cardiovascular and metabolic conditions, infectious diseases and oncology.
The digital company AiCure has developed a drug-agnostic solution based on artificial intelligence that could help solve the problem of adherence across multiple types of treatments. The company's app captures the action of a patient taking their medicine and blood tests have shown that 100% of patients in the intervention arm received therapeutic benefit, compared to only 50% in the control arm[5].
The potential impact of these technologies is massive, from avoiding drug resistances to antibiotics or antiretroviral drugs, to capturing compliance across multiple drugs or drug-device combinations in high prevalent disease areas such as cardiovascular disease.
Managing complex diseases with integrated health and wellness apps
There is an increasing body of evidence demonstrating that patient outcomes are improved by changing certain life-style behaviours. This is one of the reasons why some digital health companies, such as Sharecare, are investing in developing platforms that allow the management of both health and wellness in one place[6].
The company's Reversing Heart Disease programme, developed by the well-known physician, researcher and White House advisor Dean Ornish, rests on four pillars (diet, meditation, exercise and support groups) that provide the foundation for a solid digital platform that also provides numerous other resources to programme followers. In doing so it was able to produce great results - demonstrating a relative reduction in diameter stenosis of -7.9% compared with a +27.7% progression in the control group after five years of follow-up [7]. The risk ratio for a cardiac event in the control group compared with the experimental group was 2.47.
Today, the programme is offered in more than 14 US states, reimbursed by Medicare and many other commercial payers such as Aetna, Anthem, Blue Shield of California and HMSA. Some of these insurers are covering members who have risk factors for coronary heart disease, and other conditions such as diabetes and early-stage prostate cancer[8].
Extending patient care with smartphone sensors
AliveCor's smartphone electrocardiogram (ECG) received FDA clearance in 2015 for its algorithm to detect atrial fibrillation (AF). An abnormal heart rhythm that is the most ordinary form of cardiac arrhythmia and can lead to stroke or congestive heart failure, AF affects approximately 9% of US citizens aged 65 according to the Centers for Disease Control and Prevention.[9] The algorithm can detect if patients are experiencing AF through ECG recordings, so physicians can intervene before potentially life-threatening conditions, like strokes, occur.
Another advance in smartphone sensors came last October when the FDA approved the first smartphone compatible heart monitor implanted in patients. Marketed by Abbott, the Insertable Cardiac Monitor (ICM) is implanted just under the skin on the chest and it transmits heart rhythm data to a smartphone app. This data is shared with a physician alongside symptomatic events recorded by the patients and doctors can then analyse this data for arrhythmias including AF.
Both innovative devices, with various levels of patient invasion and physician involvement, have a great potential to prevent major diseases, as well as allowing patient care to be extended outside the walls of health facilities.
Treating patients with digital therapeutics
Last September, Pear Therapeutics' reSET became the first digital therapeutic approved by the FDA, which licensed it as a prescription-only adjunct treatment[10] for substance use disorder (SUD). The data showed a statistically significant increase in adherence to abstinence for the patients with alcohol, cocaine, marijuana and stimulant SUD in those who used reSET (40.3 %) compared to the patients who did not (17.6 %).
Only a few months later, in November, digital health company Carrot gained FDA approval for its smoking cessation app, Pivot. The tech-enabled smoking-cessation platform offers an OTC carbon monoxide breath sensor, consumer-grade smartphone app and human coaching as an innovative approach to behavioral science[11].
Enhancing triage, diagnosis and productivity with AI
Artificial Intelligence (AI) offers the ability to analyse enormous sets of data, identify patterns and generate algorithms to explain them. All of them, critical functionalities which open the door to a vast number of applications in healthcare, although to some extent the last year has also seen AI become an industry buzzword.
A recent study revealed that nearly half (43%) of NHS trust in the United Kingdom are investing in AI-enabled technologies to facilitate patient access to services and decrease administrative workload in general practitioners. This same study highlighted that 93% of administrative staff participating in the research still relied on pen and paper to build patient records and had more than half of their patients' documentation in paper[12].
The use of AI to increase patients' self-service access to health information, with the goal of improving outcomes and reducing costs is a key business priority for leading technology companies such as Microsoft. Last December, the company offered a preview of its health chatbot, developed in collaboration with three plan, provider and pharmacy service companies in the US, Aurora Health Care, Premera Blue Cross and UPMC[13].
AI algorithms could also be a vital tool in cancer diagnosis. A study published in JAMA at the end of last year, showed how some deep learning algorithms achieved better diagnostic performance than a panel of 11 pathologists participating in a simulation exercise designed to mimic routine pathology workflow. The algorithm performance was comparable with an expert pathologist interpreting whole-slide images without time constraints. The authors highlight that the clinical utility of this approach will require evaluation in a clinical setting[14].
This potential doesn't go unnoticed by some governments. In the last weeks, UK prime minister Theresa May set-up a national objective to reduce UK cancer deaths by 10% in 15 years using AI to enhance prostate, ovarian, lung and bowel cancer diagnoses at earlier stages[15].
Digital-based health's transformative potential
As we can see through these few examples, digital-based health has a strong potential across the healthcare spectrum to:
Allow the collection of data coming from multiple sources, devices, platforms and sites of care and, consequently, the follow-up of the patient across the treatment continuum
Facilitate the integration of those different structured and structured data points to provide better decisions about the care of individual patients
Expedite the analysis of enormous and complex sets of data, identifying patterns and generating algorithms to simplify decision-taking processes, reduce time and improve quality.
The opportunities that digital-based health presents to improve patients' treatment continuums, integrate elements beyond traditional care and to improve patient outcomes are massive. As too are the potential savings to the healthcare system. A recent report by IQVIA estimated that, only just five disease areas (diabetes prevention, diabetes, asthma, cardiac rehabilitation and pulmonary rehabilitation), the US healthcare system could save $7 billion a year - which is around 1.4% of total costs in those patient populations[16].
This potential is seen by the big tech players, such as Apple, Google, Microsoft, IBM Watson and Oracle, who are accelerating their efforts to remake health care by developing new tools for consumers, patients, doctors, insurers and medical researchers [17].
However, there remain significant challenges blocking the wider use of these technologies. Of special importance is the privacy component and the implications of this kind of highly sensitive personal information (for example, genome sequencing or mental health parameters) getting into the wrong hands. The recent Facebook-Cambridge Analytics scandal will hopefully serve as a compass on what consumers will accept. Other elements, such as security, malpractice liability, financial incentives, reimbursement and, even most importantly, workflow integration, also require attention[18].
Policy makers have now a fantastic opportunity to maximise the potential that technologies can offer and at the same time, protect consumers. Formal successor or not of evidence-based medicine, digital-based health is here to stay and represents a new healthcare era, transformative for patients, physicians, providers, payers, policy makers and life science companies alike.
Disclaimer: this article expresses the author's opinions and not those of their companies.
About the authors:
Pa

ul Carter is former EVP with Gilead Sciences. He is now a member of the board of directors with several publicly-listed and private companies as well as being a retained advisor to private equity, digital health and other service providers working in the life sciences sector.
Ana Céspedes, PhD, MBA, has 14 years of senior leadership experience in healthcare and corporate affairs. Her particular in

terests are in new business models and operating excellence, digital acceleration, communications, patient centricity, and building public-private partnerships.
[1] https://ebm.jamanetwork.com/BMJ 2014;348:g371
[2] https://www.iqvia.com/institute/reports/the-growing-value-of-digital-health
[3] https://www.fda.gov/NewsEvents/Newsroom/PressAnnouncements/ucm584933.htm
[4] https://www.proteus.com/press-releases/proteus-digital-health-announces-digital-medicines-pipeline-development-and-expansion-into-oncology/
[5] https://aicure.com/stroke-patients-use-artificial-intelligence-ensure-full-therapeutic-benefit/
[6] http://www.mobihealthnews.com/content/sharecare-adds-1700-employees-acquisition-healthways-population-health-business
[7] https://www.cms.gov/medicare-coverage-database/details/nca-decision-memo.aspx?NCAId=240&NcaName=Intensive+Cardiac+Rehabilitation+(ICR)+Program+-+Dr.+Ornish%2527s+Program+for+Reversing+Heart+Disease&DocID=CAG-00419N&SearchType=Advanced&bc=IAAAAAgAAgEAAA%3D%3D&
[8] https://www.ornish.com/
[9]  https://www.cdc.gov/dhdsp/data_statistics/fact_sheets/fs_atrial_fibrillation.htm
[10] https://www.fda.gov/NewsEvents/Newsroom/PressAnnouncements/ucm576087.htm
[11] https://pharmaphorum.com/news/carrot-collaborates-roll-digital-smoking-cessation-service/
[12] https://www.itproportal.com/features/how-artificial-intelligence-can-transform-nhs-patient-services/
[13] https://enterprise.microsoft.com/en-us/articles/industries/health/microsoft-announces-private-preview-partnerships-for-ai-powered-health-bot-project/
[14] Ehteshami Bejnordi B, Veta M, Johannes van Diest P, et al. Diagnostic Assessment of Deep Learning Algorithms for Detection of Lymph Node Metastases in Women With Breast Cancer. JAMA. 2017;318(22):2199–2210. doi:10.1001/jama.2017.14585
[15] Source: https://www.ft.com/content/5437ae4e-5c27-11e8-9334-2218e7146b04
[16] https://www.iqvia.com/institute/reports/the-growing-value-of-digital-health
[17] https://www.nytimes.com/2017/12/26/technology/big-tech-health-care.html
[18] http://medicalfuturist.com/digital-health-best-practices-policy-makers-free-report/