Evidence, investment, scale: the route to digital health adoption
Digital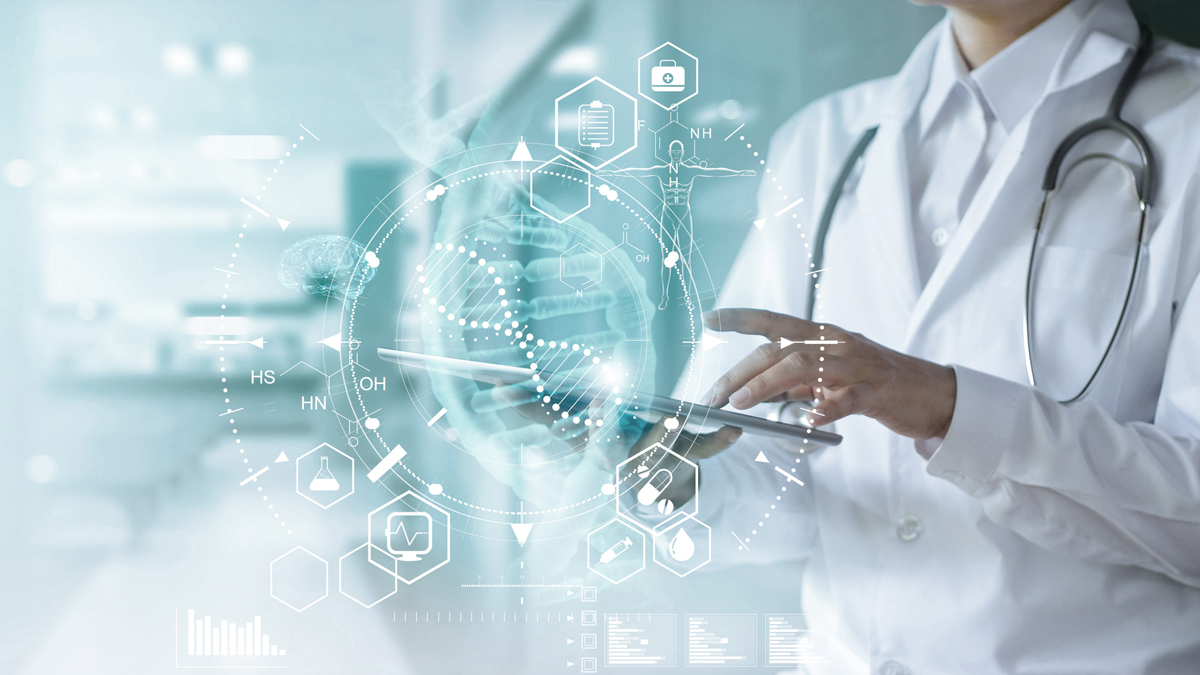 Digital health tools hold huge potential, and the evidence base is growing all the time – so what is holding us back and how does the sector overcome the multiple barriers to widespread adoption?
We are living through a digital health revolution, and the pace of change has been accelerated by the COVID-19 pandemic.
More than 90,000 health-related mobile apps were released onto the market in 2020 alone, according to an IQVIA Institute report,  that's an average of 250-plus every day.
Yet despite the mounting body of evidence for their effectiveness and growing acceptance among healthcare professionals and patients alike, moving this emerging approach into the mainstream of healthcare remains a challenge.
During a webinar held last month, Digital Health Trends 2021: Innovation, Evidence, Regulation, and Adoption, expert panellists discussed the report's findings, and how to overcome the multiple barriers to adoption.
Recognising the potential
Digital health has the potential to transform healthcare – but it will take a wholescale shift in approach to enable wider adoption, said the panellists.
Jennifer Goldsack, CEO of the Digital Health Society, said: "There's enormous opportunity for us to redefine how we measure health and disease using these digital tools.
"There's enormous possibility for us to come up with digital phenotypes to make more personalised diagnoses, and then deliver personalised care and therapies. There's also an enormous opportunity for us to manage chronic conditions, like diabetes and hypertension, outside of the clinic."
It's all about "identifying and signalling illness much further upstream", she added.
"We should be bold and say we can redefine what 'good' looks like: good should be that we're keeping people healthy; we're keeping them out of the clinic and out of the hospital."
Marc Sluijs, M&A, strategy and partnerships at the Digital Health Network, agreed, explaining that digital health presented an opportunity to embrace patient centricity.
"We need to realise that healthcare is a consumer service. One of the challenges pharma has is that it cannot be truly patient-centric because it starts with the molecule," he said.
People, Sluijs went on, should be the starting point if we are to develop comprehensive solutions that "address all their needs and expectations".
Chicken and egg: building the evidence base
There is huge receptivity for digitally-enabled health, said Meg Baron, VP of digital health strategy at the American Medical Association (AMA), thanks to its ability to drive the "right care, right time, right modality" agenda.
"But it goes back to this key requirement of needing an evidence base … and sometimes that is a 'chicken and egg' situation. You need adoption first to be able to show outcomes, and you need outcomes in order to point to more adoption," she said, adding that the AMA, curator of the Current Procedural Terminology (CPT) global physical code set, was working with industry to ensure there was an evidence-based, trusted standard.
"A lot of these companies are small, and health economics data is hard to get your hands on. Doing the studies is expensive, and meeting the endpoints that each stakeholder wants to see is complex."
Pointing to the progress of the last year or so, Andy Molnar, CEO of the Digital Therapeutics Alliance, said that telehealth had been around for more than a decade – but it had taken a global pandemic to prove that people wanted it.
"It wasn't until it became a necessity that it became mainstream," he said, adding that many healthcare professionals "loved" the model.
"They are stressed, they are strapped for time, and these things help patients, which is what 99.9% doctors want. But that being said, there is this idea of building the proper body of evidence.
"A lot of these companies are small, and health economics data is hard to get your hands on. Doing the studies is expensive, and meeting the endpoints that each stakeholder wants to see is complex," he said, calling for greater alignment across the various silos of hospitals, payors and regulators.
Baron agreed, saying that collaboration was essential if the sector was to move forward with digital health adoption.
Reimbursement, investment, scale
The panellists spoke about a number of newly-created app reimbursement pathways and models, in regions including the US, Europe and Asia. But while progress in this area is welcomed, it does not solve the whole problem.
"I think the lack of scale is currently the biggest obstacle to adoption, not so much whether there are reimbursement codes," said Sluijs.
"There are examples of companies that have clinical evidence, market access and reimbursement, but it doesn't bring them any revenue. Basically, they are too small, and most are trying to market a small point solution in one indication. It is very difficult for them to do that in an economically-viable way."
In addition, regulators and payers often underestimated the costs associated with building digital health products, added Molnar.
"One thing we did recently in response to government policy changes was to actually lay out what it looks like to build and commercialise a digital therapeutic product," he explained, explaining that the costs are often "in the tens of millions of dollars".
"There is a perception that the rigour that goes into building the body of evidence is not that expensive … it is a perception that we are trying to change because it is holding us back."
Sluijs agreed, adding that it was "very important to make people aware of how much investment is going into the realm of digital therapeutics" – and that he only expected that to continue.
"Personally, I think we will see the emergence of larger digital health and digital therapeutics companies providing more complete solutions, funded by many of the large investors who are just dying to invest in healthcare," he said.
"The private equity sector is sitting on record amounts of capital that needs to be invested, but they're just waiting for this space to reach a certain minimum critical size."
The future of digital health, then, could be about to explode, leading to wide-scale adoption that will change the healthcare landscape for good.
About the author
Amanda Barrell is a freelance health and medical education journalist, editor and copywriter. She has worked on projects for pharma, charities and agencies, and has written extensively for patients, HCPs and the public.