Applied Virtual Reality in Healthcare: A comprehensive book on medical XR
Digital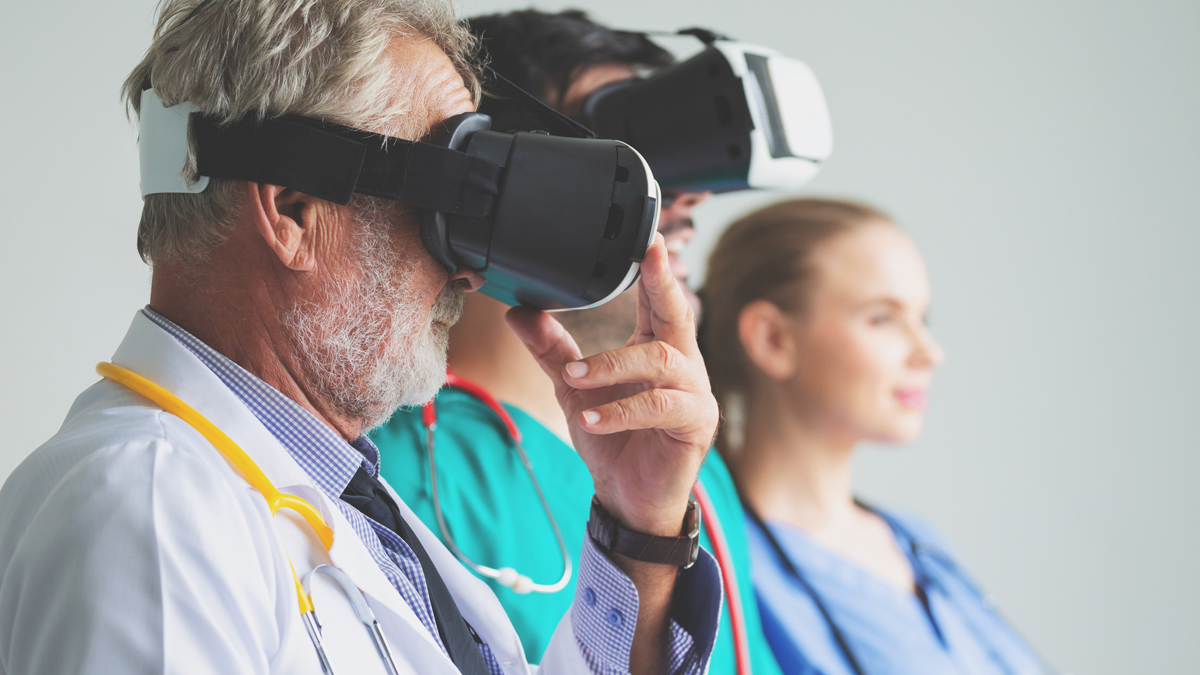 Walter Greenleaf, PhD, neuroscientist and digital health expert at Stanford University's Virtual Human Interaction Lab, tells us about the new book Applied Virtual Reality in Healthcare: Case Studies and Perspectives and why he and his co-authors gathered insights from some of the most prominent figures in the field of medical extended reality (XR).
Medical XR (ie, virtual reality, augmented reality, and mixed reality) has emerged as an innovative approach to providing patients with non-invasive treatment and helping surgeons perform operations. Still, it can be challenging to acquire a complete picture of how this technology is used overall in medicine.
"I observed that my colleagues who were working to develop and validate various clinical applications of virtual reality technology had no venue to publish their work in a way that would reach other scientists grappling with the same issues and constraints," Greenleaf said.
They could publish in specialised journals relevant to their specific area of research – for example, journals focusing on addiction, autism, surgical skill training, pain mitigation, stroke rehabilitation and others – but there was a need for a compendium that brought technology, science, clinical research, and relevant findings together in one place.
"Our book Applied Virtual Reality in Healthcare provides an overview of innovative approaches, best practices, and coherent solutions to common concerns. It also supports those who are new to the field by presenting a synopsis of the general trends and status of the medical virtual reality industry."
Walter says pharma can wield many of the book's insights to improve its portfolios and help advance immersive technology in medicine.
How pharma can leverage XR
Partnerships between pharma and XR companies have increased in the past few years. Organisations such as Orion Pharma have studied VR digital therapeutics in-house.
"There's a clear momentum from some of the larger companies to jump into this, but I think the main way VR will show up as being an important contributor to the pharma and digital health industries is by being a bridge – as being an adjunct to combination therapy," Greenleaf said.
"For many of the medications, for example, SSRIs, we get greater efficacy when we combine their use with concurrent cognitive behavioural therapy."
Mobile health apps or web-based apps used for combination therapy often have low adherence rates and are often less efficacious than VR in evoking a cognitive response.
"VR is more effective in terms of getting full attention because we can block out the outside world and create more emotionally evocative environments," Greenleaf said.
Immersive technology can also help improve assessments of the effectiveness of treatment, particularly regarding behavioural health where a patient's results are often subjective.
Self-reporting can put patients in an awkward spot to adequately describe their feelings or thoughts, and this method can sometimes be unreliable.
"With VR, we can evoke a response and challenge the system in a reproducible manner. We will see a new generation of better assessments, which will empower better research," Greenleaf said.
Post-discharge follow-up and support are other examples of where immersive technology can be valuable.
"In VR environments, patients can effectively converse with a group of people who have the same indications. Patients can be part of a support group or receive therapies somewhat anonymously," Greenleaf said.
"Those struggling with addiction, for example, might not be able or willing to attend an in-person meeting because of concerns about job security or community reactions. VR can be a useful venue for them."
Additionally, pharma can use VR for monitoring brain health during treatments, such as chemotherapy.
"People have different metabolisms and health states. Neurotoxicity needs to be monitored. One could wear a head-mounted display during infusions, which can be used to do neuropsychological assessments and tests to determine the decline in cognitive function," Greenleaf notes.
Several use cases exist for XR technology. Still, challenges will emerge as this medium progresses.
The last chapter in Applied Virtual Reality in Healthcare, entitled "A Virtual Reality Platform for the Objective Measurement of Emotional State," highlights potential obstacles ahead and examines how pharmaceutical companies can help address these issues.
For example, mental health disorders and cognitive decline are rising. High-quality therapies are needed more than ever and increasing speed to market is essential.
The book notes pharma can utilise VR for clinical trials as it allows for a better understanding of the research subject. A user's behaviour can be captured automatically via built-in sensors, and researchers can simulate various scenarios safely and realistically for ecologic validity.
There's a great deal of potential of using VR technology to conduct virtual clinical trials and research studies effectively.
As the cost of headsets decreases, VR use is becoming more feasible for pharma and HCPs. Still, advancing the technology for better patient outcomes can be difficult due to the tech's relative novelty.
Enriching immersive technology
The industry is evolving at a rapid pace, but there's much to be done around developing widely accepted standards of evaluating virtual environments used for testing and agreed-upon ways of standardising datasets.
Greenleaf says, "In addition to working with technology developers and academic research groups to develop products that complement its products, pharma could become a player that takes datasets and creates a coherent format for their use and to move the industry forward."
"For example, if we want to have a new standard of assessment for neuropsychological function, it's not going to be effective if one company only develops standards for their product or their product stream. It will be hard to get regulatory agencies or the larger clinical community to accept those guidelines unless it's something open-sourced by a variety of groups."
When other technologies emerged, such as home computers, standards needed to be set to make the ecosystem feasible for other manufacturers to bring their versions of the technology forward.
"Eventually, there will be the infrastructure to support new emerging technology in healthcare. The challenge, though, is how much pain do we want to go through until those standards get set and till things are a little bit more harmonised?" Greenleaf asks.
Finding ways to make it easier for people to connect who want to leverage the findings, technology, and resources available is key.
Pharma is no stranger to building connections through face-to-face interaction, and medical XR conferences have become more prevalent over the past several years, helping to develop a fruitful community.
The book's publisher Robert Fine is the executive director and founder of the International Virtual Reality Healthcare Association (IVRHA), which hosts meetings throughout the year.
IVRHA is hosting a two-day conference on 2nd-3rd March in Nashville, Tennessee with speakers spanning different sectors of the healthcare ecosystem. Greenleaf says this is a good place to start.
"There's a need to have a platform for people who are moving into the industry and who want to learn from each other," he said. "That's what I would say served as the basic framework for the book – to introduce this rapidly emerging area of clinical research and next-generation medical care."
To learn more about the IVRHA conference, click here.
About the interviewee
Walter Greenleaf PhD is a neuroscientist and a medical technology developer working at Stanford University. With over three decades of research and product development experience in the fields of digital medicine and medical virtual reality technology, Walter is considered a leading authority. He is a Visiting Scholar at Stanford University's Virtual Human Interaction Lab, the Director of Technology Strategy at the University of Colorado National Mental Health Innovation Center and serves on the Science Advisory Board of several medical product companies.
About the author 

Jessica Hagen is a freelance life sciences and health writer and project manager who has worked with VR health companies, fiction/nonfiction authors, nonprofit and for-profit organisations, and government entities.