AI tool helps detect leprosy using pictures
Digital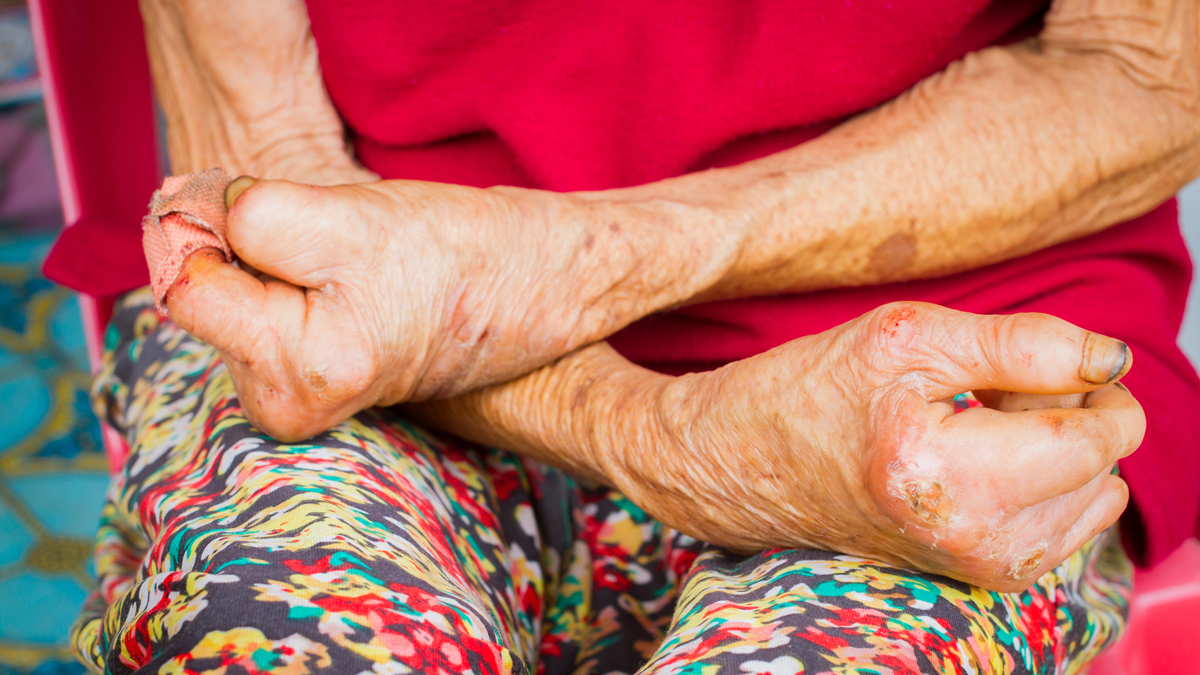 Ann Aerts, head of the Novartis Foundation, tells us about AI4Leprosy, a diagnostic assistant researchers developed that helps healthcare workers detect leprosy with over 90% accuracy using pictures of a patient's skin lesion. 
Leprosy has existed for more than 3,000 years and is the one of the oldest diseases known to humanity. Though a cure is available, 200,000 individuals are still diagnosed with the disease each year.
"We've managed to reduce the burden of leprosy by 95% thanks to the availability of the multidrug therapy (MDT) donated by Novartis to the WHO. That helped us almost get [to elimination]. The last step is to really get rid of and make leprosy history once and for all," Aerts states.
To eliminate the condition, it's crucial to increase healthcare providers' awareness of this now rare disease and help them easily detect it, which is the reason behind developing AI4Leprosy.
The diagnosis of leprosy is purely clinical, meaning a healthcare worker must think about the condition before reaching the diagnosis. With an increasing lack of knowledge surrounding leprosy and its rarity, it is difficult for many HCPs to recognise the disease.
The "diagnostic assistant," as Aerts calls it, provides a point-of-care test using the newest technology, allowing HCPs who suspect a patient has leprosy to take a picture of the patient's skin lesion and receive a probability from the cloud of the chances of the patient having the disease.
Detecting Leprosy
An international team of scientists — led by Instituto Oswaldo Cruz, Microsoft's AI for Health team, and the Novartis Foundation — developed the AI-enabled diagnosis accelerator to help healthcare workers overcome the difficulty of recognising and diagnosing leprosy.
An individual can be exposed to the condition, but the period of one showing signs or symptoms of the disease varies from two months to 20 years. Therefore, people who manifest these types of skin lesions are often unsure of where they came from.
Also, because leprosy has become a rare disease, expertise or knowledge about the condition has waned over time, and many healthcare professionals don't consider it as a possible diagnosis during an examination.
Because of this lack of awareness, a delayed diagnosis can occur, which ultimately causes the disease to progress and provoke a great deal of harm to patients, both physically and socially.
Advanced leprosy can result in neurological damage, causing patients to lose their sensitivity. Some patients have lost fingers or toes because of extensive injury from the disease.
"In many countries, when you're diagnosed with leprosy, you get expelled from your community and you have to live in a separate community with only leprosy patients," Aerts says.
If individuals begin to show signs of leprosy, but a stigma exists, it can hinder them from seeking medical care, especially if they would be expelled from their family.
That delay in diagnosis and treatment can then cause extensive physical damage, solidifying the stigma further.
"If you treat a person early enough before those damages occur, then you don't have the stigma related to leprosy. If you don't develop neurological damage, there is nothing wrong with having a small-scale lesion that can be treated," Aerts notes.
The creation of the diagnostic accelerator AI4Leprosy and its proven efficacy provides proof of concept, paving the way for developing a mobile application to validate the tool further and accelerate leprosy detection globally.
"We hope with AI4Leprosy, we can stop the transmission of leprosy, so we don't see any more patients in the next generation and, therefore, stop the development of neurological sequela."
Open innovation
For the time being, the tool has been developed for health providers and is being rolled out through the Global Partnership for Zero Leprosy.
However, the goal is for the technology to be available for anyone who wants to send a picture of their lesion to the cloud for self-assessment, which is why Novartis favours open innovation.
"We want the tool to become available for anyone around the world and maybe even in the future for many other diseases as well," Aerts said.
"So, when an individual has a lesion that doesn't go away, but it doesn't bother them either – somebody's leprosy lesion doesn't really give them pain – they can send a picture of it and get a probability back of what it can be."
Having an app like AI4Leprosy available to the public would greatly benefit the general population, especially in regions where stigmas exist.
A person could take a picture of their lesion in the privacy of their home, receive a probability assessment for leprosy, seek medical treatment quickly, and be cured of the disease.
"For the Novartis Foundation, we make everything we develop freely and openly available. That's a principle of our work," Aerts states.
"When we test and validate innovative solutions, we want them to be available to everyone. However, for leprosy, it's crucial to make the database of images and the mathematical model behind [AI4Leprosy] openly available."
The details for AI4Leprosy are accessible on the GitHub website, which provides unrestricted access to everyone who wants to develop the technology further or use it for anything else.
Another reason this information is so valuable in the fight against leprosy is because there's little availability of such data, high-quality images, and patient data in the field.
And as the technology is released globally, the value of the data will only increase.
"As soon as we have new data coming in from the further rollout and less high-quality data and images are available, from smartphones, for example, then the model will only become stronger," Aerts states.
The more rapidly one receives a diagnosis, the quicker one can obtain a cure, and, therefore, the odds of transmission to others are much lower.
Inevitably, Aerts and her team hope AI4Leprosy can help eradicate the one of the world's oldest diseases and accelerate Novartis' and the WHO's goal of complete leprosy elimination.
About the Interviewee

Ann Aerts is a qualified physician who is passionate about improving population health through data, digital and AI. Ann applies her relentless commitment to overcoming health inequities to pioneer solutions that can advance health and care globally. She chairs the Broadband Commission for Sustainable Development Working Group on Digital and AI in Health and is a member of the International Advisory Board of the Commonwealth Centre for Digital Health. She sits on the US National Academies of Medicine Commission on Healthy Longevity.
About the author

Jessica Hagen is a freelance life sciences and health writer and project manager who has worked with VR health companies, fiction/nonfiction authors, nonprofit and for-profit organisations, and government entities.