What's the value of patient centricity?
Views & Analysis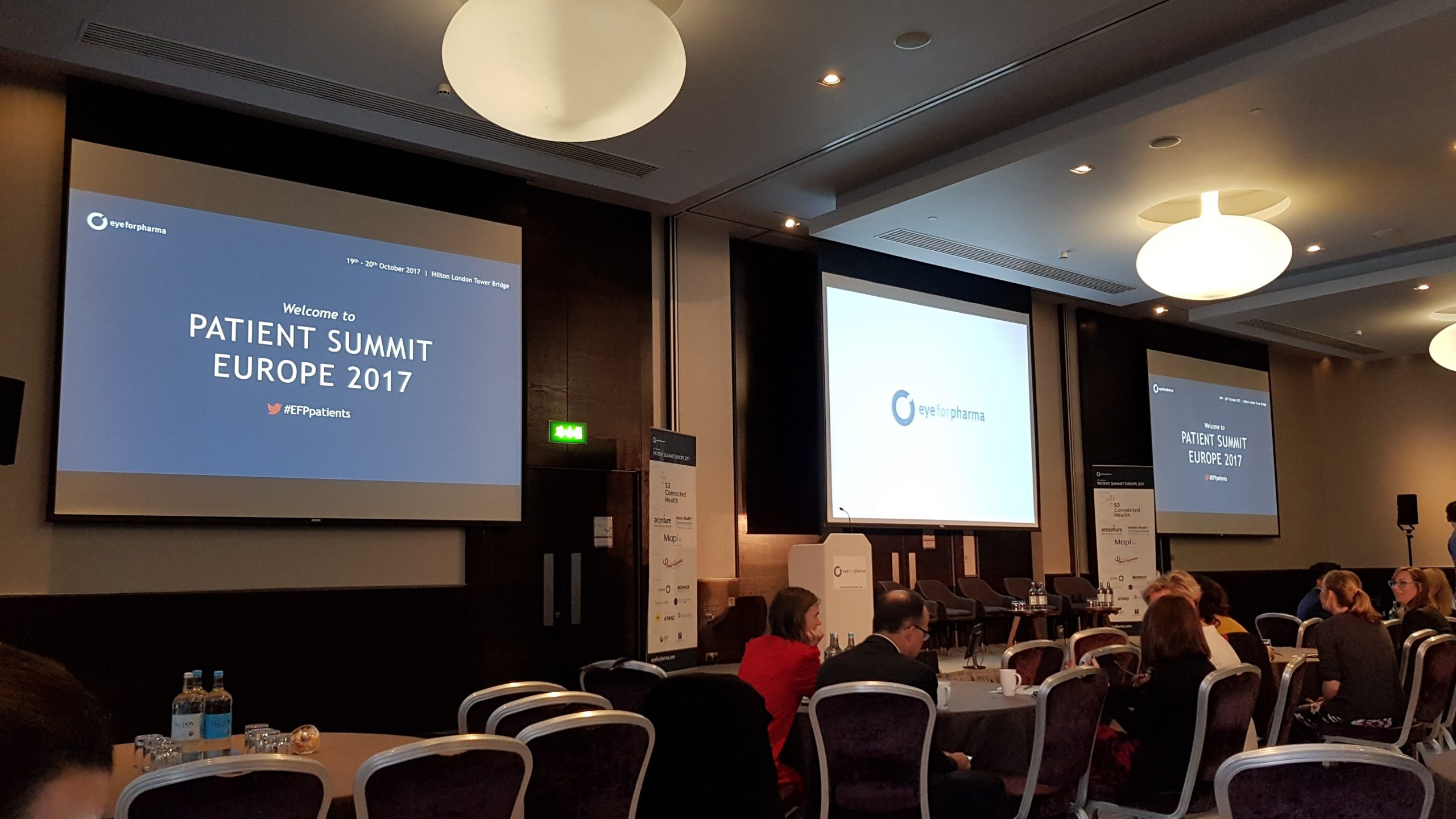 Marco Ricci reports on some of the initiatives pharma is taking to improve patient centricity, as highlighted during day one of this year's eyeforpharma Patient Summit Europe conference.
Among the many buzzwords currently pervading the world of healthcare, 'patient centricity' is one that represents a very real shift in focus for the industry.
The term defines healthcare's gradual evolution into a patient-centered practice, one that incorporates patient insights to provide better, more valuable care.
"We believe that to make patient centricity real we need to find creative ways to incorporate the patient's voice in understanding what a product does and does not do for them," said Jean Paty, vice president of Consulting Services at IQVIA. "Such activities need to be based in robust, scientific principles about understanding and measuring the patient. This yields believable results that will have an impact on regulators, payers, clinicians and, most important, patients themselves."
Despite being a term that encompasses a noble cause, many still believe the pharmaceutical industry is struggling to grasp it. As a result, events like eyeforpharma's Patient Summit Europe (PSE) 2017 exist to convene stakeholders from all over the industry to brainstorm problems in the process and find potential solutions.
This year's Summit was promising, featuring companies in the process of overcoming persistent barriers to patient-centric approaches, and those further down the line integrating findings from patient-centricity initiatives into their company processes.
A question of value
'Value' was the core of virtually all the discussions on day one; what it means, how it can be discovered and where it fits into healthcare.
The first of the day's talks featured a panel of speakers from Teva, AstraZeneca (AZ), Gilead and Grünenthal, who discussed methods of defining value, how value is influenced by both culture and society, and where and how digital can deliver it.
All agreed that trust was the key to building patient centricity, both within an organisation and between pharma and consumer.
"The fundamental issue we are having today as an industry is trust," emphasised Guy Yeoman of AZ. "We need to address trust before we can begin to understand societal value."
Part of building that trust is through providing clarity on how pharma operates, said Jason DeGoes of Teva: "Trust means a degree of transparency and open dialogue in exchange with both providers and patients who are, at the end of the day, the end users of what we produce - it should be a partnership more than anything else."
"We need to constantly address the element of trust and commit to it" - Joensson, Grünenthal #EFPpatients pic.twitter.com/Zf0zxBLpLW

— pharmaphorum (@pharmaphorum) 19 October 2017
Trust is also the key ingredient for promoting both literal and figurative cross-collaboration between pharma companies, agreed the panel – a process that is actually spurred on by listening to the patient voice. "Patient insights help us move across borders and outside of boundaries as we all are moving towards a common goal," stated Lars Joensson of Grunenthal.
However, achieving this goal requires guidelines and ambition. ""This can't just be a statement - it has to be planned, a set of guidelines that companies signing on to do this can do so well. It has to be more than words," said DeGoes.
Yeoman agreed, emphasising the need for proactive disruption of everyday practice: "Don't sit back waiting for others to do it. People within companies need to pioneer these approaches - it's individuals in companies pushing the envelope to create the momentum into patient centricity."
Putting patient centricity at the heart
Next, speakers from AZ, Ipsen and UCB spoke about their individual patient-centric transformations.
AZ's Yeoman emphasised the lack of progress in pharma so far: "I liken the process of transforming the industry towards patient-centricity to turning an oil tanker – we've only moved a couple of degrees."
Becoming #patientcentric is a huge challenge that requires realism and a process #EFPpatients pic.twitter.com/OCJXpDLuIn

— pharmaphorum (@pharmaphorum) 19 October 2017
He highlighted the firm's PaCe (patient centricity) pilot programme – a multi-year project to embed patient-centric principles into AZ's operations. The pilot led to protocol and delivery amendments, fast, cheaper study delivery, patient insight being routinely included in protocol development, and an ongoing discussion with regulators.
A similar situation occurred for Ipsen, which has a company mantra 'working with patients, for patients'. Using Medical Affairs teams as the 'gatekeeper' of patient-centricity, the company has developed a complete patient value model which is now core to its operations.
UCB showcased its method of defining patient value, which led to the introduction of patient insights into its drug development. The result was Briviact - a drug used for treating partial-onset seizures.
Shire's Thomas Kerscher spoke about the development of his firm's patient support programme for the debilitating rare disease, short bowel syndrome.
The company discovered that the number of patient start forms for their medicine vastly outnumbered those that ended up on treatment. Examining the process, a lack of follow-up appointment after diagnosis, stakeholder coordination by patients, and data management between patients, nurses and HCPs were hindering uptake.
Shire placed a nurse at the centre of its patient support efforts to coordinate the process – a step that dramatically increased the rate of patients beginning treatment.
#efpPatients #nurse are becoming increasingly important in a #patientjourney #stakeholders pic.twitter.com/YoylaO3dUm

— Sheila Khawaja (@SheilaKhawaja) 19 October 2017
Next Mapi Group's Kelly Franchetti discussed methods of gaining patient insights.
Her message was clear: use interactive methods to inspire patient engagement.  She suggested day-in-the-life scenarios, sharing story platforms and dedicated websites. She closed her presentation with a Maya Angelou quote: "People will forget what you said, they will forget what you did, but they won't forget how you made them feel."
Digital's potential for providing value and support
The second half of the day looked at digital technology and its potential for improving patient centricity.
Sanofi's Jan Liska and S3 Connected Health's Matt Norton investigated patient empowerment and behavioural psychology, respectively.
Liska focused on Sanofi's partnership with Science 37 – a technology firm aiming to help clinical trial recruitment through enhanced patient centricity.
So far, the partnership has resulted in higher enrolment numbers for Sanofi studies using fewer resources and in less time.
Data moves us from passive observers to active achievers- Jan Lisa @sanofi @FindMeCure #EFPpatients

— Maya Zlatanova (@SmileWithMaya) 19 October 2017
Norton's talk focused on 'micro moments' – specific parts of a patient's journey that differ from patient to patient and need to be addressed as such. For some, questions of treatment dose may be an issue, while improving symptoms may be important to others. Addressing these needs help improve one of pharma's biggest challenges: non-adherence.
Celebrating success
At the end of the day, eyeforpharma award winners and nominees talked about their patient-centric initiatives.
Takeda talked about driving patient centricity through empathy. An internal campaign to put employees in the shoes of a patient with Inflammatory Bowel Disease (IBD) (aptly named '#InTheirShoes') set each employee daily challenges akin to what IBD patients face, along with a toolkit of devices that would simulate different IBD symptoms.
After successfully deepening employee empathy for people with IBD, #InTheirShoes evolved into #FlyWithIBD – an external campaign to raise awareness of IBD issues during flights. Takeda has since worked with airlines to improve ingredient labels, food choices and seat selections for IBD patients.
@Takeda encouraging staff to better understand patients via 'in their shoes' initiative #efpPatients feedback says it all pic.twitter.com/44X5po3GUx

— Marsha Caplin (@CaplinChaos) 19 October 2017
AbbVie presented on its Doctor's Channel – a YouTube channel providing medically-approved information to the Israeli public.
The idea was originally launched to simplify important medical information and now covers over 114 illnesses via 300 videos. The channel has had over 700,000 video views to date.
550 meetings and four years () later and @abbvie's Doctors Channel was launched - and it was well worth it! #EFPpatients pic.twitter.com/9Sx6VetXZe

— pharmaphorum (@pharmaphorum) 19 October 2017
The Roche presentation expanded on the company's idiopathic pulmonary fibrosis (IPF) awareness campaign.
IPF lacks treatment choices to tackle its particularly poor five-year survival rate, caused by irreversible scarring of the lungs.
Roche's campaign set about activating patients to request anti-fibrotic medicines via unbranded, multichannel marketing.
Having achieved an impressive increase in the numbers of patients asking for these therapies, the campaign is now live in 15 markets and in 17 different languages.
Multichannel @Roche campaign with impressive results fightipf.comm. initiated in 15 markets, 17 languages #efpPatients pic.twitter.com/4p3W18cW6x

— Marsha Caplin (@CaplinChaos) 19 October 2017
The see full coverage of day one of eyeforpharma Patient Summit Europe 2017, click here.