What HCPs think about blood clots linked to COVID-19 vaccines
Views & Analysis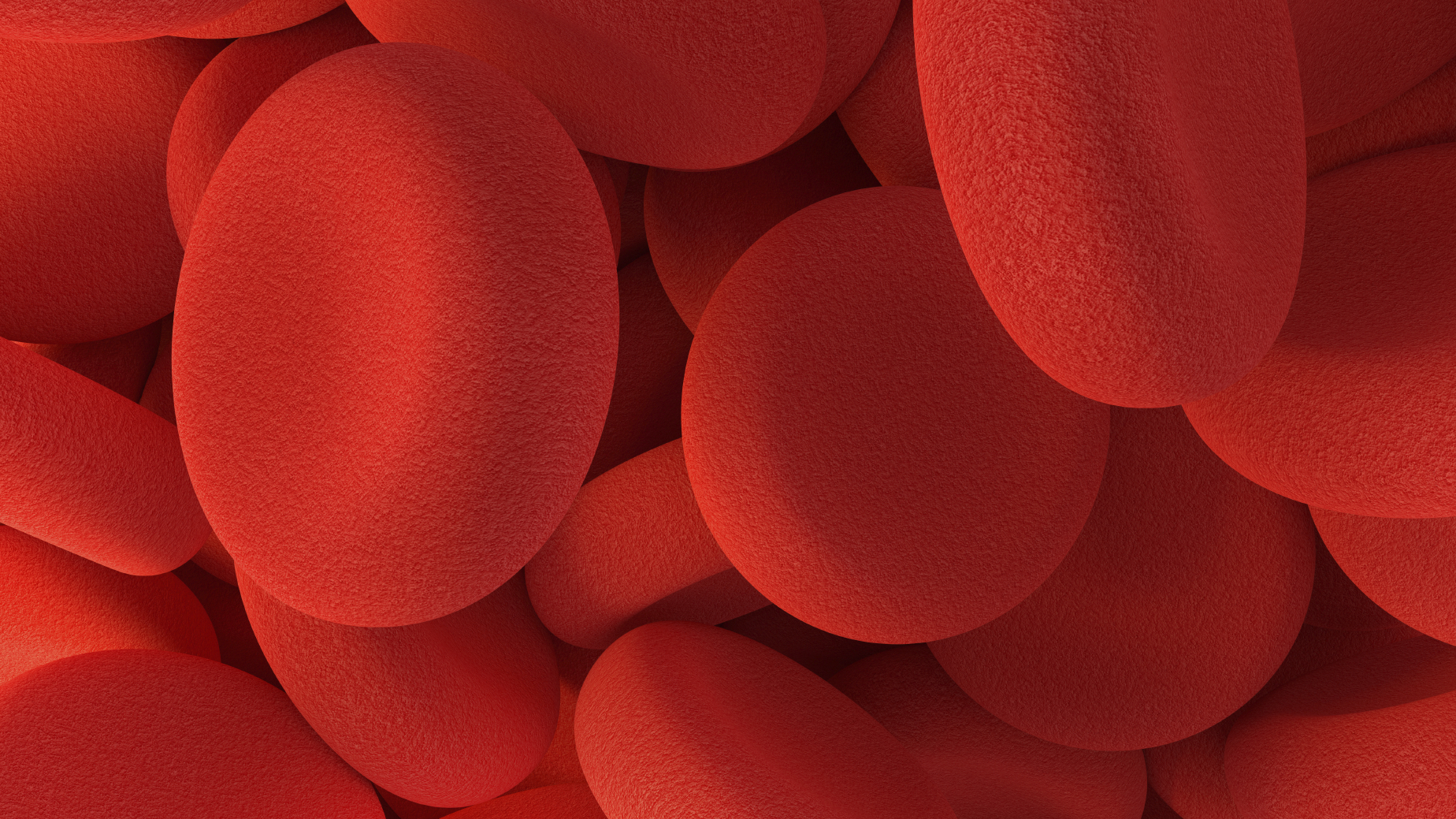 In the latest edition of What HCPs Think, CREATION.co's Laura Marsh looks at what healthcare professionals are saying about blood clots linked to COVID-19 vaccines.
The formation of blood clots is a necessary process in order for the body to repair damage caused by injury and to slow down bleeding. However, when blood clots form inappropriately, this limits blood flow through vessels and can pose a significant health risk.
The chart below shows the volume of conversation about blood clots from healthcare professionals (HCPs) on Twitter over the last two years. We can see that after an extended period of low level discussion, more recently there has been a huge surge in HCP conversations around the topic in March and April 2021.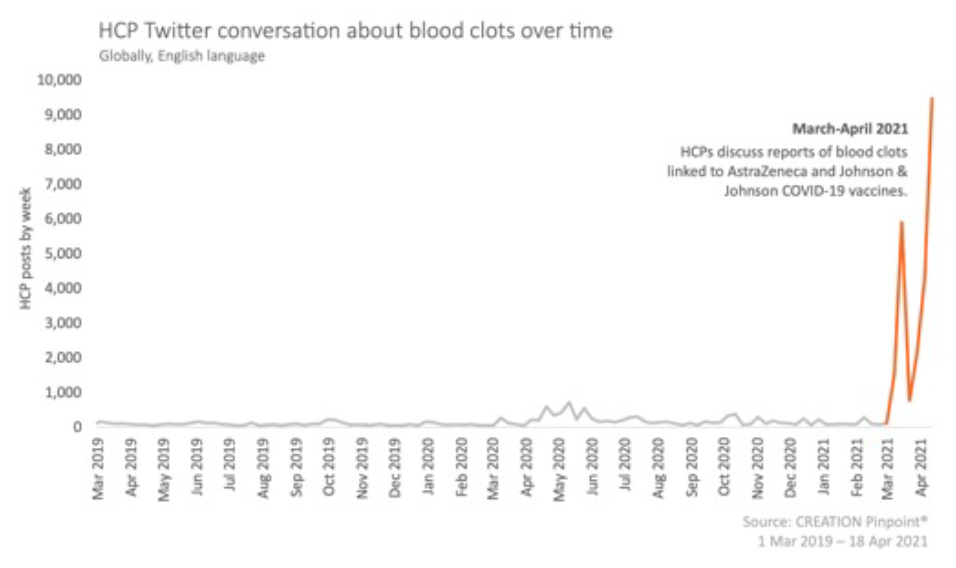 This sudden increase is due to reports of rare blood clots in recipients of the COVID-19 vaccines developed by AstraZeneca and more recently Johnson & Johnson. This began with HCPs sharing the news that several European countries had suspended use of a batch of the AstraZeneca vaccine as a precautionary measure, after a small number of people became ill with blood clots. As more cases were reported and various health stakeholders around the world recommended or discouraged use of the vaccine, HCPs used social media as a platform to make their views known.
HCPs overwhelmingly positive towards continued vaccine use
The most shared information source relating to this topic appeared in 379 HCP posts - an article in The Guardian titled "There's no proof the Oxford vaccine causes blood clots. So why are people worried?". This aptly summarises the overriding HCP view that evidence does not point towards a definite link between the vaccine and blood clots, with many HCPs warning against assuming causality. In the post below, Claudia Massarotti (@maclaudiaa), an ObGyn in Italy, even states that she has seen fewer clots in patients who have received the vaccine than would be expected in an ordinary week.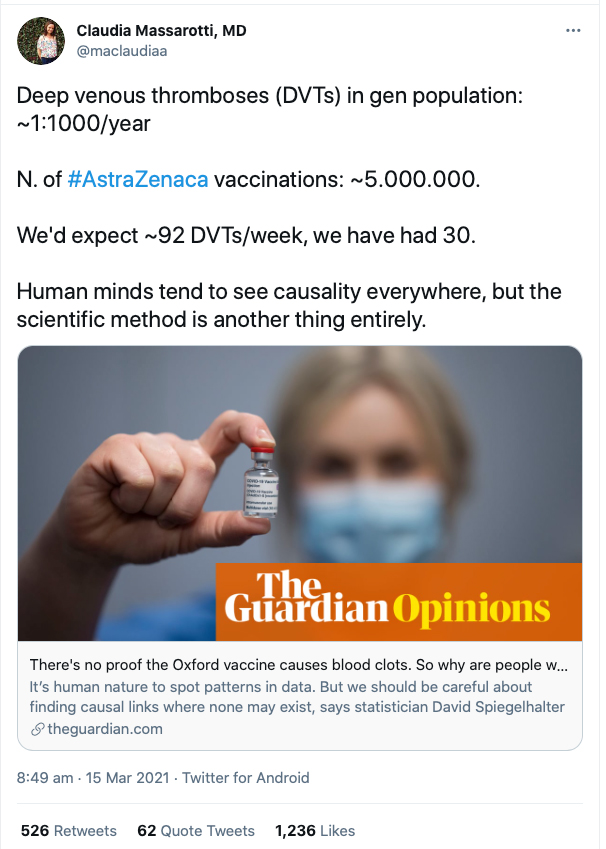 Along the same lines, 281 HCPs shared the European Medicines Agency (EMA) review of the AstraZeneca vaccine, confirming that the "benefits still outweigh the risks despite links to rare blood clots". There were very few voices in the healthcare professional conversation disagreeing with this conclusion, with almost all HCPs reaffirming the safety of the vaccine, and encouraging people to still book and attend their vaccine appointments.
Challenge of persuading the public of vaccine safety
In the poll below, UK cardiologist Aseem Malhotra (@DrAseemMalhotra) posed a hypothetical question based on the situation, asking whether people would agree to take a drug which is very likely to prevent serious illness, but has a minuscule chance of causing a severe blood clot. Interestingly, although we have seen healthcare professionals overwhelmingly confident in continued use of the vaccine, the sentiment of the general public does not appear to be as positive, with only 61.9% of respondents answering "Yes" to the question.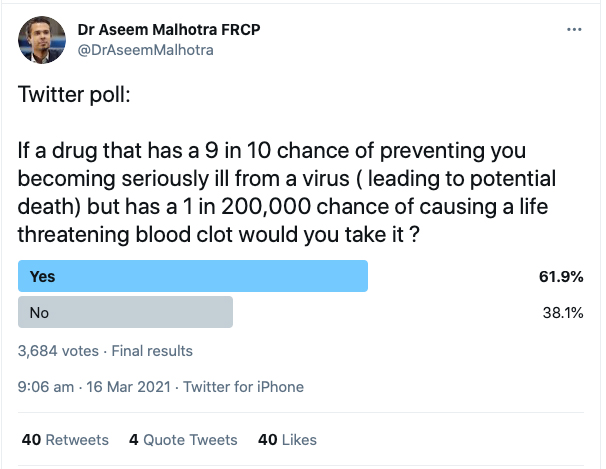 HCPs recognise that the general public is less enthusiastic towards vaccine take-up than themselves as healthcare providers. A couple of reasons were implied for this including that members of the public do not have the same level of understanding as HCPs around the real dangers of blood clots, and how common and treatable they often are, which also makes them more likely to be misled by exaggerated news headlines. Another suggestion was that the public does not experience the frontlines of dealing with sick COVID-19 patients in hospitals like HCPs do, so there is not the same level of urgency to prevent this horrible disease in the first place.
A reminder to keep things in perspective
A key message from HCPs was to maintain perspective on the situation - these blood clots have occurred in an extremely low proportion of the millions of vaccinated people around the world.
In fact, HCPs reminded us that the COVID-19 virus itself can cause fatal side effects including blood clots. Healthcare workers were proud to say that they had received the vaccine, and insisted that the vaccines do not pose any greater overall risk than that of the existing pandemic.
In efforts to reassure their audiences about the safety of the vaccines, HCPs compared data showing the incidence of blood clots linked to these vaccines, with the higher incidence of blood clots linked to many other day-to-day factors including long haul flights, a sedentary lifestyle and pregnancy.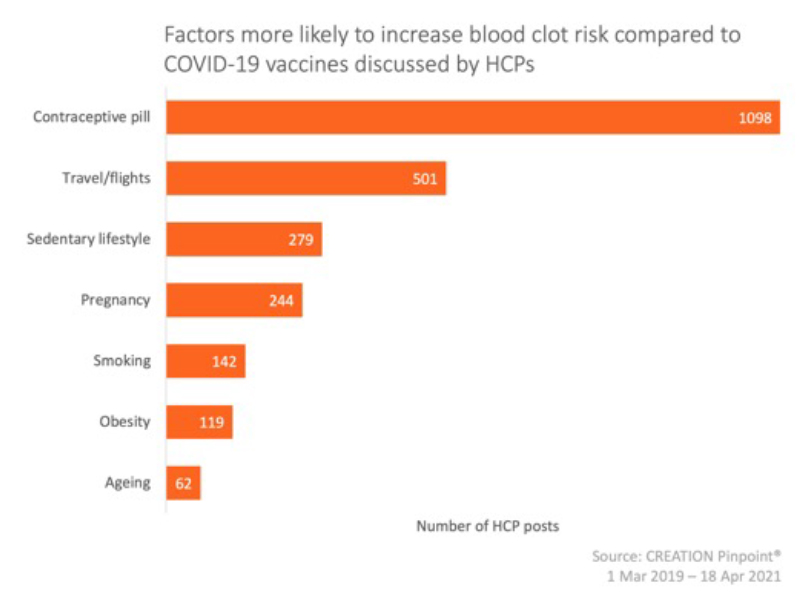 The most commonly cited risk factor was the regular use of the combined oral contraceptive pill. This was notable because the population group most susceptible to blood clots here is comparable to the demographic most affected by these recent blood clots with the AstraZeneca vaccine - women under 55. HCPs compared the ~0.1% risk of developing blood clots with the contraceptive pill, with the ~0.0003% risk of blood clots with the AstraZeneca vaccine.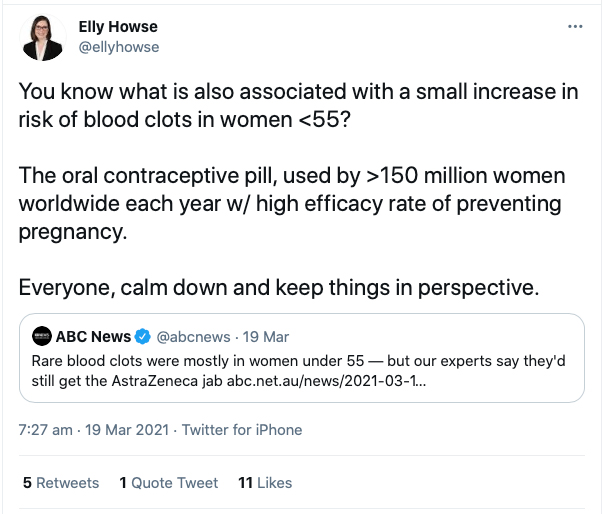 A decision for politicians, or individuals?
Although HCPs do believe the AstraZeneca vaccine to still be extremely safe and effective, they also display a mature understanding of the reasons why some countries have chosen to suspend its use, in political as well as scientific efforts to maintain public trust and act on serious concerns. However, a common view among HCPs is that people should be given the choice about whether they want to have the affected vaccines, rather than governments enforcing a blanket ban in certain population groups. Many people still see being protected against COVID-19 as preferable to remaining unvaccinated for months whilst waiting for another vaccine to become available.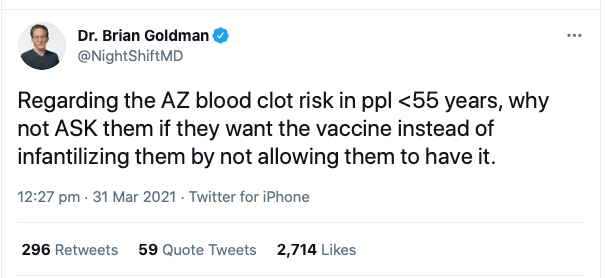 As of mid April 2021, over 900 million COVID-19 vaccine doses have been administered worldwide. Whilst the vaccination rollout continues, HCPs play an important part in cutting through the noise of social media with factual evidence and medically sound advice. In this case, we have seen HCPs aiming to quash fears over blood clots and reassuring the public about the safety of vaccines in the hope of seeing an eventual end to this pandemic.
Author Bio

Laura Marsh, senior insights analyst at CREATION.co leads projects within the Insight team, drawing insight from analysis of online conversations to understand the unmet needs of healthcare professionals.