Is UK biotech facing a Brexit brain drain?
UK biotech is trying to look on the bright side of Brexit – but what if leaving the EU means the best scientists go elsewhere?  Andrew McConaghie reports.
Theresa May took over as the UK's new prime minister yesterday, bringing a welcome return to stability for the country after three weeks of dizzying, helter skelter politics following its seismic decision to leave the EU.
May's arrival saw the pound rally against the dollar and the euro, suggesting that fears for the UK economy have been allayed, for the meantime at least.
The need for certainty and stability is precisely why the UK biotech sector (in tandem with pharma and other business sectors) vocally supported the 'Remain' campaign, only to see 52% of voters opt to Leave in the referendum.
Like all UK-based businesses, the sectors must face up to the new reality, which begins with a complicated, and probably protracted, process of disentangling British interests from the EU.
Life Sciences minister George Freeman is currently putting together a taskforce to help the pharma and biotech sectors cope with the transition – and exploit any advantages and opportunities that may emerge from life outside the EU. This could also entail new tax, and other, incentives for business. However Brexit is almost certain to hit the UK economy in the short-term, limiting the government's spending options.
Speaking to a handful of leading UK biotechs in the last few days, it's clear that they are determined to find a way through the obstacles. To coin a very British phrase, biotech is determined to Keep Calm and Carry On – but there remain real concerns about Brexit. Above all, there are fears about how potential curbs on immigration from the EU and beyond could severely restrict the supply of scientists upon which it relies.
Fear of uncontrolled immigration was undoubtedly one of the biggest issues which drove voters to back Brexit on 23 June, despite evidence that, far from swamping Britain, it has boosted the economy and employment.
Net migration to the UK rose to 333,000 in 2015, the second-highest figure ever, with EU-only migration accounting for more than half of this total, 184,000.
Outgoing prime minister David Cameron – along with his then home secretary Theresa May – had promised to cut net migration to below 100,000 a year in 2011, but instead saw the figure continue to rise.
By exiting the EU, the claim is that the UK will now be free to control EU migration, but this will depend on any future trade deal.
One very senior biotech leader hit out at the Brexit campaign, criticising the "ludicrous [immigration] targets that they can't meet."
"If the government decides the right number is 100,000, you are going to have a squeeze," the biotech CEO added.
"300,000 a year [in immigration] is clearly what the market wants," he went on, saying that any immigration caps would jeopardise the flow of talent coming into the country – not just in the high-value professions, but also in the lower pay service industries which support the UK economy.
Biotech confidence is high
Brexit has come at a time when biotech has become more exciting than ever. This trend is led by US companies, but the UK biotech sector has also been booming over the last few years, thanks to a wave of new companies with exciting, and potentially groundbreaking, science.
Last year saw Oxford-based Adaptimmune raise $191 million in its IPO for its novel immuno-oncology TCR technology, while allergy-focused Circassia raised £200 million ($333 million) when it floated the year before.
The UK is a global leader in medical science, and is currently the world's third-largest biotech 'hotspot' behind the US hubs of Cambridge, Massachusetts and the San Francisco Bay area.
The UK's biggest regional hubs are centred around the academic centres of Cambridge, Oxford and London – the so-called 'Golden Triangle'. These centres have been able to attract talent from all over the EU and the world to work on exciting cutting-edge biotech science, including the international students who come to study in these world-class universities.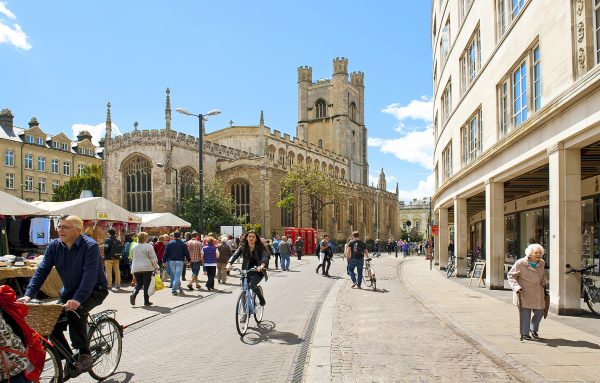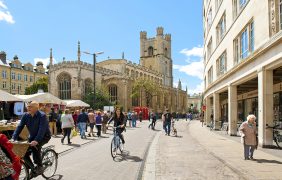 F-star is a Cambridge-based biotech which is developing immuno-oncology bi-specific antibodies, one of several novel platforms vying to be the breakthrough 'next generation' technology.
The privately-held company has signed numerous development deals with big pharma companies such as AbbVie and Bristol-Myers Squibb. F-star's chief business officer Jane Dancer says the company is confident about its future, thanks to the strength of its science, and the $43 million it has raised from venture capital and public funding.
Nevertheless, she says there was a palpable change in mood on the Babraham campus on the day of the referendum result, with many EU employees worried about the future.
"We have reassured them that nothing is going to change overnight, but there is a lot of uncertainty about whether [post-Brexit] we can attract and retain these people from Europe," she says.
The company is not untypical in having a hugely diverse workforce – Dancer says there are up 30 different nationalities within its team of 60, made up mostly of Brits and EU nationals, with some Australians, Americans and one employee from Cameroon.
Despite having backed the 'Remain' campaign, the UK's new Prime Minister Theresa May says that 'Brexit means Brexit' and has promised to take the UK out of the EU and secure favourable terms on trade, while also imposing restrictions on immigration from within the EU.
But many warn that it will be impossible for the UK to secure a deal which satisfies both of these demands. The EU simply won't compromise on its founding principles, and the UK will have to allow free movement of people and goods if it wants unhindered access to EU markets. Norway and Switzerland are two of the most frequently cited examples of where the UK might end up – but neither of these has secured free trade and immigration caps at the same time.
Any new barriers to hiring scientists from the EU will handicap UK-based biotech, which individual companies and biotech clusters elsewhere in Europe – such as France, Belgium or Germany – will look to exploit.
Karl Simpson, chief executive of life sciences executive recruitment company Liftstream, says it's far too early to say how Brexit will affect the sector, but he concedes that most people have had an emotional reaction to the news so far.
Nevertheless, he concedes that EU nationals might look elsewhere for work. This includes Switzerland, which is also outside the EU, but which isn't in a state of flux.
"If you are an EU national, are you going to look on the UK as the go-to place in the next few years or are you going to turn your attention to countries like Switzerland?"
News that the pound has recovered against the dollar and the euro is certainly good for UK biotech firms – otherwise they will have to pay out far more to match salaries in America or Europe and attract research talent.
Meanwhile UK biotech has its own 'in-built' risks – namely failure of drugs in clinical trials. This was the fate of Circassia's lead candidate for cat allergies, just days before the referendum.
Karl Simpson says drug failure is 'part of the rich tapestry of life' in biotech. He says Circassia's setback is no more worrying for UK biotech than that of Juno, the US firm which recently hit problems with its CAR-T therapy.
This kind of resilience and determination is what UK biotech will need to show in the next few years. Brexit – most especially those concerns about access to that pipeline of international talent – will add in extra risk factors to what is already a high-risk business.