The pharma sales rep: dodo or phoenix?
Claude Herinckx
IMS Health
As the pharma sales and marketing model adapts to a turbulent and fast changing global economic climate, IMS Health takes a look at the latest industry promotional spend data and reveals some surprising news for the rep.
Apparently the model of the pharma sales rep is on its last legs, as pharma companies continue more and more rounds of layoffs, removing the last vestiges of the old rep 'arms war' of the late 20th century. Very soon, the rep will go the same way as the dodo, with pharma adapting to the brave new world and the era of digital pull marketing.
There is, however, just one small problem with this scenario. Despite popular belief it's completely untrue and our latest figures show that the pharma sales rep is very much alive and well.
Sales forces steady in the West and grow in emerging markets
No one can argue that Western markets saw a decline in overall rep numbers over the last decade, but these reductions happened in the early part of the century. Only Europe has shown a consistent decline in rep numbers over the last few years, losing around 10% of the approximately 60,000 strong sales force between 2007 and 2011, which is predominantly driven by the highly cost-sensitive markets of Germany and the UK (see figure 1). In contrast, the major US market has actually shown an increase in the number of sales reps over the same period, to just short of 70,000 rep equivalents. Japan continues to rely heavily on the sales rep, with an increase of around 20% over this same period.
&nbsp,
"…our latest figures show that the pharma sales rep is very much alive and well."
&nbsp,
The emerging markets paint a mixed picture, with countries like Brazil showing unparalleled growth in the pharma sales force, increasing around 50% since 2007 to almost 12,000 reps. Other major markets such as Russia and Poland appear to have stabilised recently, whilst there are a few showing sharp cutbacks, such as Turkey, which has seen sales force cuts in excess of 20%. One limiting factor for growth in high value countries like Russia and China is very much on the supply side, with the availability of skilled pharma sales people lagging behind demand.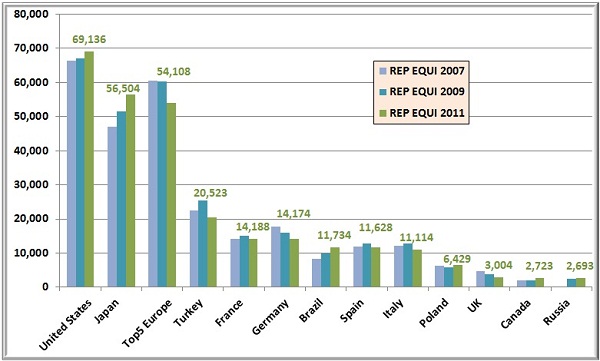 Figure 1: Assessment of pharma sales force size (rep equivalents) by geography, 2007 to 2011.
On balance, the perhaps surprising news is that the global pharma sales force has remained fairly constant at around 250,000 reps over the last five years.
Digital marketing complements direct interaction
The evolution of digital has made its presence felt on promotional spending by pharma and is dramatically changing the way its reps interact with their customers. Investment in online promotional channels such as eDetailing has increased significantly since 2007 and some of this investment has certainly been at the expense of traditional sales and marketing channels.
However, it is worth remembering that digital promotion is often used to accompany and complement sales force interaction, rather than to replace it. For sure, investment is being made in activities such as promotional mailings and web portals to facilitate information sharing and peer-to-peer interaction, but digital is also being used to support the rep engagement with the doctor. Pharma is reluctant to let the nuances of the product detail be left to chance and a smart detail using technology combined with a trained rep can be an effective way to ensure the doctor quickly receives exactly the right information about a product. The data therefore suggest that digital is more about empowering the rep than replacing them.
&nbsp,
"The data therefore suggest that digital is more about empowering the rep than replacing them."
&nbsp,
Another key change in the promotional landscape has been the increased regulatory scrutiny on pharma spending directed towards physicians. Legislature such as the Sunshine Act in the US and global anti-bribery laws, combined with a number of suspect physician payments coming to light in recent years, have all had an impact on medical education expenditure. The combination of such promotional spend being tracked at levels as granular as the individual physician in conjunction with severe restrictions on pharma's involvement in CME programmes has caused the industry to undoubtedly question investment in these activities. This has impacted on promotional spend with less investment being allocated to these activities over the last five years.
Complex products and stakeholder networks necessitate close engagement
The sales process for pharma has invariably become more complex, particularly in the developed markets, as the industry focusses increasingly on more specialist disease areas and cost-containment brings the payer firmly into the marketing message. With these disease areas patients are more likely to be referred to hospital-based specialists who are utilising the latest branded drugs as interventions, including many of the more recent biological therapies.
Here, you have much more complex trial data, often involving detailed outcomes measures to satisfy the payer, and variable drug effectiveness depending on the specific patient profile for these personalised medicines. The articulation of treatment benefits and discussion of both appropriate patient type and treatment line therefore becomes a complex argument that facilitates two-way dialogue with equally specialised pharma sales personnel.
Whilst there is a clear argument for the volume of reps required to deal with this complex sell being lower in parallel with the reduced specialist physician numbers, it also provides a strong argument for the continued overall need for reps armed with the right skillset.
&nbsp,
"The sales process for pharma has invariably become more complex, particularly in the developed markets…"
&nbsp,
The future of pharma promotional spending
Overall, some clear trends emerge from the most recent industry promotional spending data:
• The decline in pharma sales forces have been tempered, with many regions showing strong growth in the last few years.
• Digital is a clear growth area for promotional spend, but not the replacement for the rep that many thought it might be, instead it is a complementary channel.
• The regulatory environment and new regulations around promotional compliance are negatively impacting on traditional medical education spend.
• A general move towards more specialised disease areas and a more complex marketing message to both prescribers and payers reinforces the need for direct engagement with pharma representatives.
The environment for pharma promotional spending will certainly continue to be a variable one as new channels emerge, individual regions develop and the global economy remains uncertain but one thing is for sure – the sales rep is here to stay.
Register for our 4th annual Promotional Trends webinar on Tuesday December 6th, with Claude Herinckx and Ramesh Krishnan to fully understand the historical promotional spending trends, their relevance and impact on current play, key game changers and available applications to manage these.
&nbsp,

&nbsp,
About the author:
Claude Herinckx is Director, Global Offering Development for IMS Health, based in Brussels.
Claude is an economist and engineer by profession who has had a widespread 24 years' experience of working within various positions in IMS Health, at local offices in Belgium, The Netherlands, Sweden, at EMEA in London and currently at global level. His positions have included Client Service, Key Account Management, Product Management, Business Unit Director, Marketing Director and International Offering Management.
Claude was involved in the development and launch of Xponent, HEOR and BI tools in the Benelux. On an international scale, he was a key participant in the integration of the Medical Radar Acquisition and the first IMS global launch, Promo.360 and Promo.Track. He is an expert in terms of promotional measurement and tracking, commercial effectiveness and excellence and cross lifecycle brand management.
In addition, Claude is a fantastic linguist speaking five languages – French, English, Dutch, German and Spanish.
How much will pharma spend on reps in the future?