The ageing population – the need for pharma to be disruptive in addressing the needs of senior consumers
Dr Michael Reilly
Doro AB
Will Pharma engage with senior consumers as part of their digital strategy?
This article calls for new, disruptive and radical approaches by Pharma to address the issue of managing and delivering healthcare into an ageing population. It is proposed that seniors, as both patients and consumers of medications, need to be empowered through access to relevant and better information about their conditions (and wellness), allowing greater independence and thereby reducing the cost burden of traditional primary and secondary medical care.
"With ever-increasing requirements to run healthcare more efficiently and providers who often don't possess the skills to address new reimbursement outcomes requirements, technology-enabled services are going to become more common. Purveyors of technology enabled services don't sell technology. Instead, they are selling an outcome."
Dave Chase, CEO of Avado.com, in a 2012 article entitled IBM's Reinvention Should Inspire Flat Pharma Businesses
According to CapGemini, in a report entitled 'Patient Adherence – The Next Frontier in Patient Care', the vast majority of pharmaceutical, pharmacy and payer executives explain low adherence levels by pointing to patient?related factors such as poor knowledge of the disease, inadequate perceptions of the need for treatment and forgetfulness. As a result, the limited impact of adherence programmes is often blamed on the difficulty of changing patient behaviour.
Therefore, as behaviour change is difficult to achieve, the focus for innovative thinking resides in the area of engagement with healthcare professionals (HCPs) rather than the actual user of the medications. This is a safe place for many in the pharma world, because it is how things have always been done – it is the cultural norm and therefore mode of behaviour for Pharma to exercise itself in affecting behaviour change of GPs or consultants as recommenders of their medications – and the digital response from Pharma has often been to lurch to the most current technology fad (e.g. iPad), distribute to their account managers and compete for the HCP's time and favour!
&nbsp,
"It is proposed that seniors, as both patients and consumers of medications, need to be empowered through access to relevant and better information about their conditions…"
&nbsp,
But as CapGemini point out the reality is more complex. Patient adherence initiatives often lack a complete understanding of the root causes of discontinuing treatment (from the end user perspective), they fail to engage patients sufficiently and do not provide a total and integrated support programme to deliver measurable, improved outcomes.
Individual initiatives are tried by different brands and then discontinued as budgets and priorities shift before their impact is known – largely through poor measurement methodology (for example not using multi method measurement models that capture patient qualitative and quantitative data that reveals a richer picture on the effectiveness of an adherence support project). The end game is that "digital engagement" projects with patients or consumers are seldom given "hero status" and adapted across the organization.1
"Disruptive Innovation describes a technology, process, or business model that brings to a market a much more affordable product or service that is much simpler to use. The change caused by such an innovation is so big that it eventually replaces or disrupts the established approach to providing that product or service."
Clayton Christensen – The Innovator's Dilemma (Harvard Business School Press)
The ageing challenge for healthcare systems
mHealth is the term we use for the practice of medical and public health, supported by mobile devices. The term is most commonly used in reference to using mobile communication devices, such as mobile phones and tablets, for health services, monitoring and information.2
The large scale deployment of mobile technology to deliver preventative care is now approaching globally. Pharma are well aware of this of course – with endless references at conferences from pharma thought leaders on the Pew data "80% of internet users, or 59% of U.S. adults, look online for health information" and the Manhattan Research data – "More than half, or 51%, of online U.S. adults (ages 18+) use pharma-sponsored digital resources, such as condition and treatment information, disease management tools, doctor discussion guides or mobile applications or websites."3
&nbsp,
"Rising rates of diabetes means that in the UK the condition accounts for 8.4% of the annual NHS drugs bill, a rise of 41% over the last 5 years."
&nbsp,
But adherence programmes, patient /consumer websites or support applications, whilst commendable in intent, are seldom targeted at a primarily senior audience and if so often show insufficient consideration for the abilities of senior users, many of whom have vision, hearing and dexterity impairments.
The provision of adherence support programmes for seniors is challenging because as we grow older, more than 50% of those over 60 will have a Long Term Chronic Condition (LTC) requiring high cost medical care.4 For example, diabetes in the UK affects 2.8 million people which costs the NHS annually £8 billion.5
Rising rates of diabetes means that in the UK the condition accounts for 8.4% of the annual NHS drugs bill, a rise of 41% over the last 5 years.6 So, with 16% of the population over 65 years old, a growth of 27% expected by 2018 (9% for the global population) this equates to 11.5 million adults with 35% of population suffering from chronic medical conditions. In the UK alone 80% of GP consultations and 60% of hospital bed stays are related to chronic disease.7
Non compliance is now an unacceptable cost burden – costing the pharmaceutical sector $32 billion (the cost of non compliance in the UK for the NHS is estimated at £500m annually).8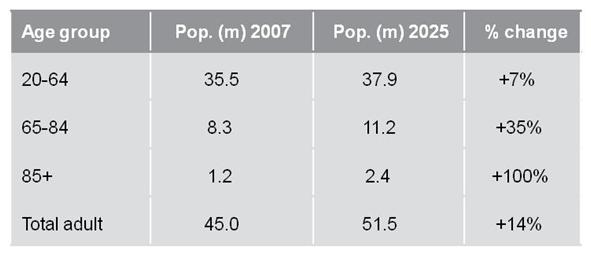 Figure 1: The age demographic time bomb9
Apart from the ageing profile in the UK, as illustrated, the so-called Potential Support Ratio – the number of 16 – 60 year olds who can support an over 65 year old presents a daunting challenge for healthcare. In 1950 it was 2:1, 2000 was 9:1, 2050 in developed world 2:1. One in four Europeans is over 60 and more than half of the UK population now are over 47 years of age.
Pharma need to form non-traditional partnerships to deliver scalable and commercially viable adherence programmes for the senior sector. Pharma also needs to work with companies who understand the senior market, the usability challenges of the device and the application environment. Pharma must reach out to technology partners and modify their business models collaboratively to create new mHealth propositions.10
For seniors specifically, certain device and application partners understand that the technology solution will need to be easy to use, intuitive and designed for specific use.
By working with technology providers, perhaps directly or associated with digital agencies, disruptive innovation is within the grasp of pharma – as long as the innovation is patient- and user-centred e.g. through increased involvement of patients and their families and that innovation is an integrated process, building on experience and knowledge acquired in other sectors, such as I.T.
References:
1. Patient Adherence :The Next Frontier in Patient Care – Vision &amp, Reality, 9th Edition
2. Global Research Report by Cap Gemini Consulting
3. Definition provided by the mHealth Alliance – http://mhealthalliance.org/
4. The Social Life of Health Information, 2011 by Susannah Fox, Associate Director, Pew Internet &amp, American Life Project May 12, 2011
5. Defined by the Department of Health 2011 – Ten things you need to know about Long Term Conditions
6. Campbell, D 2011 – Diabetes Care: NHS Struggles to Cope with Size of Problem
7. BBC 2011 – Diabetes Drugs Driving Rise in NHS Bill
8. NHS Online 2006-2008
9. The Age demographic Time bomb: Currently life expectancy increases by 77 days each year while healthy life expectancy increases by only 49 days. So in the next 20 years the life expectancy for a 20 year old will, on current trends, increase by 4.2 years but healthy life will increase by only 2.6 years (Source: Assisted Living, PLUM 2010)
10. Ernst and Young – Pharma 3.0 Progressions 2011

About the author:
Dr Michael Reilly is Director of mHealth for Doro AB (which targets the senior sector) and is responsible for positioning their device portfolio and application environment called the Doro Experience as an platform for mobilised health and disease management applications in such contexts as Medication Adherence, Patient Recorded Outcomes Measures and clinical trial use.
How can we improve digital engagement with seniors?