Social media in the pharmaceutical industry 2012
Hannah Blake
pharmaphorum
pharmaphorum's Assistant Editor recently attended SMi's 'Social media in the pharmaceutical industry' conference, held on the 9th and 10th July in London. The conference included presentations from Daniel Ghinn at Creation Healthcare and Greg Kueterman from Eli Lilly. This article outlines some of the discussions around crisis management, how to keep your regulatory team happy and ideas for digital campaigns.
Social media is considered a "hot topic" at the moment, especially in the pharmaceutical industry. From the ever-evolving social networking sites, such as Facebook, Twitter and Pinterest, to the increase in patient advocacy blogs and mobile health apps, pharma companies are beginning to map out their social media strategies in order to keep up with the latest technology, while keeping in line with regulatory advice – which isn't easy!
Some of these challenges were discussed at the recent 'Social media in the pharmaceutical industry' event. This article will provide an overview of the discussions from the first day of the two-day conference.
Who are our digital leaders?
"Facebook has reached over 50 million users in the past four years, radio took 38 years to reach the same number of people." This incredible fact, shared by Doris Casares from AESEG, shows just how important it is for pharma companies to start using Facebook and other social media sites.
&nbsp,
"Facebook has reached over 50 million users in the past four years, radio took 38 years to reach the same number of people."
&nbsp,
By looking at digital champions within the pharmaceutical industry who are already using social media to their advantage, we can understand the highs and lows and use them to form our own strategies.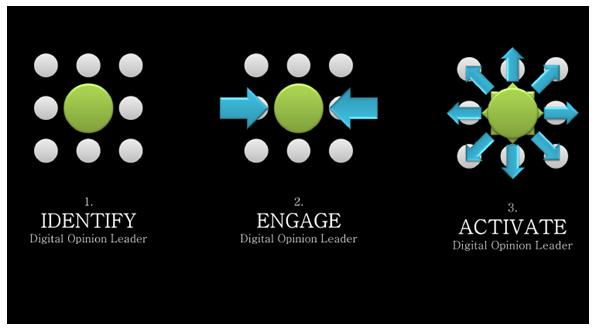 Figure 1: Key steps to working with digital opinion leaders (slide used with permission from Daniel Ghinn, Creation Healthcare)
Just some of the amazing examples discussed were:
• Johnson &amp, Johnson were one of the first regulated healthcare companies to launch a YouTube channel, encouraging 2-way engagement. This was groundbreaking at the time (and many still learn from this today).
• As a result of the patient community network, PatientsLikeMe, it's been reported that around 21% of patients have changed their physician.
• The National Multiple Sclerosis Society has over 135,000 Facebook likes.
• Christine O'Connell was so angry at drug price increases for premature babies that she founded the "Shame on you, KV Pharmaceutical and CEO Greg Divis'" Facebook page, and as a result of the awareness she raised, KV shares dropped significantly.
• Oncology Pharma's LinkedIn groups have such a good reputation that they have saved five lives, as through their connections they have sourced doctors to save inoperable tumours, as requested by patient advocacy groups.
So if all these companies are doing it right, then why are some pharma companies still afraid to use social media? Some of the reasons discussed included:
• Fear of failure
• Fear of the unknown
• Fear of change
• Fear of personal management
One of the biggest risks for pharma using social media is how it can affect brand image. If you say something right, people will share. If you say something wrong, people will still share.
&nbsp,
"If you say something right, people will share. If you say something wrong, people will still share."
&nbsp,
However, having the outlet to share your side of the story can be a good thing too. The introduction of GlaxoSmithKline's Facebook page provided a platform for GSK to give sensible responses to last week's news – without this page people would simply have the discussion elsewhere.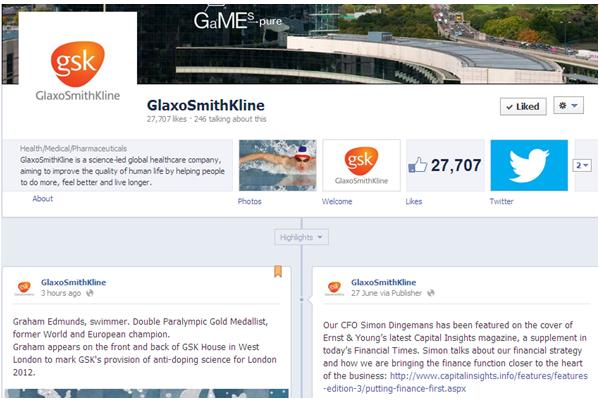 Figure 2: GlaxoSmithKline's Facebook page
Overall, the high risks social media bring are commensurate with high rewards – what other platform allows you to reach 10,000 people in 5 minutes?
How important is crisis management?
After discussing the benefits and the risks of social media, the importance of crisis management came into play after a presentation by Tova Turkel, Senior Press Officer at the British Lung Foundation.
Even as a charity, the British Lung Foundation has received some negative comments from users on Facebook and Twitter. As an organisation, they aim to raise awareness of issues which affect lung health, including smoking, which can be controversial. It shouldn't be taken for granted that a charity which commits over £1million a year to research won't receive some backlash from people frustrated or upset in the BLF's approach to raise awareness of an issue or help prevent lung disease. Thankfully the positive comments strongly outweigh the negative comments, however you need to be prepared as an organisation.
The most important lesson learned, ahead of a major piece of communications, was to think of all the questions or negative comments people might say, and prepare statements which can easily be posted on social media sites. These statements should form part of your media Q&amp,A and should always be conversational and not too defensive. It's also very important to not let the discussion spiral out of control, post your reply and stick to it. Don't keep going back and forth, even if the person is challenging you. Social media lasts forever, even if comments are deleted, so all it takes is one clever journalist to pick up the story and it's then in front of everyone's eyes.
Do you need to secure organisational buy-in?
Discussing risks might be a conversation that makes your legal / regulatory team quiver in their boots, but you need your whole company to understand the importance of a social media presence, before you will see the results.
"Yes, we can do social media, but you can't talk about products, patients or disease states," was the response Greg Kueterman was given by his regulatory team at Eli Lilly. But Greg explained that these limitations made them critically think about what they could do and they have since been able to succeed around these limits.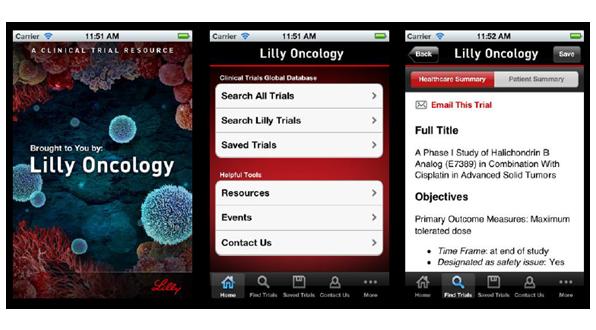 Figure 3: Lilly Oncology mobile phone app (slide used with permission from Daniel Ghinn, Creation Healthcare)
But it's important to not start using social media without reason. Around 95% of social media users just shout about their messages, or try to sell you things you don't want, and if healthcare professionals are shouted at by all these different channels then they will leave.
&nbsp,
"Around 95% of social media users just shout…"
&nbsp,
So how can you successfully launch a social media presence, keeping everyone happy?
• Firstly, create a standard operating procedure (S.O.P.) detailing all the steps to the process of posting on Facebook, tweeting on Twitter etc…
• Build your social media strategy so as to connect with your web strategy – there's no point having eight different social channels if they all have a different voice.
• Launch in a targeted and tempered way at first, by only sending out emails to people you specifically want to follow your social media efforts.
At the end of the day, just remember that the number of followers you have is not nearly as important as who exactly is following you.

About the author:
Hannah joined pharmaphorum in early 2012, after graduating with a degree in Magazine Journalism &amp, Feature Writing in 2011, and leads our news coverage, in addition to liaising with new and existing feature authors. With over three years' experience working within the journalism industry alongside university, Hannah has written for a number of different print and online publications, within the women's lifestyle, travel and celebrity sectors. Now focussed on the pharma sector with her role at pharmaphorum, Hannah is embracing the challenges of working within a fast growing media organisation in this rapidly changing industry sector.
For any queries or contribution suggestions, please contact her here or via Twitter @Hannah_Blake2.
How can pharma implement successful social media strategies?