Results gap between digital leaders and laggards
Views & Analysis
Karl Goossens, director of commercial analytics at Veeva Systems Europe, recently spoke with pharmaphorum, discussing how effective omnichannel execution drives revenue and productivity.
Biopharma's digital interactions with healthcare professionals (HCPs) are now a critical part of industry relationships. Even with the era of widespread COVID-19 lockdowns behind us, today's macroeconomic uncertainty and growing inflation make it more critical for commercial organisations to continue their digital transformation journeys and find ways to strengthen both their top and bottom line.
While many commercial teams wish they had more access to face-to-face meetings with HCPs, a blend of both digital and in-person is key for improving outcomes. This mix drives greater impact because companies now collect massive amounts of data about interactions with HCPs. Many organizations are benefitting from a comprehensive view into their commercial operations, HCP engagement preferences, and the return on investment from moving towards a digitally led commercial model.
Here, Karl Goossens, director of commercial analytics at Veeva Europe, talks about the context around life sciences trends and commercial performance insights the company will share at its upcoming 2022 Veeva Commercial Summit, Europe. Conducting further analysis on a subset of 72 million HCP interactions across 49 brands in the industry, Karl explores what's changed in field engagement since the pandemic and what commercial leaders can learn from digital to lead continued growth.
How would you describe the current state of HCP engagement amongst biopharmas?
Post-COVID, the use of digital to connect remotely and engage with HCPs has evolved from a nice-to-have to a must-have. In our recent Veeva Pulse Field Trends report, analysing activities of more than 80% of all commercial biopharma field teams worldwide, we found that most teams now interact with HCPs 70% in person and 30% through digital channels, such as video calls and emails.
Digging deeper into the impacts of this new engagement mix, we've also seen a shift in outcomes. Looking at interactions with HCPs across dozens of brands in 15 different therapeutic areas, we identified clear "leaders" and "laggards" when it came to successful omnichannel adoption. After overlaying these insights with those brands' reported sales growth, we found that the leaders grew faster over the past two years than those slower to adopt multichannel strategies.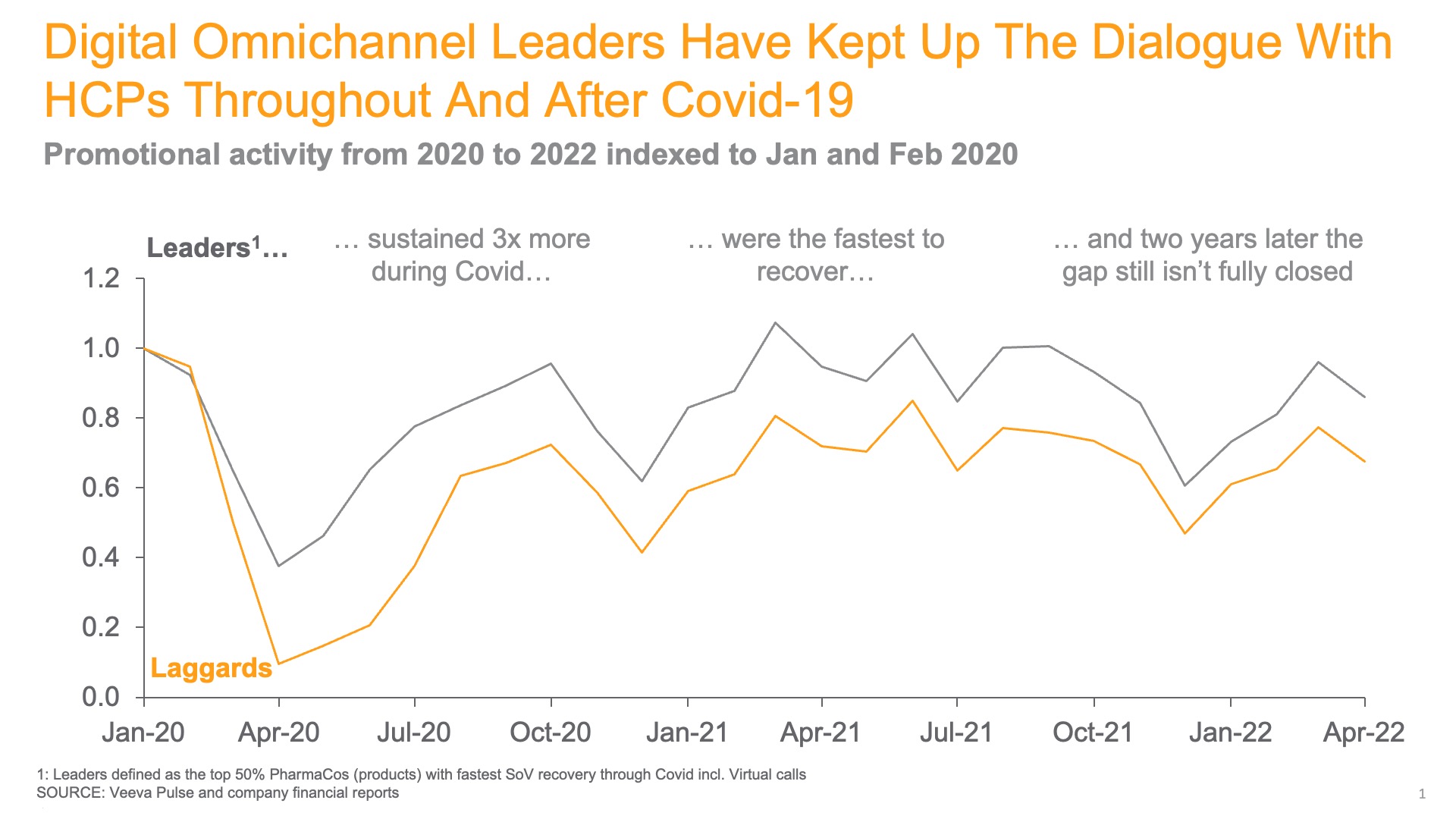 What difference do you see between companies that were quick to embrace hybrid models vs. those that weren't?
The onset of COVID-19 was a defining moment that tested commercial teams' ability to get omnichannel to work. In the early days of the pandemic, the leaders we studied were much more resilient than many of their peers. They maintained relationships with HCPs, logging three times more interactions in April of 2020 than their peers who didn't leverage digital.
What's more, they recovered their pre-pandemic levels of dialogue with HCPs in just six months. By 2021, leading commercial teams achieved a 33% higher share-of-voice per rep than other brands, in part by conducting 83% more virtual calls. These organisations have sustained and expanded their use of virtual channels even as in-person HCP access grew, and their digital transformations will continue well beyond the impacts of COVID.
How does a team's channel mix correlate with its productivity or revenue growth?
Our research found that field reps who combined in-person with digital HCP engagement achieved greater productivity compared to competitors. These teams logged nearly 20% more HCP interactions per week, including twice as many remote calls as peers that were slower to embrace digital channels.
After correcting a product's growth for its lifecycle stage (i.e., recently launched vs. more mature therapeutics), the field team's agility in recovering HCP access through digital channels was the single biggest differentiator for growth during the first year of the pandemic. A discrepancy in revenue growth between digital leaders and laggards continued into 2021, with launch product leaders experiencing 32% faster growth and even mature product leaders seeing 9% faster growth than the digital laggards. Interestingly, these patterns hold true across different therapeutic areas.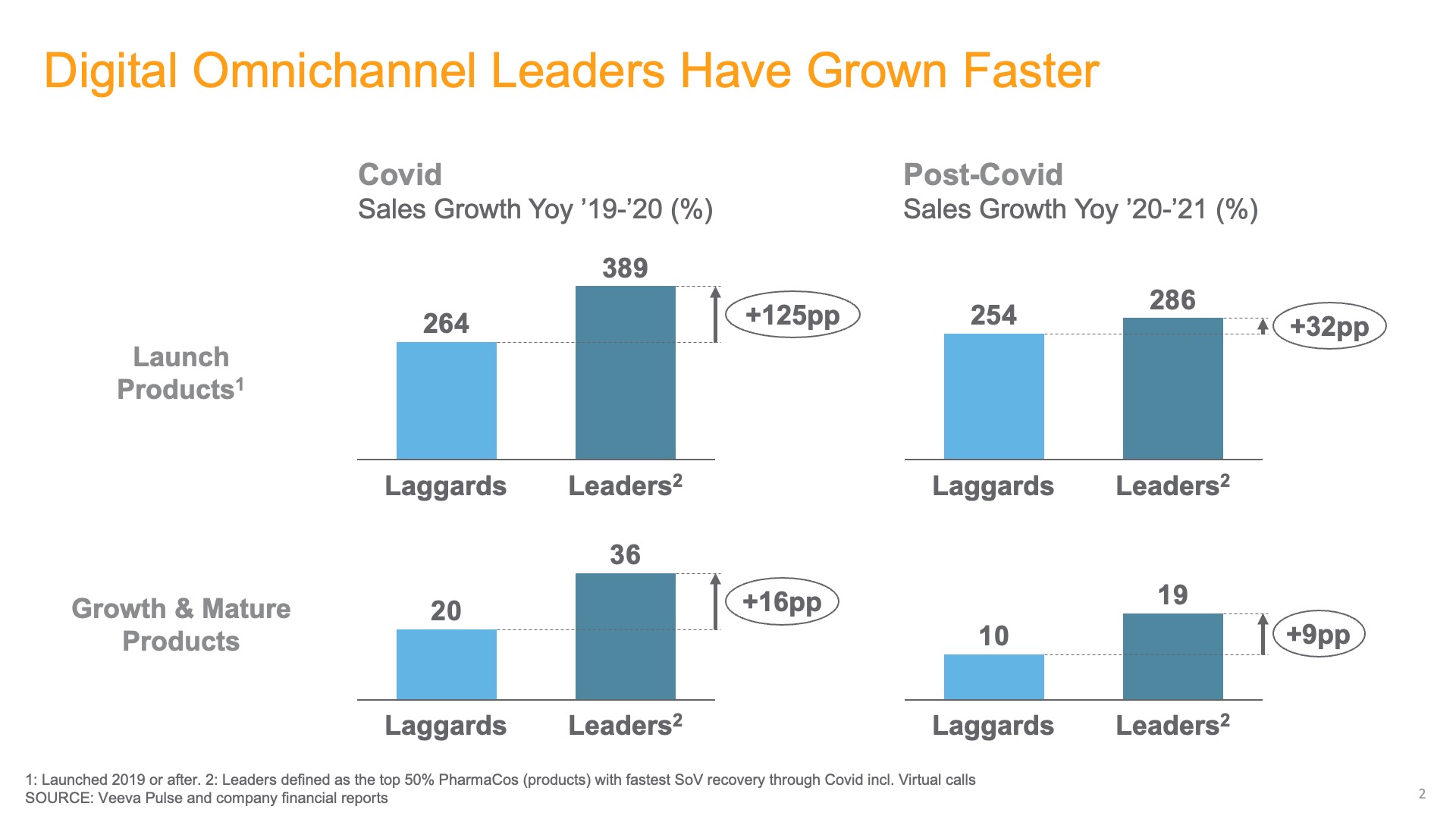 What does "good" omnichannel execution look like in your industry?
The biggest driver of omnichannel success is meeting HCPs' preferences for more hybrid, on-demand access to their biopharma reps. Outperforming teams respond to this demand by mastering the use of digital channels and content to unlock more HCP and influencer access and lead precision engagement. This is where data and analytics come into play. By combining customer intelligence across data sets - such as an HCP's scientific and digital activity, characteristics of their clinical practice, and engagement patterns - teams can create a clearer understanding of their preferences for more meaningful engagement.
One best practice we've seen is the use of timely, personalised content. Reps at leading companies share 47% more content with HCPs, helping keep communications relevant well beyond initial product introductions. By leveraging modular content and analytics to understand preferences, field teams can select the right pieces of information to answer HCPs' specific questions.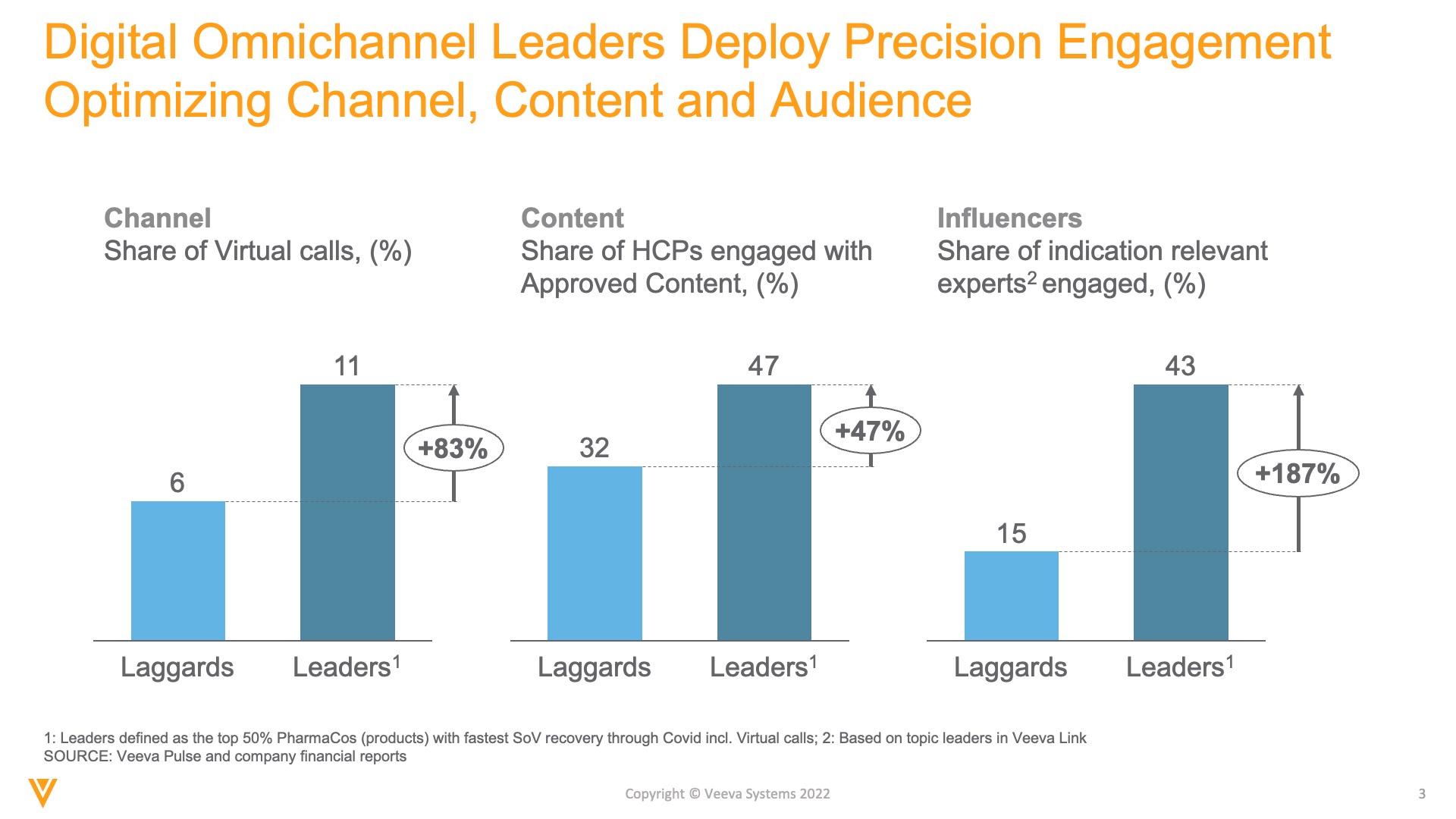 Outperforming commercial teams also engage topic leaders more extensively than other brands. Leading companies connect with three times more influencers from the pool of relevant experts. By drawing from real-time customer intelligence to find and engage with the right opinion leaders in their therapeutic area, these teams reinforce their relevance and connect with more key stakeholders across their target HCP population.
With this deep understanding of HCPs' behaviours and preferences, organisations can employ personalised omnichannel engagement strategies. And by continuously drawing insights from their digital channels, innovative commercial teams also improve their operations and efficiency over time.
About the author

Karl Goosens is responsible for Veeva's integrated analytics services in Europe, leading a cross-functional team of data scientists and analytics consultants that develop and deploy scalable analytics solutions for Veeva customers. He joined Veeva from McKinsey's QuantumBlack. Karl holds a Master of Science in Process Engineering from ETH in Zurich and an MBA from IESE in Barcelona.