Pharma needs hybrid sales and marketing rep
Articles
Robert Chu and Richie Etwaru tell Craig Sharp that pharma has to orchestrate a truly integrated effort from sales and marketing teams to attain commercial effectiveness.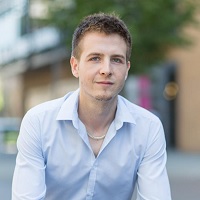 Craig Sharp
This year's eyeforpharma Barcelona 2016 was awash with sales and marketing experience. Everyone had a story to tell and everyone had an example of how things could be better for pharma, better for the patient and better for the customer.
At the heart of the annual event there has always been a focus on operational excellence – and this remains as important as ever.
"Many therapy areas are very crowded, meaning finding any kind of innovation or forcing any kind of meaningful price is very difficult," stated Robert Chu, senior vice president, Technology Solutions at IMS Health. "In order to maintain your top-line growth rate, the only area left to look towards is commercial effectiveness."
In the past 10 years, commercial practices within pharmaceutical sales have moved from sales force automation to sales force excellence and now into something else entirely. Meanwhile, pharmaceutical marketing has moved from a one-size-fits-all approach to communications, to digital, and, finally, it is breaking into multi-channel marketing for a more personalised customer experience.
However there remains a frequent disconnect between brand messaging, sales forces and the customer. So why does this still exist?
Richie Etwaru, chief digital officer at IMS Health, who delivered the conference keynote address 'Inflection Point: Orchestrated Customer Engagement', believes it is because the industry still thinks of sales and marketing as separate entities, instead of encouraging a hybridisation, where the sales rep becomes a conduit for both functions. "It was always going to be both sales- and marketing-led. And the interaction between the two needed to evolve over time. We're at a point now where we need a convergence of the next generation of science between sales and marketing - both the analytical and psychological."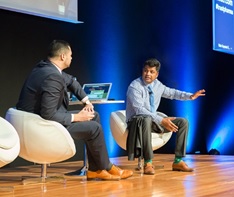 Richie Etwaru (right)
Siloed departments converge
Regardless of progress made in both the sales and marketing camps in recent years, these departments often still work in isolated silos. The key is to create a commercial function that adopts the skills and qualities of both sales and marketing and using this role to blur those lines, before breaking the wall down entirely – so sales and marketing don't work in partnership, but work together as one.
A hybrid 'sales and marketing excellence' rep reports to, and works with, both sales and marketing in equal measure. It's a bold idea, and it requires work – for example, a revision of incentives plans to reflect horizontal departmental integration – but it could be the missing link in pulling over a decade's-worth of best practices together.
"Today the [sales] role is fairly clear," Robert explained. "If you have a call plan, you visit the doctor, you deliver the message and report it back. Move on to the next doctor and repeat. I think it will develop into a relationship/account management role with the ability not only to orchestrate one's own message in private discussion with the doctor, but also other promotional channels from the company too."
The board is already set
Robert believes that many of the elements required are already in place. CRM, for example, is currently severely under-utilised, and could be an invaluable tool for a hybrid sales and marketing excellence rep.
"With today's fragmented approach, the ability of one team understanding what another team is doing is close to zero. This is because pharma companies do not consider customer interactions to be an orchestrated experience – yet. However pharma companies have the technology to address this, and training is going to be absolutely key.
"Typically the [sales] rep has the knowledge to use around 30-40% of CRM features. More training is needed to make sure they fully understand the toolset and, once you have the ability to interact with these different channels and understand individual preferences, sales and performance data will lead to a better understanding of what a particular doctor likes or doesn't like.
"So at the front end would be the person who faces the doctors and pharmacists, territories or hospital, and the kind of stakeholder that has prescription influence. With the correct tools, that individual can assess the most efficient method of orchestration and interaction. At the back end would exist centres of excellence, consisting of people able to operate these channels for our rep. These would include marketing people, who can operate campaigns on a given brand, or medical science liaisons, who have the scientific knowledge to equip the rep for the best possible interaction."
"It's an interesting level of complexity to solve," said Richie, "but bringing it all together horizontally is key. There are other industries with this type of complex situation that could benefit from this. If we get it right, not only will we be able to be seen as the foundational industry for this, but we'll also be able to improve engagement with key organisations such as payer/provider networks and patient networks.
"We're at a point right now where we need that convergence. I believe we've laid the foundations, and at some point someone has to make that decision. Nobody wants to be first, but as soon as somebody is first, everyone will want to be second."
So what obstacles remain to creating a fully hybridised sales and marketing excellence team? Company policy – and, above all, company culture – are the final elements that will unlock this potential. This is a complex undertaking, but by orchestrating this integrated working across commercial functions, companies will find themselves in harmony with their customers' needs, and thus reap the commercial rewards.
About the author:
Craig Sharp is a freelance journalist and content marketer. He has over eight years of business journalism experience in the healthcare, process excellence and display advertising industries. Before going freelance, he worked at processexcellencenetwork.com and, prior to that, eyeforpharma.com.
Read more from Craig Sharp:
Tackle the future with Team Healthcare