Pharma gets social: Will ASCO 2015 be the most social congress meeting ever?
Next month, the 2015 ASCO Annual Congress takes place in Chicago. The American Society of Clinical Oncology congress meeting is one of the world's largest congress meetings, with 30,000 delegates. In recent years it has also attracted increasing levels of social media engagement among healthcare professionals, patients and participating organisations and companies. Daniel Ghinn considers the trend.
During the days around the 2014 meeting, 60,000 tweets, comments, posts and social media updates were published by participants and interested observers. This phenomenon has extended the reach of the congress from the site of the meeting to engage hundreds of thousands more people all over the world.
In fact, while pharmaceutical companies participating in congress meetings have traditionally focused on the role of those Key Opinion Leaders (KOLs) who present sessions in person, it is the interpretation of, and reaction to, those sessions by Twitter users, bloggers, and other 'Digital Opinion Leaders' that is heard first by the largest audience, worldwide, thanks to social media.
Dr Naoto Ueno is a Medical Oncologist based at the Anderson Cancer Center in Texas. He has more than 8,000 followers on Twitter and during the 2014 ASCO meeting he posted more than 450 tweets which reached tens of thousands of people all over the world. Dr Ueno's tweets included reflections on data presented and summaries of his highlights.
"Top Breast Cancer Findings from #ASCO14: goserelin saves fertility, ovarian Fx suppression and AI improves HR+ primary BREAST CANCER", he tweeted at one point, which was then shared by other healthcare professionals and cancer survivors and stimulated a live, public Twitter conversation.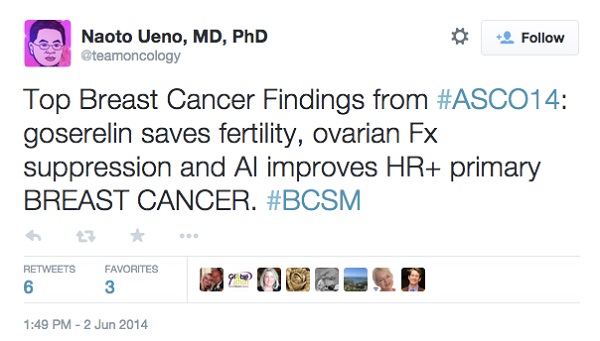 Dr Naoto Ueno's tweets throughout ASCO reached tens of thousands of people worldwide through further sharing and engagement.
Other social media updates posted at the 2014 ASCO meeting included numerous Instagram photos showing slides posted from talks, posters presented and exhibition stands. While Twitter and Instagram were used actively during live sessions, many longer-form channels such as blog posts were also written during and after the congress and included more contemplative reflections.
Dr J Leonard Lichtenfeld, an oncologist who is also Deputy Chief Medical Officer for the American Cancer Society, wrote a blog post about the rising cost of cancer drugs during one of the ASCO sessions. "Even as I write this I am sitting in a session devoted to the topic of how we make the choices so necessary for the welfare of our patients and how we should guide those choices," he wrote in his blog post.
Social media trends for ASCO 2015
So what's in store for the 2015 ASCO meeting? Considering the growth in numbers of oncologists using social media, and trends over past years at ASCO, I estimate that this year will see well over 100,000 ASCO-related tweets, as well as posts and updates on social media over the course of the meeting. I believe this would make ASCO the most-tweeted medical congress meeting to date and for pharmaceutical companies, this will provide an unprecedented opportunity.
During previous ASCO meetings we have seen the use of a number of tactics by pharmaceutical and biotech companies to engage stakeholders during the congress. Among the most-mentioned Twitter profiles in tweets sent during the ASCO congress in 2014 were Boehringer Ingelheim (BI), Genentech, Roche, Bristol-Myers Squibb, and Merck, although each company used different ways to engage its stakeholders.
BI, which was mentioned in more than 1,200 tweets and re-tweets, achieved significant online engagement during the meeting by actively tweeting using the congress hashtag #ASCO14. It shared a rich range of pre-prepared resources including videos from its YouTube channel and content from its 'In Oncology' website. The company targeted specific stakeholder groups by prefixing tweets with terms such as 'PRESS:…' or '#HCPs:…'
'#HCPs: #DoYouKnow about Plk inhibition, a novel therapeutic approach in #haematology?…' read one BI tweet, with a link to its oncology website and the #ASCO14 hashtag. The tweet has been re-tweeted 93 times and 'favourited' 257 times.
Genentech, which was mentioned in a little over 1,000 ASCO 2014 tweets, took a less direct approach to engagement than BI. The company was presenting data on 27 medicines in 19 tumour types at the meeting so there was plenty of congress content for others to talk about online.
'Very cool @Genentech – Pipeline Explorer – we need for @theNCI http://ClinicalTrials.Gov #clinicaltrials #ASCO14', tweeted one oncologist.
With social media now very much a part of engagement around ASCO, here are my top-five tactics that I anticipate will be deployed by the most proactive pharmaceutical companies at ASCO this year:
1. Equipping online advocates or 'Digital Opinion Leaders' with resources, tools and information to enable them to share positive messages.
2. Posting 'shareable' assets, including infographic images and video which will be popular in social media.
3. Analysing the social media conversation around the #ASCO15 hashtag during the congress meeting to assess response to their activities and gain market intelligence.
4. Listening for questions and responding publicly by signposting to pre-prepared content.
5. Reaching out to individuals and groups, in live public engagement.
About the author:
Daniel Ghinn is founder and CEO of Creation Healthcare, where he helps healthcare companies to prepare for and learn from online conversations during congress meetings. He tweets at @EngagementStrat.
Read more from Daniel Ghinn's monthly Pharma Gets Social series:
Pharma gets social: How Novartis is transforming clinical trials with social media