mHealth Monthly Mashup: release 12.0 – pharma dips its toes into mobile health with broad array of apps
Michael Spitz
Zemoga
Michael Spitz explores mobile health apps created by pharmaceutical companies.
According to a new survey of pharmaceutical executives conducted by KPMG, 36% plan on using mobile health to gain customer insights, 31% to interact with customers, and 29% for recruitment and use for brand promotion. Considering nearly a third of these key decision makers lean toward mobile health as a viable communications and engagement channel for pharma, one would assume the industry has at least dipped its toes into a future digital health technologists consider inevitable.
&nbsp,
"36% plan on using mobile health to gain customer insights, 31% to interact with customers, and 29% for recruitment and use for brand promotion"
&nbsp,
And indeed it has. Amid the plethora of mobile health apps that make the news and have been peer-reviewed are far fewer yet equally significant releases from healthcare and pharma companies. In both branded and unbranded varieties for healthcare professionals, patients, and caregivers, these apps cover numerous diseases states and incorporate calculators, treatment algorithms, profiler tools, sensing technology, and a host of advanced features that begin to take advantage of the astonishing capabilities of smartphones and tablets. But within a fragmented world of mobile app development and distribution, where are they, what are they like, and how can we get a simple and effective overview of them?
Fabio Gratton, Chief Experience Office (CXO) of Ignite Health has done us all a favor and created the most comprehensive directory of mobile applications created by healthcare companies the world over, POCKET.MD. No stranger to healthcare industry content curation and aggregation, Fabio has already brought us a compendium of all things FDA guidance for social media, a dynamically populated community for diabetes patients, and numerous other online specialty resources. "I created this project because of my personal obsession with keeping track of the healthcare industry's contributions to innovation in mobile health," says Fabio, whose Labs boast their own dedicated commitment to #mhealth innovation.
Containing hundreds of apps tagged across multiple categories, the POCKET.MD site has surprising depth and breadth, especially considering the relatively slower adoption by pharma. Simply and effectively tagging and filtering apps by pharmaceutical company, device type, disease state, and category, users can also browse by most recent uploads and most popular downloads. Areas of the site are devoted to industry guidance, recent news, data-driven reports, and featured content. Users can cross-link to other robust mobile health resources such as Fierce Mobile Healthcare, Mobihealthnews, and iMedicalapps.com, and engage the site and its creator through social channels such as Facebook and Twitter.
To get a flavor of the various types of pharma-sponsored apps available worldwide, let's examine the portfolio across several categories, and see if we can make a few high level observations about the current state of pharma participation in mobile health.
Apps by device
Market research reveals that Apple products remain predominantly favored by healthcare professionals, so it comes as no surprise that iPad and iPhone apps dominate in terms of pharma involvement in the space. Broken down by manufacturer and type of device, we can get a feel for industry priorities by noting the number of apps available in each: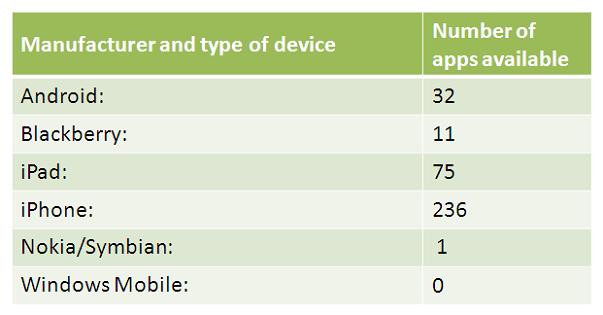 Figure 1: number of apps per handset
Pharma apps for iPhone dominate Android more than seven to one. Firms such as Pfizer, Janssen, Genzyme, GSK, Bayer, Merck, Johnson &amp, Johnson, Boehringer-Ingelheim, Allergan, and Sanofi-Aventis support the Android platform, but additional players such as Novo Nordisk, Alcon, Takeda, BMS, Novartis, and many others only embrace Apple. As mobile platforms continue to consolidate and healthapps take an increasingly significant role, the "Coke or Pepsi" split between Android and Apple will be interesting to observe, let's see how pharma responds to the market pressures.
&nbsp,
"The 'Coke or Pepsi' split between Android and Apple will be interesting to observe, let's see how pharma responds."
&nbsp,
Apps by functional category
Smartphones are essentially mini-computers, with memory and processing capabilities far exceeding early desktops and even the vacuum-tube'd mainframes of old. Touch screens only add to the allure of their innate portability, enabling functionality that includes calculators, interactive calendars, virtual demos, and engaging ways to share textual and visual content. Far as pharma apps go, their prevalence across these categories includes: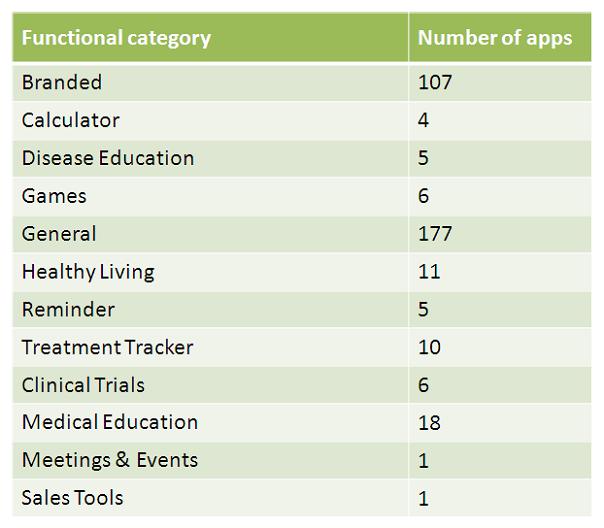 Figure 2: apps by functional category
Interesting to note that United States versions of branded apps for specific drugs are relatively rare, since the mandated display of fair balance information is challenging on a device with smaller available on-screen real estate such as an iPhone. Less stringent rules for the display of this information in countries outside the US likely facilitates these more product-specific apps for both physicians and patients, long-awaited FDA guidance for medical apps may give pharma more confidence in building these tools, but for now the practicality and utility of entering the space remains prohibitive.
&nbsp,
"For digital pharma, these are interesting times indeed."
&nbsp,
Gratton's gallery
Among the many attempts by pharma to make an engaging mobile app, a few stand out. "I particularly like what Genentech is doing with their mechanism of action apps, including HER2 and HDL Science," observes Fabio. "They take advantage of the iPad's beautiful display to render visually stunning 3D graphics and videos, bringing the science to life."
Fabio also commends Novo Nordisk for pushing the envelope in terms of injection tutorials, where they provide visually intuitive, step-by-step instructions on the use of their products. Depuy's orthopedic product apps also integrate video and 3D graphics to demonstrate complex structures in a simple way that contextually illustrates the benefits. And Allegan's Juvederm Treatment Visualizer app "does an impressive job of meshing patient-friendly interactivity with compelling graphics technology to help people imagine what they would look like after using the product."
The road ahead
From oncology to flu, cardiology to cystic fibrosis, baby care to clinical trials, few disease states and treatment categories remain untouched by pharma mobile health. But how effective are these apps, what's their actual level of utilization, and how engaged are physicians, patients, and their caregivers? Ultimately what kind of behavioral change are they inducing, and is pharma on the right track, at least compared to other mobile health providers who have less of an overt agenda, and seek monetization from other sources?
The social media revolution implored pharma to rethink how it communicates with audiences, that channel is still a work-in-progress as governments struggle to define acceptable boundaries, and the industry grapples with its own willingness to engage directly and in real time with constituents. Adding to the confusion and opportunity is mobile health, another channel that even more suddenly and completely redefined the healthcare, communications, and technological playing field.
To quote a Chinese proverb, part blessing and part curse: "May you live in interesting times!" For digital pharma, these are interesting times indeed.

About the author:
Michael Spitz is SVP, Managing Director of the Healthcare and LifeSciences division of ZEMOGA. Spitz combines his passion for technology with more than 15 years of clinical content expertise to help engineer digital healthcare solutions. Follow @SpitzStrategy on Twitter for his daily – often hourly – updates on all things digital for the ultimate benefit of patients worldwide.
What are you favourite pharma mobile health apps?