Latin America: ripe potential for pharma
Views & Analysis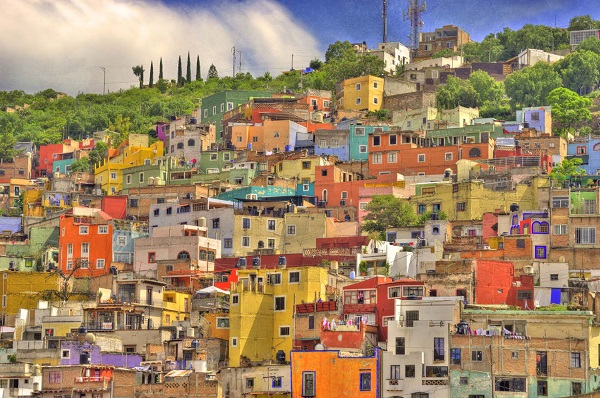 Guillaume Corpart outlines the trends and opportunities for pharma in this burgeoning region, in the second of his two-part series.
With over 75 per cent of the world's 100,000 hospitals located in emerging markets, the winning medical device manufacturers and pharmaceutical providers of tomorrow will be decided by their ability to understand, and compete in, new and challenging global environments.
Global medical device manufacturers have long relied on their core home markets for revenue and profits. The US and European markets, with approximately 5,700 and 8,000 hospitals, respectively, have been the traditional focus of the world's leading medical device manufacturers. These advanced markets are highly competitive and well served, forcing the winners of tomorrow to turn to emerging markets for growth.
Similarly, in the pharmaceutical space, sales are growing at a mere 3 per cent per year in mature markets such as North America, Europe and Japan. Latin America and Asia stand out as the principal growth regions, each having expanded at an average of 14 per cent per year between 2008 and 2012 and expected to maintain an average pace of 12 per cent per year through 2017.
The opportunities and challenges are vast in this changing landscape. Understanding the local context is key to success.
Hospital potential
The potential for medical devices in international markets is often overlooked. While it is true that hospital spending and broader healthcare expenditure in emerging markets lag behind those of the US and Europe, the size of the opportunity warrants a closer look.
Latin America is home to over 16,000 hospitals. Brazil has over 40 per cent of the region's establishments and has more institutions than the US. Meanwhile, Mexico is the world's seventh-largest hospital market with over 3,900 hospitals, 60 per cent of which are private.
Figure 1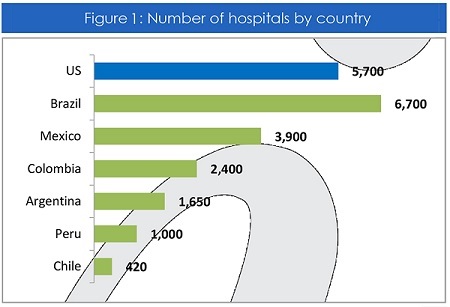 Analysing hospital demographics can uncover a wealth of opportunities. Factors such as geographic concentration, size of institutions and degree of specialisation are key to developing a successful growth strategy.
For example, half of all Brazilian hospitals are located in just six states, and one-in-five hospitals have more than 100 beds. In other words, companies selling sophisticated medical devices, hospital services, and technology solutions can learn to target hospitals that fall within their typical client base with a smart and focused regional in-country strategy. Specifically, recent data on hospital infrastructure in Brazil suggests there is room for growth in outsourced medical services, notably in managing hospitals' pharmacy, medical and patient records, sterilisation of materials and laundry services.
Similarly, over one quarter of Mexican hospitals are located in just three states, and 10 per cent of hospital physicians are paediatricians. This means that companies with a treatment or device aimed at the paediatric market have a potential audience of nearly 20,000 doctors with a targeted approach.
With the exception of Brazil, most countries in Latin America have little-to-no local manufacturing of medical devices or medical technology. Local R&D is weak and manufacturing is generally limited to second-generation products, by fear of piracy or intellectual property infringement. As a result, most countries rely almost exclusively on imports, which accounted for over $10 billion in 2014.
Figure 2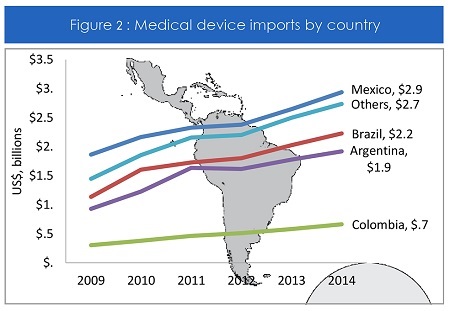 Despite the opportunities, few global medical device manufacturers have taken the lead on understanding how the region operates, from importing to distribution and the impact on trade financing and currency risks. As such, the market is ripe for disruption as a few players may begin to corner the industry.
Making the right investment is the first step in establishing a market presence with long-term growth prospects in the region. A fast mover wanting to disrupt the current situation could do so with a few thoughtful bets on concentrated markets such as Brazil, Mexico, Colombia, Chile or Peru.
Prime market for pharma sales
Between 2002 and 2009, Latin America's middle class grew by 60 million people. Urbanisation, greater access to education and a larger proportion of women in the workforce are helping to bolster income levels throughout the region, driving the expansion of pharmaceutical sales. As this happens, the face pharmaceutical retailing will also change.
Consumption will continue to lean towards an increased use of generics, a trend driven by governments seeking to broaden healthcare access at reduced costs. Local producers of generic drugs are becoming the driving force of the pharma market, manufacturing branded products as well as private labels for pharmacy chains. Local producers are growing at a staggering 28 per cent per year, enabling generics to be sold in domestic markets at 70 per cent less than their patented counterparts.
Figure 3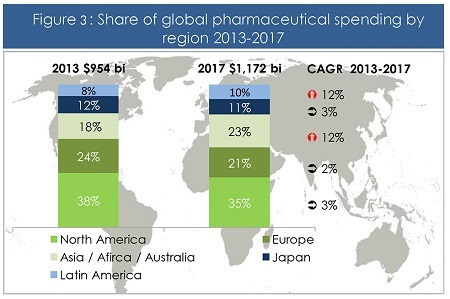 The consolidation of pharmacies and the continued expansion of retail/supermarket chains will accentuate this trend moving forward. A study conducted by Nadro, a Mexican medical wholesaler, shows that pharmacy chains and supermarkets went from controlling 69 per cent of Mexican pharmaceutical sales in 2007 to 88 per cent in 2014, squeezing out the independents. Consolidation of the pharmaceutical retail segment will lead to fewer potential distributors – of greater gross revenue – for drug and over-the-counter manufacturers, simplifying the sales process and simultaneously increasing the reliance on a few retailers. This will lead to a severe disruption of longstanding practices by established product manufacturers and wholesalers, who have made the most of the inefficiencies of a fragmented marketplace. These segments are in the process of reinventing themselves.
Meanwhile, private health insurance is gaining traction and the market for 'middle income' private clinics and hospitals is booming. As this happens, the market for medical devices and equipment will continue to grow, presenting additional sales opportunities for manufacturers.
Ultimately, Latin America is a strong bet for pharma companies' future growth. A few markets stand out in the region: Brazil will continue to be the primary driver of healthcare expenditure, accounting for ~43 per cent of the region's pharmaceutical sales between 2013-2017, followed by Mexico as the second largest market with ~17 per cent of sales. Brazil is expected to become the world's fifth largest pharmaceutical market by 2016. Colombia and Peru present growth prospects, albeit from a small base. Chile maintains the characteristics of a more mature market, with consistent and stable growth.
The competitiveness question remains on the table, particularly as it pertains to patented drugs versus generics and to global manufacturing versus local production (in local currency). While there may be a market for everyone, the 'winners' are starting to surface.
Impact of generics
The expiration of 40 patents in the US in 2015 and 2016 will invite greater competition to provide low-cost alternatives for many popular drugs. Generics have become popular in countries where governments seek to curb costs and consumers are more price-conscious.
Generics have become the choice of governments that heavily subsidise their health systems, notably Brazil, Argentina and Colombia. Insurance companies and governments are exercising tighter control over the type of drugs administered to patients. In most cases, governments in Latin America promote the use of generics primarily through legislation. In early 2014, Chile's congress approved a bill that forced doctors to write prescriptions with both the patent and generic name. It also forced pharmacies to ensure generics are always available to the public.
As a result of government support and more price-conscious consumers, the use of generics is expected to increase 16 per cent per year in Latin America, reaching 65 per cent of total drug sales by 2016.
Figure 4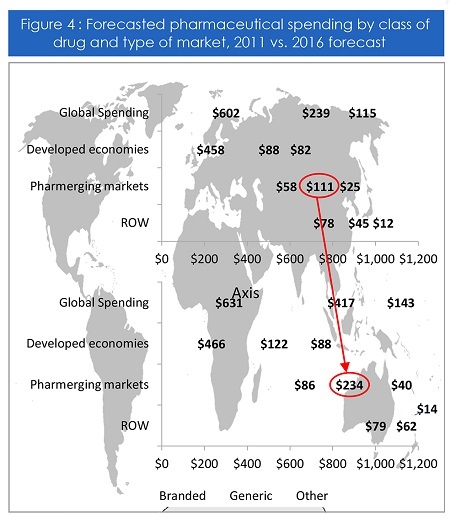 While generics offer medical distributors and pharmacies the opportunity to increase their sales volumes, the profit margins remain lower than for patented drugs. So far the biggest winners have been local producers of generic drugs as well as large pharmacy and retail chains.
- Local generics manufacturers have been growing at a dizzying 28 per cent per year, selling generics in their domestic markets 70 per cent more economically than their patented counterparts (both branded products as well as private labels for pharmacy chains).
- Meanwhile, large chains have leveraged their buying power and logistics networks to sell greater volumes of generics at the expense of smaller medical distributors and pharmacies, who have come under greater financial pressure. Many pharmacies have been forced to operate with less cash as they see their profits dwindle as generic drugs become ever more prevalent.
Figure sources
Figure 1: Global Health Intelligence based on local ministries and internal data collection.
Figure 2: Global Health Intelligence based on data from SIAGOV, DIAN, AliceWeb, Indec, SIAVI.
Figure 3: Source: Global Health Intelligence analysis based on information from IMS Health.
Figure 4: 'Se les acaba el argumenta a los genéricos', El Economista, 13 May 2012.
About the author:
Guillaume Corpart is managing director of Global Health Intelligence and a veteran of market intelligence in emerging markets. Global Health Intelligence has the world's largest hospital demographics database in emerging markets and helps companies succeed in their growth strategies. For more information contact: gc@globalhealthintelligence.com , www.globalhealthintelligence.com
Read the first part of this two-part series: