Digital healthcare round-up: digital uptake, machine learning, Nokia joins medtech boom and more
A round-up of this week's top digital healthcare news. Marco Ricci reports.
Doubts fuelling a lack of excellence in digital healthcare?
There is no doubt that digital is the way forward for healthcare, whether through mobile disease management applications or revolutionary training and education tools for healthcare professionals.
Unfortunately, its adoption by businesses, in the UK and worldwide, does not match the current expectations for the field. As reported last week in a study carried out by IBM and the Confederation of British Industry (CBI), British businesses are still wavering in their willingness to integrate digital technologies into their methodologies – regardless of the shared opinion of almost all companies involved that they have the potential to revolutionise their business.
The apparent unwillingness to fully embrace digital was compounded this week by results released from Wave 1 of Enspektos' State of Digital Health Innovation Study. The research, that included 150 people with in-depth knowledge of their company's digital health innovation efforts, revealed a concerningly low 5% of global healthcare leaders truly operating at the highest level of digital excellence.
The argument can be made that digital health is still in its infancy, however the similarities between both studies' results suggest opportunities are being missed.
Read more: Digital: capturing more of the healthcare ecosystem
The machines are taking over
Machine learning and computational technologies are starting to make an impact in the pharma industry. Last week saw the announcement of a collaboration between AstraZeneca with Human Longevity Inc (HLI), the Wellcome Sanger Trust Institute, and the Institute of Molecular Medicine, Finland, which will use machine learning technologies supplied by HLI in order to discover new drugs by 'mining' a vast database of genomic information.
This week, US cloud-based radiology service provider Imaging Advantage launched its own machine-learning initiative named Singularity Healthcare. The project brings together top names from the Massachusetts Institute of Technology and Harvard Medical School to develop an artificial intelligence (AI) capable of pre-reading x-rays and identifying potential areas of disease or injury. The AI will continuously learn from Imaging Advantage's image database of 7 billion digital x-rays.
Although currently focused on x-rays, the company intends to extend the platform to other diagnostic scans such as CT and MRI scans.
Pfizer and Roche also made waves in the digital tech field this week with their joint investment in microbiome specialist Second Genome. The investment was part of the $42.6 million raised during a series B funding round and will go towards the development of Second Genome's Microbiome Discovery Platform, which will combine computational biology, genomics and phenotypic screening to better understand the origins of human diseases.
Nokia enters the realm of digital health
Former mobile phone giant Nokia is the latest brand to switch its focus to digital healthcare with the announcement this week that it is to acquire digital health specialist Withings in a deal worth $191 million.
The acquisition, coming almost exactly two years after Nokia sold its mobile phone division to Microsoft, is part of Nokia's 10-year plan to regain a leading status in consumer electronics, part of which is to enter the digital healthcare market.
Its Nokia Technologies arm will gain Withings' broad range of solutions, including activity trackers, weighing scales and blood pressure monitors, many of which have compatible apps, advancing Nokia's plans to move forward in preventive health and patient care.
Already this year, the division has also unveiled its virtual reality Ozo camera and announced a multi-year deal with Disney, which will use the 360-degree camera to shoot video and marketing materials around its upcoming film releases.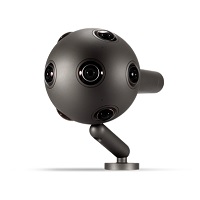 The Ozo camera launched by Nokia.
The news of Nokia's venture into healthcare comes a week after consumer electronics brand Fitbit announced its intention to enter the electronics-cum-healthcare solutions market, where Apple and Google already dominate.
The deal is expected to close in early Q3, 2016.
Also in the news:
About the author:
Marco Ricci is Staff Writer at pharmaphorum. Contact him at: marco.ricci@pharmaphorum.com or on Twitter @pharmaphorum_MR