What pharma can do to win in virtual
Views & Analysis
Early data indications from the first virtual congresses shows big changes are needed.
As the life science industry is bracing itself for a prolonged period with minimal in-person meetings, what can the data from the first few months in lockdown tell about how best to navigate this future?
The Covid-19 crisis has led to widespread cancellations of conferences. A few have managed to stage a virtual version and our intelligence suggests we will see more of this in coming months (Figure 1 below). As these events are a cornerstone of any product launch and go-to-market strategy for the industry, this uproots existing plans and compounds the difficulties arising from a salesforce largely unable to meet with HCPs.
Figure 1: Scientific conference status

Source: Airfinity data
How long will this last? Having spoken to several scientific associations and organisers, the consensus is that this trend will continue well into Q3 and many expect Q4 and Q1 2021 similarly to be heavily impacted. Some groups have conducted member surveys, the results of which indicate that doctors are unlikely to want to travel in the coming 12 months.
This raises many critical questions:
How can pharma companies ensure their new scientific findings are spread impactfully without the conference channel?
How can companies' pre-launch and launch activities get a boost without the real-life engagement to kick-start them?
How will the whole KOL and influencer system for knowledge dissemination work without the ability to invite KOLs to conferences and without their participation in sponsored sessions?
There are more questions than answers, but if pharmaceuticals don't get this right, they risk losing a year of educating the market on the benefits of new treatments.
How virtual congresses are different 
To arrive at some data-backed answers to these questions, we have analysed the scientific and commercial reach, Share of Voice and best practice of one of the first large virtual conferences, ACC.20 (American College of Cardiology) and compared it to the 2020 in-person conferences, along these metrics. We found that virtual congresses are fundamentally different to their  "real-life" equivalent and require a new set of tools and methods to succeed. Three aspects, in particular, stand out.
Although ACC had only a slightly smaller program in 2020 than in 2019 (more than 4000 abstracts had been accepted), only a minor fraction, 3% of this was live. The live sessions had substantial reach – and probably greater than they would have enjoyed in an in-person conference.
There were more than 6000 HCPs logged into the most-streamed sessions and 38,000 had signed up vs 16,000 in-person participants in 2019. But the non-live sessions struggled to garner any attention. Being included in the official programme is not enough to attract attention virtually; a big push is needed.
Other conferences, e.g. AACR, a large cancer conference, is splitting its event up in two. One, showcasing late breaking science, will be hosted virtually in May and then in June, the remaining abstracts and presentations will be published online.  This has significant implications for medical affairs divisions.
Figure 2: Live presentations and viewers at ACC.20

Airfinity data and data provided by ACC.
Scientific conversation happens on Twitter
A key part of a conference is the ongoing conversations around and in the break-out sessions. ACC actively tried to drive this activity to Twitter which consequently became a de facto place for scientific conversation.
Our analytics showed that while overall social activity was lower (unsurprising since only 3% was live) than in 2019, engagement per session and per tweet was higher in 2020. Our data also shows that a few high-profile KOLs were very active and drove lots of traffic to science they highlighted. Other channels such as Youtube, LinkedIn and Sermo, the social network for doctors, were also used, but nowhere near as much as Twitter.
Surprisingly, most companies and their KOLs were almost completely absent from Twitter.
Figure 3: ACC.20 virtual social engagement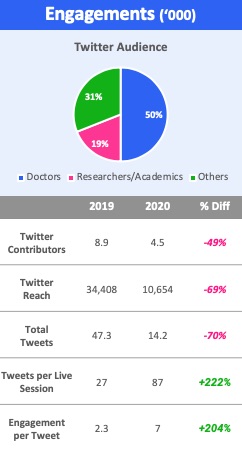 Airfinity analysis
90 not 3 days is an opportunity
Although the virtual, live portion of the conference only had limited science available, all ACCs science has been made available for 90 days (for free). The same structure has been applied to other virtual conferences, e.g. AACR. Only few companies seem to have seized the opportunity for on-going education provided by the 90 days of freely available content. But through social media, KOL Twitter activity and collaborations with media new science can be disseminated all the way out to the individual HCP.
 Sponsored sessions and exhibitions can be transformed to virtual
The virtual congresses we looked at offer both sponsored sessions and virtual exhibitions. Not many companies have got around to developing engaging formats and content for it, but our data shows this should be done.
One of the few sponsored sessions at ACC.20, Novartis, got more than 1200 views, which is significantly more than in-person sponsored sessions get. Some videos on the virtual exhibition space also got high traction. More native, engaging and real time formats could significantly increase the impact.
Figure 4: Virtual sponsored session, Novartis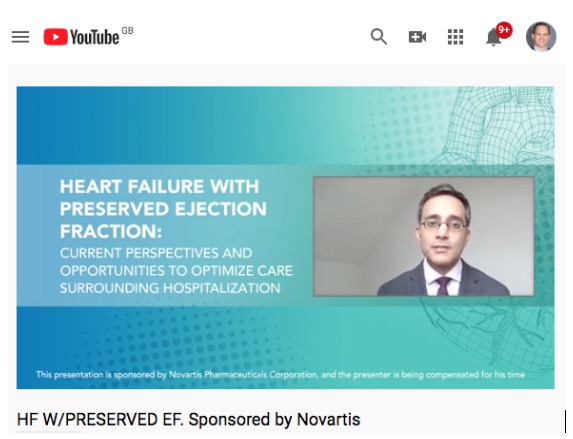 1288 views
ACC.20
A virtual control tower to lead the way
Winning in virtual is no easy and there is no quick fix. Like other digital transformations, e.g. newspapers' translation from print to online, shifting the in-person reliant go-to-market in life sciences to virtual will require a range of new tactics, formats and ways of working. As Figure 5 shows, this is likely to require a wide set of new approaches and devices.
Figure 5: HCP expectations of remote-working tools post crisis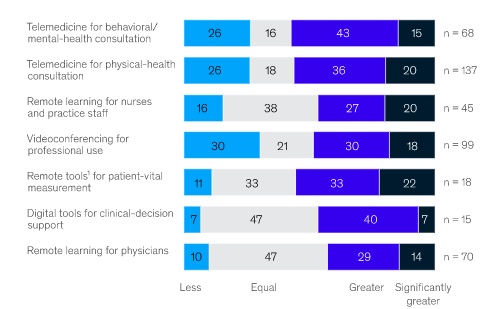 Source: Sermo COVID-19 Healthcare Practioner Survey, April 2020. McKinsey and Co, 2020
To drive this change we believe pharma needs to consider a new, temporary, structure at HQ; a "virtual control tower", a "war room" consisting of senior people from both medical and commercial divisions. This team must have the remit to quickly allocate resources to new digital-first initiatives, set clear goals and oversee execution,This control tower should have local versions in each region and country that coordinates with HQ.
For the virtual control tower to succeed it needs:
Medical and commercial both present in the control tower  – The regulatory constraints on social media and other digital channels, especially in Europe, are a key reason why many pharmaceuticals have been reluctant to engage. However, when the scientific conversation is happening online it's entirely legitimate, in fact important, to be active virtually. As with scientific conferences, the digital HCP engagement is a shared task that requires close alignment and collaboration between commercial and medical affairs both in terms of content developed, formats, channels, collaborators and more.
Real time predictive analytics – One of the great benefits of digital is the ability to track and measure what works and what doesn't. The control tower should be equipped with real time analytics dashboards that track the performance of activities against a simple set of actionable metrics; follow the scientific direction, monitor social media and online share of voice per molecule, KOL and HCP behaviour and benchmark what competitors are doing and what best practice is emerging. Without these data-driven insights, it will be hard to optimise and there is a substantial risk of missing new opportunities and moving too slow.
Build internal capabilities  – Succeeding in digital is ultimately about people. Conference teams need to be equipped with the necessary skills and frontline staff must find the best ways to engage digitally. The control tower needs to assess and benchmark their digital capabilities against the market, peers and competitors and work closely with HR to develop the necessary skills internally.
About the author 
Rasmus Bech Hansen is co-founder and CEO of Airfinity.
About Airfinity

Airfinity is a science insights and predictive analytics company. By capturing and analysing the earliest, real time signals from scientific conferences, digital channels and KOL conversations, we provide pharmaceuticals and investors with a new kind of intelligence that enables them to act first.