Listening to the patient voice: severe sickness in pregnancy
Views & Analysis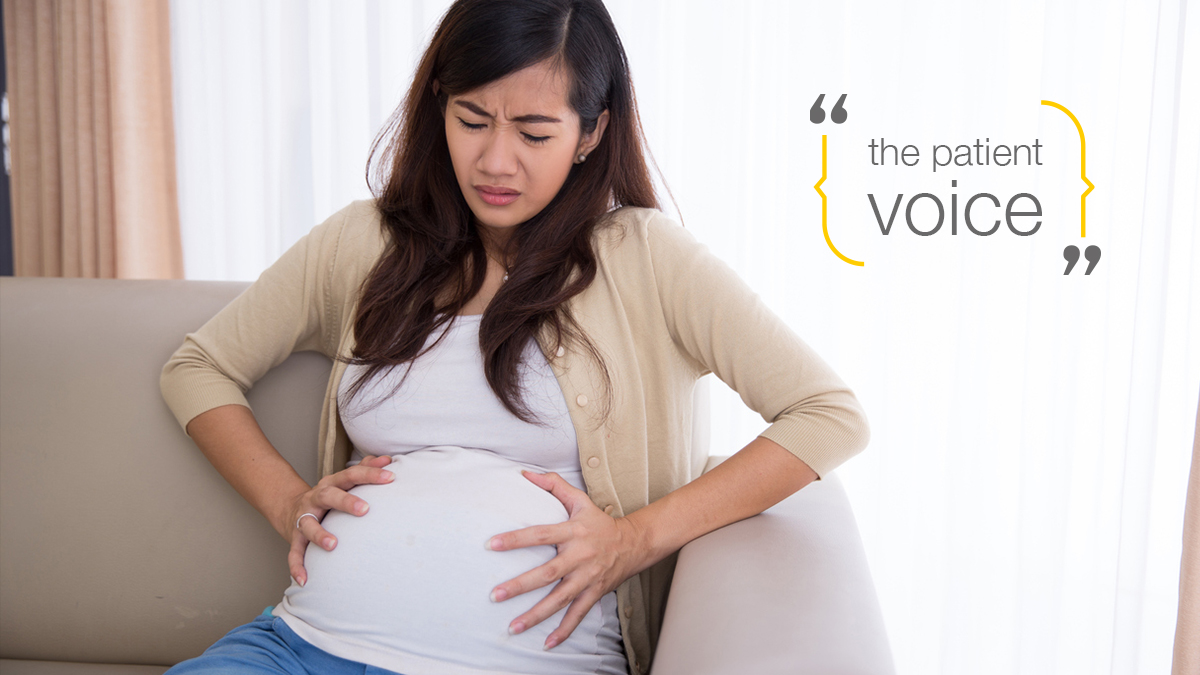 With new knowledge comes new possibilities, but only if the patient voice isn't drowned out by stigma and train-track thinking.
That's the view of Pregnancy Sickness Support, which regularly speaks to women whose lives are being devastated by extreme pregnancy sickness condition, hyperemesis gravidarum (HG).
As part of our Listening to the Patient Voice series, we talk to Caitlin Dean, chairperson and HG specialist nurse at the advocacy group.
The scientific community has a responsibility to find ways to develop treatments for the pregnant women who desperately need them.
That includes those who suffer from HG, a severe pregnancy sickness condition that leaves people at risk of seeking termination, developing post-traumatic stress disorder or even considering suicide.
Caitlin, who has experienced HG herself, said it was very different from the typical morning sickness around 70 to 80 per cent of women suffered as a normal part of pregnancy.
Describing it, she said: "The nausea is constant and severe. It's not 'feeling a bit sick', it's feeling like every part of your body has been poisoned.
"For some, the nausea is so severe you can't eat, drink or think straight. For others, it's vomiting more than 50 times a day."
Other symptoms include a heightened and warped sense of smell, excessive saliva production and dizziness. It can lead to life-threatening dehydration and malnutrition, but there is no cure.
No cure
"The big problem is that we have no completely curative treatment other than to terminate the pregnancy," said Caitlin.
The medications that are available, she said, target a lesser form of pregnancy sickness that affects about 30 per cent of pregnant women, rather than the 1 per cent who develop HG. What's more, they only serve to manage, rather than cure the condition.
"Of the drugs that are available, none are particularly effective in HG, and there is a real lack of research on how to use what we do have most effectively."
"One aspect we really want to encourage is better testing of what medications are available to see how they can be used optimally either with polypharmacy or with different routes of administration," said Caitlin.
Clinical experience has led some specialists to work with certain combinations of drugs to ease symptoms, but a lack of research data means not everyone benefits from this knowledge.
Pressure group
Pregnancy Sickness Support is intent on ensuring any new hope is realised, and to that end is in the process of setting up a Drug Development Working Group of clinicians and patients.  Its aim is to ensure the HG patient voice is heard at the very start of the drug development pathway.
The move has been driven by recent research suggesting both HG and cancer cachexia could be caused by a fault in the GDF-15 gene. Caitlin is determined to ensure that people with HG also stand to benefit from this discovery.
"If medications are being developed for cancer cachexia around the potential of being able to switch this GDF-15 gene off, I would argue they need to be tested on pregnant women as well," she said.
Bucking the accepted collective wisdom, Caitlin said it was unethical not to test drugs on pregnant women, citing the thalidomide scandal.
Thalidomide legacy
"If these drugs are produced without being tested in pregnancy they will prescribed to pregnant women in an informal way. That is how you end up with an issue like thalidomide, which was prescribed for pregnancy sickness, and it took far too long to realise what it was doing," she said.
She added that cancer nausea drugs were commonly prescribed for HG despite never being tested in pregnancy.
"Researchers have looked retrospectively at the data and seen no problems, but if we are developing a new drug for cancer and vomiting then we need to learn from that mistake and test from day one.
"Part of what the Drug Working Group wants to do is put pressure on the companies to not ignore a group of patients who could massively benefit from this treatment."
The prescription of thalidomide for pregnancy sickness leading to thousands of babies being born with malformed limbs, has added to the stigma of using medication while pregnant.
Lingering stigma
"There is a lot of stigma around HG and that whole episode really compounded that. There is this attitude that women are just making a fuss, that it's a normal part of pregnancy and they should just get on with it."
Women, she said, are simply not believed and their voice is not heard. But the importance of tackling this unmet need cannot not be overstated.
Abortions are common: last month, Pregnancy Sickness Support's helpline spoke to four women about a forthcoming termination in just one day.
"I don't understand why it's so hard to imagine that a condition you have not suffered with is really horrific for someone else.
"The suffering that women experience cannot be under-appreciated because it is profound and life-changing," said Caitlin.
About the interviewee

Caitlin Dean is a Registered General Nurse specialising in hyperemesis gravidarum. She has suffered three times with Hyperemesis Gravidarum and is now undertaking a PhD at Plymouth University to further the research efforts for HG. In addition to her research Caitlin spends her time providing education for healthcare professionals and writing extensively for both the medical and lay press and writes the popular Spewing Mummy blog.  Her work for PSS led to the 2015 Third Sector Award for Charity Chair Person of the Year and a Nursing Times Award for Inspirational Nurse Leader.