Dreaming big with small molecules
Views & Analysis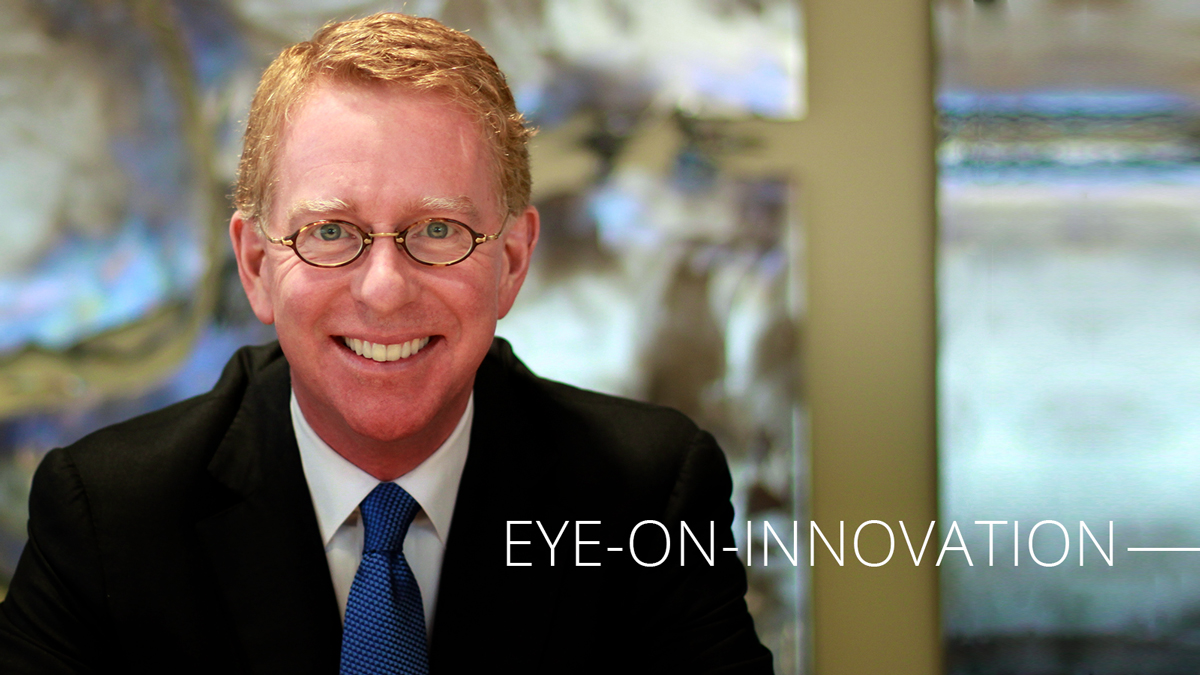 Clovis Oncology has gone from a small biotech to a pharma company with a cutting-edge cancer drug approved and on the market in less than a decade. Richard Staines spoke to CEO Patrick Mahaffy following the European Society of Medical Oncology (ESMO) conference, where the company unveiled new data from its drug Rubraca.
Much of the talk in cancer therapy has been about immunotherapy based around large antibodies, and more recently, cell therapies.
But a new wave of small molecule drugs known as poly (ADP-ribose) polymerase (PARP) inhibitors have also been blazing a trial in cancer therapy over the last five years or so.
PARP drugs have proven themselves in indications that are poorly served by immunotherapy drugs such as checkpoint inhibitors, and have so far become established in several ovarian cancer uses.
Clovis Oncology started life in 2009 as a company that would help other companies that lacked the resources or had other priorities to develop their cancer drugs.
This led to the Company getting a licence for the PARP drug rucaparib from Pfizer in 2011, allowing it to gain access to an exciting drug from a new class that sends cancer cells into self-destruct mode.
The drugs work where cancer cells with mutations such as BRCA have become dependent on the enzymes from the PARP class to repair damage to their DNA.
Due to the high levels of mutations in cancer cells, their DNA is often damaged, and they need supplies of PARP to continuously repair themselves and continue functioning.
Bombarding the cells with drugs that block the supply of PARP stops them from repairing their damaged DNA, leading to cell death as its internal systems break down.
This concept, known as 'synthetic lethality', intrigued Mahaffy and Clovis' scientists, and trials of rucaparib have since shown the drug has an effect in patients with recurrent ovarian cancer, with a significant benefit in patients with BRCA-mutated tumours.
Mahaffy was able to secure a meeting with executives at the big pharma and clinch a deal to buy the drug.
Mahaffy told pharmaphorum: "The team at Clovis identified PARP inhibitors to be a very attractive candidate.
"I had interacted with Pfizer over the course of my career, so we were able to get a meeting with senior people there."
"We had been talking to them and as they were prioritising their budget they reached out and asked us to re-engage. We negotiated terms and entered into a license agreement in May 2011."
However, around that time Sanofi failed in its attempt to develop iniparib – a drug that was thought to inhibit PARP but flopped in late stage trials.
But as iniparib was found not to have inhibited PARP after all, companies like Clovis were not as discouraged by the failure of Sanofi's drug as originally thought.
The results "cast a pall" over the class according to Mahaffy, but Clovis decided to continue with development to see if a bona fide PARP inhibitor could work in the clinic.
He said: "We still believed in the concept of PARP inhibitors and that synthetic lethality was an actionable approach."
But the company successfully prioritised ovarian cancer with mutations known as BRCA that make cancer cells more susceptible to PARP inhibition, as well as cancers with "BRCA-like" mutations.
The hard work Clovis put in to developing Rubraca® (rucaparib) paid off in late 2016, when the FDA granted approval for monotherapy treatment of adult patients with deleterious germline and/or somatic BRCA-mutated advanced ovarian cancer who have been treated with two or more prior lines of chemotherapies.
Subsequently, based on data from the phase 3 ARIEL3 clinical trial, the FDA approved Rubraca for maintenance treatment of adult patients with recurrent epithelial ovarian, fallopian tube, or primary peritoneal cancer who are in a complete or partial response to platinum-based chemotherapy.
"The ARIEL3 study demonstrated that rucaparib is suitable for all-comers within this maintenance treatment population," said Mahaffy.
However rival companies have also developed PARP inhibitors – aside from Pfizer's recent approval of Talzenna (talazaporib) in breast cancer, AstraZeneca got its Lynparza (olaparib) to market in ovarian cancer two years ahead and was the first to market with a PARP drug in breast cancer, and Tesaro's Zejula (niraparib) has a single ovarian cancer indication.
Combination therapies
But Clovis is ahead of the pack in prostate cancer, an indication where cancer immunotherapies such as checkpoint inhibitors have yet to make an impact.
Mahaffy said that the ovarian and prostate cancer indications could just be the tip of the iceberg, and that Rubraca could form the backbone of combination therapies in several different types of cancers.
Rubraca is already being evaluated in late-stage prostate and ovarian cancer studies in combination with Bristol-Myers Squibb's Opdivo (nivolumab), as part of a collaboration between the two companies that began in July last year.
There is also a collaboration with Immunomedics combining Rubraca with sacituzumab govitecan, an antibody-drug conjugate, in triple negative breast cancer and metastatic urothelial cancer.
Mahaffy said: "We are looking at a number of combinations that would take advantage of patients with BRCA or BRCA-like mutations. Rubraca could be the backbone of multiple therapies in multiple tumour types."
Lessons learned
Clovis previously had high hopes for, rociletinib, an EGFR-inhibitor that the company was developing in lung cancer. This drug was effectively killed off when FDA staff reviewers, and then the regulator's Oncologic Drug Advisory Committee (ODAC) were concerned over a potential link with torsade de pointes – irregular heart rhythm that can cause sudden death.
While the ODAC recommended the FDA should wait for results of a larger trial, Clovis erred on the side of caution and ended development, although according to the company's website it continues to provide it to patients where doctors recommend it.
The company is analysing data to see whether certain populations of patients may benefit and is open to a partner for further clinical development.
Seeing the human side of Brexit
Although based in Boulder, Colorado, Clovis' R&D operation is international, and the company has strong links with the UK's National Health Service and its network of cancer hospitals.
Unlike some pharma companies, Mahaffy said the concerns over Brexit's impact on drug regulation in the country is not a concern for Clovis.
There are some in pharma who suggest that Brexit may lead to the industry scaling back R&D operations in the UK because of uncertainty about regulatory arrangements after the country leaves Europe in March next year.
Describing such suggestions as ''baffling'', Mahaffy added: "If the UK will no longer be part of the EU, patients will remain human and will still need and benefit from new therapies."
So influential is the UK side of the company's research, Mahaffy describes the country as his "PARP-line." UK-based research has contributed to the ARIEL3 trial that forms the basis of Clovis' latest filing in ovarian cancer.
Patient centricity
In a broader discussion about how to attract patients to clinical trials, Mahaffy said that more needs to be done to make trials more appealing to patients, although he added that recruitment has not been an issue for Clovis.
Mahaffy says there is too much emphasis on "sticks and prodding" and would like cancer trials to be more patient-friendly, with fewer visits to hospital.
"It becomes almost a full-time job to be on the trial. It would be nice to figure out a way to make it a more streamlined process, so it is less invasive in a patient's life."
Mahaffy also thinks that future cancer trials could be shaped more by patients' goals as pharma companies search for cancer drugs that are tolerable as well as effective.
He said: "It is true that the FDA in particular has expressed a greater desire to incorporate patient reported outcomes as a part of their review. Potentially, it's something that could help a patient and physician over the course of that therapy. There is a greater focus on how patients feel as they undergo a given therapy."
It would therefore be "advantageous" to build these outcomes into the development programme, Mahaffy said, although reduction or elimination of tumour with tolerable side effects will always be the main goal.
This is where PARP inhibitors, including in combination with immunotherapies, could have the edge over chemotherapy, as they could offer a more tolerable and more effective solution to fighting cancer.
"It's a field that is super exciting right now and there is great enthusiasm for IO. We need to move quickly to find populations where there is more benefit," Mahaffy concluded.
About the interviewee
Patrick J. Mahaffy is one of Clovis Oncology's co-founders and has served as the company's president and chief executive officer, and a member of the board of directors since the company's 2009 inception. Previously, Mr. Mahaffy served as president and chief executive officer and as a member of the board of directors at Pharmion Corporation, which he founded in 2000 and sold to Celgene Corporation in 2008. From 1992 through 1998, Mr. Mahaffy was president and chief executive officer of NeXagen, Inc. and its successor, NeXstar Pharmaceuticals, Inc., a biopharmaceutical company. Prior to that, Mr. Mahaffy was a vice president at the private equity firm E.M. Warburg Pincus and Co. Mr. Mahaffy also serves on the boards of directors of Orexigen Therapeutics, Inc. (NASDAQ: OREX) and Flexion Therapeutics, Inc. (NASDAQ: FLXN). He is also a trustee of Lewis and Clark College. Mr. Mahaffy has a B.A. in international affairs from Lewis and Clark College and an M.A. in international affairs from Columbia University.