Optimising market access for biosimilars
We speak to Sandoz's global head of biopharmaceuticals, Stefan Hendriks, about the remaining challenges in market access for biosimilars and what the future could hold for this still-burgeoning area.
How would you characterise the landscape for biosimilars at the moment?
It's a very exciting area – increasingly, I cannot imagine a world without biosimilars.
I think the role of biosimilars is extremely important for the sustainability of the overall industry, but also importantly, for the sustainability of healthcare systems and making sure more patients have access to important medicines. In the early years only a few biosimilar were approved because the regulatory pathways had to be created and figured out. Now it's really accelerating with over 40 molecules approved in Europe and 19 approved in the US. Biosimilars are playing a very important role in healthcare right now.
"It's very different from generics… You need a strong belief that the eventual market will be sustainable, and not everybody has the stomach for that."
Would you say that biosimilars have fulfilled their promise of improving patient access?
Yes, definitely, but there's still a lot of work to be done. There's a lot of examples where, due to the fact that biosimilars came to the market, access has increased. A concrete example was when pegfilgrastim came to the market in the UK. It's a product that supports patients when they're on chemotherapy to improve their immune system. Because of the lower price, the number of patients that benefited from the medicine on the NHS doubled. That's just one example, but overall we see the volume of the molecule going up after a biosimilar enters the market.
Are there any remaining challenges to biosimilar uptake?
It differs. If you look across the globe or even within Europe, where things generally  go well, you'll see that the access to biosimilars varies across countries, and it varies even across different molecules within countries.
I would characterise the US market as delayed but accelerating – it was slow to start but 11 biosimilars have been approved since January 2018. But there are still IP hurdles in that market. Incentives across different stakeholders are not perfectly aligned yet and there are still stakeholders that benefit from keeping biosimilars out. There's still a lot of work to be done in the US, as well as other markets, to make sure we create a healthy, competitive framework for biosimilars to do their job – and their job is really to help create savings for the healthcare system and help more patients get access to medicines.
In what ways can companies like yourselves help optimise market access for biosimilars?
We have to be in dialogue with key stakeholders to improve the framework in the market and make sure there's a healthy competitive environment, but also work and partner with organisations like the FDA or physician associations to make sure that there's good education happening. It's so important that physicians and patients really understand the value and the benefits from biosimilars, and that's a good base from which access can improve.
Companies also need to have a healthy portfolio of biosimilars.  From that perspective, Sandoz is doing a good job. We were the first to bring a biosimilar to Europe, to the US and to Japan, we are the only company with eight molecules in the market, and we have more than 10 products in development. Where you see other companies stepping back, stopping programs or not fully investing, we are stepping up to continue to lead this space.
What are the reasons for other companies stepping back?
You need to have the willingness to be all-in on biosimilars and invest fully in them, because your portfolio matters. Some companies went for one or two big opportunities, but to be a sustainable player, you have to be willing to invest in a broad pipeline.
It's a very different ballgame than generics because it still takes six to eight years to develop a biosimilar, with costs in the range of $100-200 million depending on the complexity of the molecule. You have to be willing to make that investment, and you need a strong belief that the eventual market will be sustainable. Not everybody has the stomach for that.
Where do you see the biosimilar space going in the next 5 or 10 years?
I see strong signals of increased acceptance and uptake. In Europe, the penetration of the first wave of molecules took seven to nine years. You now see similarly high penetration rates being achieved in two to three years. I would expect that to start becoming even faster. I'm sure markets like the US will follow, because they realise that biosimilars can play an important role to address affordability challenges.
We've got to make sure that we're competitive from a cost-based perspective, but also evolve our portfolio mix into areas where there's still unmet needs to be addressed.
Together with other stakeholders, we're going to continue to further improve education and other key elements in making these biosimilars sustainable. It's important that we all work together to achieve the full potential biosimilars can bring.
About the interviewee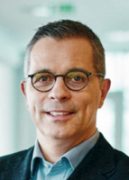 Stefan Hendriks was appointed global head of biopharmaceuticals at Sandoz in June 2018 and is part of the Sandoz Executive Committee. In this role, Stefan leads the organisation that is responsible for the development and commercialisation of biopharmaceuticals, including biosimilars. Sandoz has eight biosimilars approved in total, and under Stefan's guidance, has launched three biosimilars in 2018.
Prior to joining Sandoz Stefan worked at Bristol-Myers Squibb (BMS) where he held numerous country, regional and global roles across sales, marketing and general management for 15 years, and previously also worked for AstraZeneca.