Unlocking the healing power of music
Views & Analysis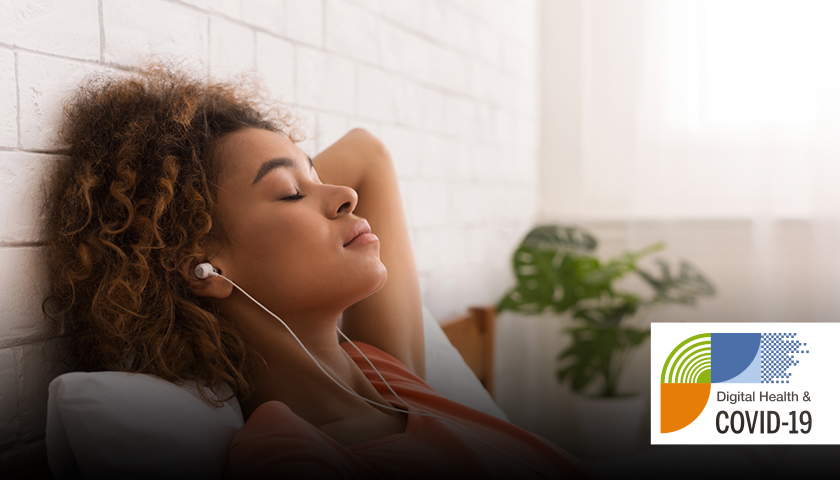 Continuing our series on how digital health is fighting back against COVID-19, music entrepreneur Walter Werzowa, the man behind the "Intel Inside" jingle, tells pharmaphorum's Richard Staines about his latest venture – an app that unlocks the healing power of music and binaural beats.
It's the height of the COVID-19 pandemic and I'm listening to one of my favourite pieces of music in the study I've been working on for the last 13 weeks – Brian Eno's Music for Airports.
Nothing out of the ordinary there really, and totally understandable given the difficult situation and continued lockdown regulations in the UK.
Except that Eno's ambient classic is augmented with binaural beats, a kind of low-frequency hum that has been shown to have health benefits in the clinic.
The music therapy has been prescribed to me for stress by Walter Werzowa, the music entrepreneur behind the famous "Intel Bong", which is the most broadcast composition ever. His latest project is a mobile app called HealthTunes.
"Werzowa prescribed a daily 15-minute session of Brian Eno and binaural beats, which is specifically designed to combat anxiety during the COVID-19 crisis"
There's a very personal story behind the app, says Werzowa, who also studied music in Vienna and as a post-graduate at USC in Los Angeles.
Werzowa, who went on to compose film music in LA and work with the likes of Steven Spielberg, began to explore the potential of music in the healing process when his son was diagnosed with the rare bone condition Legg Calve-Perthes disease.
He said: "It's a condition where the hip bone falls apart and regrows. At the time, nobody really knew what to do. We still don't know. Doctors don't even know if it is genetic or traumatic."
Instead of choosing to treat the condition with surgery, Werzowa tried an "alternative" therapy involving osteopathy, acupuncture, and 'sound healing'.
"A year later, after a painful recovery, he ran again and played with other boys. When they got back to the hospital in the States, the doctors were mesmerised."
Werzowa had already built up several successful music businesses, including a library of music containing thousands of tracks that could be licensed for commercial use.
He had already made his fortune and wanted to "give something back" after deciding to sell his music library company to BMG Worldwide.
After the experience with his son, he decided to combine his knowledge of music, and music rights with a curiosity about medicine that came from his family – his father and brothers are all doctors.
Werzowa decided to study for a master's degree in psychology. With his LA connections, Werzowa got in touch with Apple, UCLA and the dance music star Moby, who supported and lent their expertise to his project.
How it works
The outcome of Werzowa's hard work is HealthTunes, which is based around the concept of binaural beats, and provides a prescribed dose, intertwined with the patient's favourite music.
While my choice of Brian Eno may seem obvious, there are many other options in the HealthTunes library from a range of artists and genres.
According to a study published in 2017 in Frontiers in Neuroscience, binaural beats can induce a meditative state in just 10 minutes, something that usually takes a long period of time.
The journal found that these beats could be more "feasibly implemented" in modern lifestyles, and Werzowa's idea is to make the product appealing to people from different backgrounds in locations in the world, with binaural beats intertwined with songs from artists as diverse as Mozart and Bjork.
The binaural beats underlying each piece will be tailored to suit the condition and are designed for a whole range of patient situations, including cancer therapy and neurological conditions.
He explained: "It could be treatments like chemotherapy, it could be Parkinson's, or multiple sclerosis. You find the symptom, then add the genre of music you like and the length of time you have."
The length of the therapy can vary depending on the symptoms and can be extended if the user has more time.
For me, Werzowa prescribed a daily 15-minute session of Eno and binaural beats, which is specifically designed to combat anxiety during the COVID-19 crisis.
"You basically get a recommended length for the therapy and they are all a little bit different depending on the symptoms," said Werzowa.
Werzowa hopes that the app will provide comfort for those who are in isolation during the COVID-19 pandemic and beyond.
Aside from its healing binaural beats, he hopes the app can create a sense of community for those who are in isolation.
"It gives us a sense of positivity. This is where music really comes in and gives you that feeling that you're part of something, of the humanity out there."