Digital health round-up: Theranos' Holmes charged with 'massive fraud'
Digital health headlines were dominated by Elizabeth Holmes, founder and chief executive of Theranos, who has been charged with "massive fraud" by US authorities and forced to relinquish control of the blood-testing company.
The US government's Securities and Exchange Commission (SEC) has taken decisive action years after suspicions about the firm and its leadership were first raised, with claims about the supposedly groundbreaking blood-testing technology exposed as falsehoods.
Holmes founded the company in 2003, claiming her technology could revolutionise medicine, replacing blood being taken from a vein and hundreds of separate blood tests with a simple finger prick – but the company and its claims were eventually exposed as a sham.
The company's former President Ramesh "Sunny" Balwani has been charged with raising more than $700 million from investors through what the SEC called an "elaborate, years-long fraud in which they exaggerated or made false statements about the company's technology, business, and financial performance".
Theranos and Holmes have agreed to settle the charges without admitting or denying wrongdoing. Holmes has also agreed to give up majority voting control over the company, and to reduce her equity in the firm.
The company has been under investigation since October 2015, when the Wall Street Journal discovered that most of the tests Theranos claimed to perform on its Edison machines were actually being performed by standard blood-testing machines.
The FDA subsequently raised serious concerns about the accuracy of testing that Theranos did conduct with its machines, and the company eventually retracted two years of blood tests.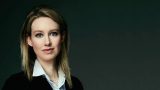 Elizabeth Holmes
Hailed as the next Steve Jobs, Holmes was the cover star of countless magazines and media profiles which extolled her company's innovation, and used this inflated media hype around the technology to help raise funds.
The charges represent the end of the road for Holmes' elaborate confidence trick, and she must now pay a $500,000 penalty, along with the return of her controlling stake and surrender of her voting power.
She will also be barred for 10 years from serving as an officer or director of a public company.
Novartis digital chief joins exec committee
Novartis' new CEO Vas Narasimhan has shown his priorities by promoting the company's digital chief to the executive committee.
New broom and chief digital officer Bertrand Bodson has been appointed to the committee along with global head of technical operations Steffen Lang, and chief of ethics risk and compliance, Shannon Klinger.
A Harvard Business School graduate, Bodson only joined Novartis in January, and has already begun to shape the company's digital strategy, having built a reputation in digital innovation and culture change across companies such as Sainsbury's, Argos, Amazon and EMI Music.
In a statement Narasimhan said that the changes were in line with his strategy to use digital technology to enhance the company's portfolio of pharmaceutical products.
Last week Novartis said it is to begin up to 10 new studies with digital health startup Science 37 over the next three years, using digital technology to create a cheaper and more efficient 'site-less' trial model.
Meanwhile, Andre Wyss, president of Novartis Operations, has stepped down from the committee and decided to leave the company.
Novartis Operations will be split into technical operations and business services units, and technical head Lang, who has worked for Novartis since 1994, will report directly to Narasimhan.
Head of corporate affairs Philippe Barrois will lead the business services organisation on an interim basis until a permanent successor is found.
Matthias Leuenberger, delegate for Novartis Switzerland, will assume the role of country president for Switzerland, left vacant following Wyss's departure.
Klinger's role will be expanded to allow for an integrated approach to risk identification and management that is aligned with Novartis' commitment to high ethical standards.
She joined Novartis in 2011, as general counsel, North America, Sandoz US – the firm's generics arm. She was then appointed global head legal and general counsel for Sandoz, before assuming her current role of chief ethics and compliance officer and head of litigation.
3i bacteria detection tech could be breakthrough, says FDA
The FDA's drive to accelerate access to new medical device technologies continues, with a new product from 3i Diagnostics receiving a Breakthrough Device Designation.
While the US regulator first launched the similar Breakthrough Therapy Designation for innovative medicines six years ago, the fast-track for devices was only formalised in late 2017.
There has been a flurry of activity from the FDA since the start of 2018, with a new AI diagnostic for diabetic retinopathy and a biodegradable patch for surgical wounds already added to the programme.
3i's technology is called Biospectrix, and detects and identifies bacteria directly from whole blood in less than an hour – a much faster time than standard lab tests, and a technology which could help doctors intervene and provide the right treatment before the infection worsens.
Biospectrix does not require culturing and identifies a broad range of bacteria directly from the patient sample in less than 60 minutes , as opposed to the 2-6 days currently needed for culture.
Faster use of an appropriate antibiotic could help cut bacteria-related deaths, complications, and treatment costs.
Another benefit of the technology could be in detecting sepsis, a potentially deadly complication of an infection, often bacterial, which could be prevented by faster tests.
Data from the NHS in the UK shows that there are 44,000 deaths every year from sepsis in the UK, with 14,000 of these preventable.
37% of patients who need antibiotics for sepsis are not getting them within an hour, and recent investigations found many hospitals are not carrying out screening on all patients.
3i Diagnostics' device is also a potential candidate for England's new Accelerated Access pathway for 'strategically important, transformative products', which will be launched in April.