Digital therapeutics start-ups need patience as well as patients
Views & Analysis
An entirely new category of medicine is emerging, and a new wave of digital therapeutics start-ups is joining the effort to bring meaning and definition to this new industry.
Although the digital therapeutics sector is still only in its early phases, the frontrunners have already covered some important ground, laying its first foundations in terms of how the medical software interventions are seen and defined.
In recognition of the promise of digital therapeutics, they have this year been added to Bayer's G4A programme – which is open for applications until May 31. The digital health accelerator is particularly on the lookout for impactful digital therapeutics solutions that can be applied in oncology, women's health or the cardio-renal area.
To get an inside view on progress within the digital therapeutics sector, we spoke with the Digital Therapeutics Alliance's executive director Megan Coder, who also discussed how digital therapeutics start-ups can advance their solutions and collaborate with the industry alliance she heads up.
"Digital therapeutics companies must also ensure their products are engaging, usable and deliver meaningful impact to patients' lives"
Directions in digital therapeutics
As the digital therapeutics sector gains momentum, it's quickly passing a number of milestones, with much of this pace being set by regulatory achievements in the US.
In the last two years, first-of-their-kind approvals by the FDA have included Proteus Digital Health's ingestible sensor technology in bipolar disorder and schizophrenia, Pear Therapeutics' substance use disorder treatment reSET and WellDoc's BlueStar for the management of type 2 diabetes.
More recently, Singapore's Biofourmis received FDA clearance this month for its RhythmAnalytics cloud-based AI software, which is an integral part of its digital therapeutics platform. Kaia Health also announced results this month from the first randomised controlled trial of its back-pain app. The company's digital therapeutic is already regulated as a Class 1 medical device in Europe and the firm is working with the FDA to seek regulatory approval in the US.
These are important milestones as the area develops but, despite the progress seen to date, digital therapeutics is still a young sector.
"We are obviously in an early phase of the industry," acknowledged the DTA's Megan Coder. "There are products which have come to market that have done an incredibly thorough job of showing impressive endpoints in terms of clinical, and even health economic, outcomes. That said, there's still a large number of products in the pipeline that I think will drastically change the face of this industry over the coming years."
Outlining her hopes for the changes to come, Megan said: "We are looking to see more standardisation across the industry in terms of how regulatory bodies categorise and regulate digital therapeutics. There also needs to be cohesion in the way that patients, health care providers, and payers recognise, evaluate and implement these products."
To a degree, there are signs that regulators are taking a more unified approach to this technology. "Digital therapeutics are tending to be seen as a part of the software as a medical device (SaMD) framework that the International Medical Device Regulators Forum (IMDRF) has put up. Most of the regulatory agencies that we've seen addressing digital therapeutics have fallen in line with the SaMD framework," explained Megan.
"It is a really strong direction for the industry to be heading in, given the consistency of how products are being evaluated. That said, I think digital therapeutics are still a very unique subset of products under the SaMD categorisation and it'll fall to groups like the DTA to start highlighting the importance of differentiating digital therapeutics within the SaMD categorisation," she added.
Digital therapeutics start-ups' potential
There are a number of qualities that digital therapeutics companies that have been successful, or are on-track for success, share. Among them is the recognition that there are no shortcuts to developing a clinically validated digital therapeutic solution, but that doing so successfully is a key step for any company that aspires to improve patient outcomes.
The advice from Megan was two-fold. "If they are to really progress, digital therapeutics start-ups must have patience throughout the process and focus on patients. Every digital therapeutic product has to be developed to meet a specific patient need and must be designed around the patient's life and his or her journey through a disease state. Digital therapeutics companies must also ensure their products are engaging, usable and deliver meaningful impact to patients' lives."
She added: "Another quality that start-ups should realise early on is that operating in this industry requires a lot of patience. As soon as you make a claim to prevent, manage or treat a medical disease or disorder, that is a game-changing claim.
"It indicates you'll have to do a full clinical evaluation of your product and that you'll need to submit to regulatory clearance or approval based upon the level of the claim you're making. But while this is a long road, it is also very rewarding when you've designed a product well and are able to deliver a medical treatment directly to a patient."
The DTA and digital therapeutics frameworks
To date, much of the DTA's work has concentrated on creating a framework and recognised set of standards for the digital therapeutics sector.
"Our efforts have really been focused on creating the definition of what a digital therapeutic is, and the qualities they must have to make the claim to be a digital therapeutic. We've also defined the core principles and best practices products should adhere to in order to ensure patient safety."
From there, the alliance is looking at how to create frameworks for digital therapeutics so they might eventually be incorporated into clinical guidelines and formularies, as part of a broader piece of work to help healthcare providers understand how to best engage with these technologies.
Megan explained that in doing so, part of the DTA's goal can be summed up as "fixing things before they break", in terms of ensuring a long-term future for the sector. "Unless we build a stable framework in this industry from the onset, there's a high potential for fragmentation and silos to develop, and that wouldn't serve patients or this industry well."
The DTA already has close connections to the digital health start-up world, having among its founding members erstwhile start-ups like Akili Interactive, Propeller Health, Voluntis, WellDoc and Omada Health. DTA membership applications are accepted on a rolling basis, and the alliance is always on the lookout for new digital therapeutics companies that are working to improve patient outcomes.
As frameworks are built and standards put in place, through the efforts of the DTA and other stakeholders, the digital therapeutics sector promises to be an exciting one for start-ups and pharmaceutical company partners alike.
Although the likes of Propeller Health, Pear Therapeutics and WellDoc have begun blazing a trail for the sector, as with so many aspects of digital health, the possibilities for digital therapeutics start-ups that focus on patient outcomes look to be endless.
Apply to Bayer's G4A digital health programme (applications close May 31 2019)
About the interviewee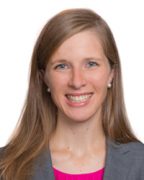 Megan Coder
Executive director, Digital Therapeutics Alliance, Arlington, Virginia
Megan Coder is executive director of the Digital Therapeutics Alliance. She has more than a decade of experience in the healthcare industry and prior to joining the DTA, Megan worked with Voluntis, Iodine, the Pharmaceutical Care Management Association and the Pharmacy Technician Certification Board.
You can connect with her and the DTA at dtxalliance.org or via Twitter @dtx_alliance and @meganecoder