Disrupted medical conferences: Lessons learnt
Sales & Marketing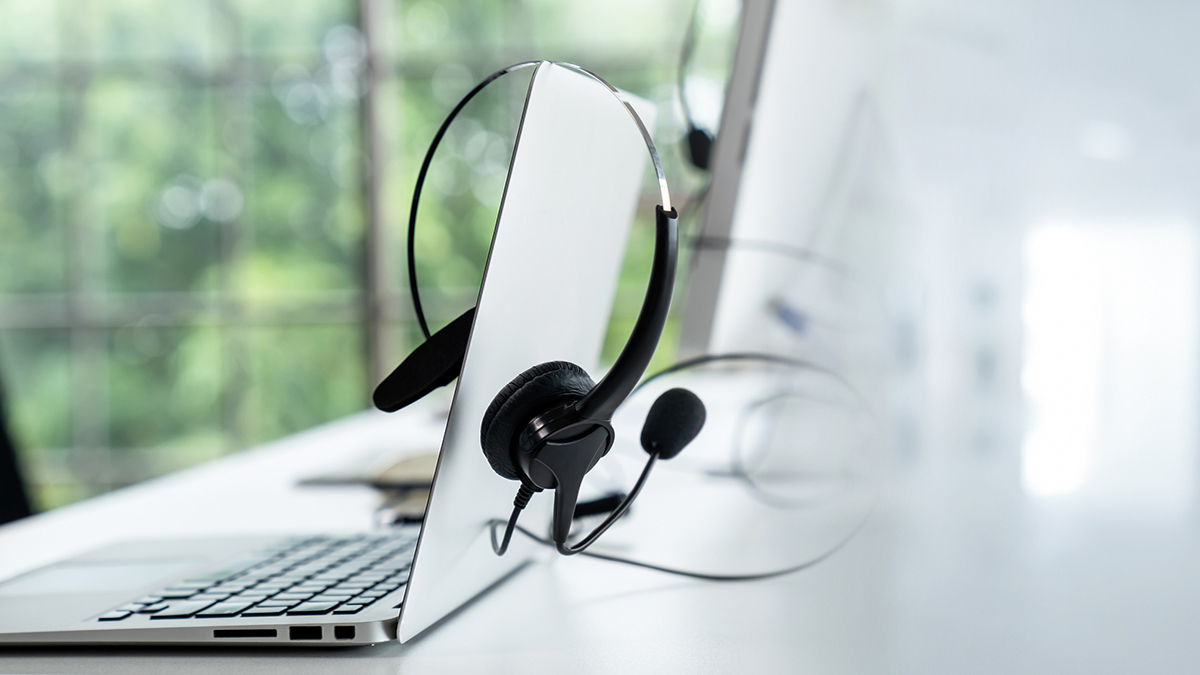 The new normal is already here. Get used to it.
The COVID-19 pandemic has radically disrupted traditional medical society conferences in a way that could scarcely have been imagined in 2019.
The vast majority of societies were able to transition their planned physical events to virtual formats within remarkably short periods of time, and some delivered impressive attendee experiences. To anyone unfamiliar with the medical conference world this phenomenon might be described as revolutionary, however, to those who have been following the slow but steady shift towards the integration of more and better digital options at society events it is far better described as evolutionary.
And the evolution continues. Towards the conclusion of 2021 many societies announced another shift in format; 2022 conferences would be hybrid, or increasingly and more realistically described as 'physical with virtual participation options,' or similar.
The shift to virtual alone has already had a profound impact on all conference stakeholders: medical societies themselves, doctors, patients, commercial partners, and professional conference organisers (PCOs). It has also triggered a global debate on the future of medical conferences with discussions focusing on innovative formats catering to newly-emerging attendee and participant preferences. It currently appears highly unlikely that the majority of conferences will simply return to typical face-to-face only formats as they were before 2020.
This article summarises the most important lessons learnt during 2020 – 2021. Part 2 will assess possible scenarios for 2022 and beyond.
Lessons learnt 2020-2021
Dramatic increase in attendees
One of the most striking characteristics of the shift to virtual formats was the recognition that many more doctors were able to attend. The majority of societies reported significant increases in attendee numbers compared with those from their equivalent 2019 physical conferences.
Major societies such as the European Society of cardiology (ESC) reported a 177% increase in attendees for its 2020 annual congress: 77,350 virtual attendees (logged-on) 2020 cf 27,946 physical attendees 2019. One important caveat here is that delegate registration fees were waived. Smaller societies such as the European Respiratory Society (ERS) reported a 50% increase: 33,784 virtual cf 22,094 physical. Here registration fees were not waived, but were moderate.
These order of magnitude increases were also reflected at national levels. For example 110% more Italian doctors attended the 2020 ESC congress; 40% more Italian doctors attended the European Society of Endocrinology (ESE)'s 2020 congress.
It has become clear that virtual conferences not only significantly increase the number of doctors able to attend but that doctors from many more countries are able to attend, particularly those from middle and low-income countries. It is also not surprising that moderate fees, or indeed fee waivers, have had a major impact on increasing attendee numbers.
Doctors want a choice
Equally dramatic as the increase in attendee numbers has been the shift in doctors' declared conference preferences towards virtual and hybrid formats. This transition has taken place in two distinct phases.
During the first half of 2020, surveys indicated that doctors would be reluctant to attend physical meetings in 2021, indicating preferences based mainly on fear of contracting COVID-19 and availability of vaccines. Medscape ran a Twitter poll at the conclusion of the American Society of Clinical Oncology (ASCO)'s 2020 annual conference asking attendees whether they would attend the 2021 annual meeting in person in Chicago.
Results from 335 responses were: 47.8% no; 21.2% yes, if vaccines are available; 15.8% yes; and 15.7% not sure.
Similar results emerged from a June 18 survey run by Doctors.net.uk, the UK's largest doctors' social network. It asked members across all medical specialities whether they would attend a physical conference during the following 12 months. Of 261 respondents, 49% preferred virtual, 35% felt comfortable, and surprisingly, 16% stated that they did not attend conferences.
But it was towards the end of 2020 and during 2021 that a much clearer picture of doctors' preferences emerged as an increasing number had first-hand experiences of attending virtual conferences. Figure 1 summarises the salient pros and cons based on a wide range of sources including the medical media, healthcare market research organisations, social media (including conference hashtags), doctors' social networks, and PCOs.
Figure 1  What doctors say about virtual events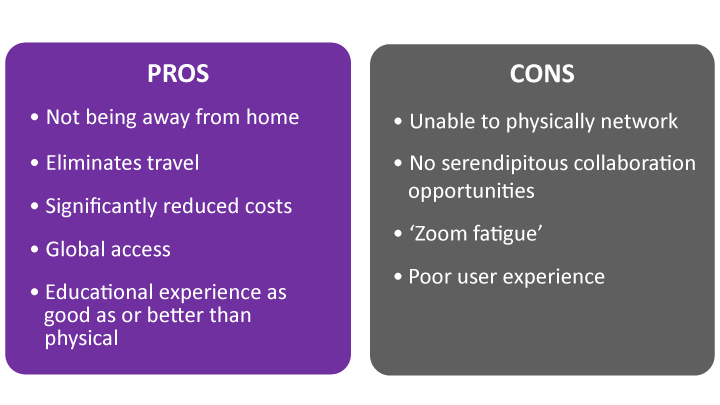 On the pro side, the advantages are not too surprising, with the stated educational equivalence or superiority supporting the trend towards doctors' preferences for online CME. The con side reflects the most often voiced disadvantage of virtual conferences: the lack of person-to-person networking opportunities.
It was only after surveys conducted in Q4 2020 and throughout 2021 that significant shifts in doctors' opinions of virtual events were revealed. In an in-depth survey from September 2020 of over 300 doctors in 6 countries (EU and USA) across 14 therapeutic areas, an overwhelming 92% stated that they would consider attending a congress virtually, something they would not have done in the past.
A follow-up survey in March 2021 with a similar sample cohort indicated that a blueprint for the future would be through offering a choice of participation options, live and virtual (Figure 2).
Figure 2  Conferences must offer a choice of participation options. Results from a 2021 survey of preferences from over 300 doctors in 6 countries (EU & USA) across 14 therapeutic areas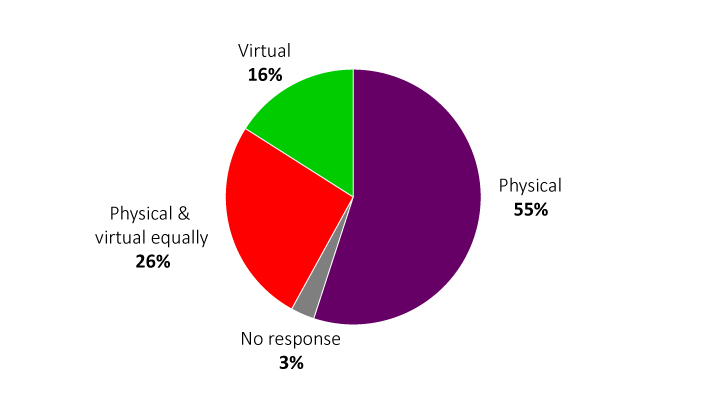 More recent and much larger surveys run by G-Med, a global doctors-only social network, support these conclusions. Figure 3 shows the results from the Q42021 G-Med poll of 1206 doctors from 75 countries across a wide range of ages and specialities. Here the results show fewer preferences for physical, more for virtual, which may be explained by a larger percentage of responding doctors based in middle and lower-income countries.
Figure 3  Which medical conference format do you prefer? Results from a Q42021 poll of 1206 doctors from 75 countries across a wide range of ages and specialities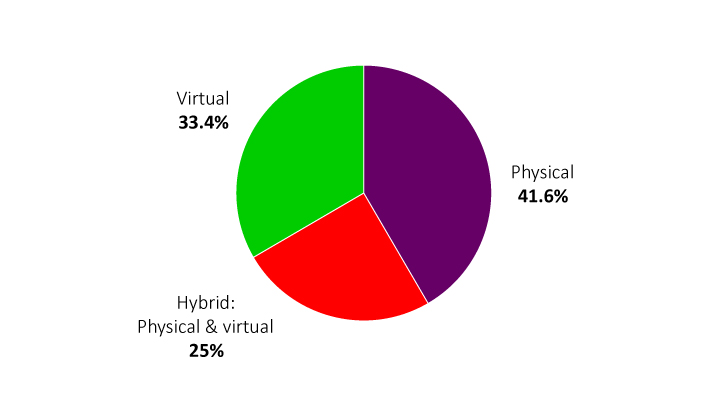 An analysis of the same data in Figure 4 shows preferences by age group. Counterintuitively, perhaps, younger doctors showed the greatest interest in physical formats. One possible explanation might be their need to network face-to-face in order to advance careers, while older age groups stressed convenience as the reason for preferring virtual events.
Figure 4  Which medical conference format do you prefer? Results by age group, Q42021: 1206 doctors from 75 countries across a wide range of specialities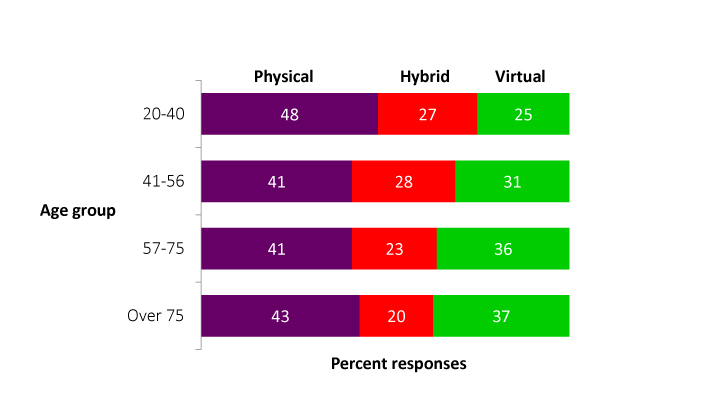 More doctors attending and demands for choice almost certainly indicate that COVID-19 has produced fundamental changes in healthcare professionals' expectations of medical conferences (see section on medical societies). Moreover, from a global perspective, doctors may no longer have to endure Fear of Missing Out (FOMO) from learning of important medical advances presented at international meetings. Doctors have changed just as we all have during the previous two years.
More opportunities for patient inclusion
The shift to more virtual conferences or virtual conference options provides medical societies with new opportunities to increase active patient participation. The British Medical Journal (BMJ) recognised this opportunity in early 2021 citing its year-long adherence to the Patients Included Conference Charter as an indicator of quality and inclusiveness for conference organisers (full disclosure: the author of this article is a founding signatory of the Charter). Conferences following the Charter principles are expected to meet the five Charter requirements focusing on co-design, active participation, and accessibility.
Demands for more active patient inclusion in medical conferences have gained considerable momentum in recent years, partly because patient organisations have been more vocal in requesting an active role, partly because doctors have started to realise that they are not aware of what patients experience, value and need, and partly because excluding patients is currently regarded as patronising. Additionally, active patient participation at conferences should be regarded as a crucial component of shared healthcare decision making, now widely recognised as positively affecting treatment outcomes. Relevant context is available, for example, on the European Medicines Agency's patient registries initiative, and more specifically related to cardiology, in the 2020 ESC Guidelines for the diagnosis and management of atrial fibrillation.
From a pragmatic patient-organisation perspective, the three most important factors affecting the ability of patients to attend virtual conferences are zero fees, convenient scheduling, and straightforward website navigation. These requirements are broadly supported by the European Patients Forum, and not least by Mellanie True Hills, founder and CEO of StopAfib.org, one of the world's foremost atrial fibrillation patient advocacy organisations:
'If virtual events were complimentary for patients, were easy to access, and at a time convenient for patients, more could actively participate. Additionally, having patient organisations such as StopAfib.org participate as panellists or presenters means that patients and healthcare professionals could develop a shared understanding of patients' needs and preferences, and the effect of afib and treatments on patients. This shared understanding could thus enhance shared decision making.'
PCOs traumatised but new opportunities emerged
Arguably one of the most disrupted conference stakeholder groups has been professional conference organisers (PCOs) who traditionally have their roots in physical meetings. The transition to virtual meant serious financial hardship for many, which continues to this day. Yet, virtual conferences have simultaneously ushered in demand for suppliers of more specialised support services such as:
Speaker training
Presentation skills
TV studio management
Cloud infrastructure
Online platforms
Video management
Online analytics
Digital security
User experience design
Customer journey mapping
Personalisation modelling
Behavioural change strategies
Design thinking
AI-assisted networking
Effective medical-education techniques
Demand for such services is set to significantly increase in future as medical societies strive to improve the quality and professionalism of their virtual conferences and online participation options. There are additionally significant opportunities for PCOs to provide more long-term strategic guidance to medical societies in order to increase reach, sustainability and relevance of their virtual and hybrid offerings.
The 'hybrid' label is confusing
During the pandemic there has been much discussion about the inevitability of a transition to hybrid formats, but with little understanding of what the term hybrid really implied. As 2020 progressed, a plethora of obscure or vague definitions appeared, most of which had been in existence for over a decade yet were still poorly understood.
But whatever the correct definition is, if there is one, an awful yet little discussed truth started to emerge: staging hybrid events, equally engaging for both physical and virtual attendees, is prodigiously difficult. The reality is that medical societies and PCOs confront the necessity of managing two kinds of infrastructure, physical and virtual, running in parallel and requiring significant increases in organisational complexity and costs.
Equally, commercial partners such as the pharmaceutical industry will be confronted with complex engagement optimisation options where benefits and costs are uncertain (see next section).
During 2021 only two explicitly labelled hybrid medical society conferences were staged in Europe: the European Academy of Allergy and Clinical Immunology (EAACI)'s July conference which attracted 1000 onsite attendees to Krakow, Poland, and 6500 online attendees; and the European Society of Organ Transplantation (ESOT)'s August-September biannual conference which attracted 1200 on-site attendees to Milan, Italy, and 1400 online attendees. In total, ESOT attendees came from 74 countries. Both conferences provide more evidence indicating that online attendees will outnumber on-site at future hybrid events.
For 2022, most medical societies appear to avoid the term hybrid altogether, preferring instead terms such as 'onsite and online' as favoured by the ESC. Ultimately, an 'onsite and online' event will probably be defined by whatever a medical society deems appropriate, which in turn will be dictated by its members' needs, preferences, and expectations.
Read part 2 of this article which will explore how pharma companies and medical societies can and should adapt to the new normal.
About the author
Len Starnes is an independent digital healthcare consultant providing strategic support to governments, biopharmas, doctors' social networks, management consultants, and start-ups. He additionally consults for The Stem, a global networked healthcare consultancy specialising in digital transformation. Prior to becoming independent Len spent 16 years directing digital strategies at Bayer AG and Schering AG where he held responsibilities at European and global levels. He speaks regularly at conferences in the USA, Europe, and Asia and holds degrees in business administration, solid-state physics, and physics from Boston University, Manchester University, and University College London, respectively.
Email: lenstarnes@gmail.com
Twitter: @lenstarnes
Acknowledgements
A sincere thanks to the following for their support in developing this article:
Professor Maria Pia Amato, president of ECTRIMS https://www.ectrims.eu/
Jelmer van Ast, founder www.conferencecompass.com
Jeff Bateman, head strategic communications https://congrex.com/
Ilan Ben Ezri & Cassandra Leah Gomes www.g-med.com/
Mellanie True Hills, founder www.StopAfib.org
Mark Lightowler, founder www.thephorixgroup.com