Are dual ARVs the new frontier in a maturing HIV market?
Tackling and managing HIV has been one of the pharmaceutical industry's more distinguished achievements, despite the turbulence and antagonism that marked the early days of AIDS-related R&D and the industry's relationships with governments, patients and activists.
Now, successive generations are living with HIV as a manageable chronic disease, helped by the single-tablet regimens (STRs) that make the whole process of controlling HIV easier and more convenient. Now, as new iterations or combinations of antiretrovirals (ARVs) emerge from drug-company pipelines, STRs are not only sustaining high levels of efficacy, but they are also getting better tolerated.
Continuing improvements in HIV therapies
As patients who survive HIV are ageing, pharmaceutical companies continue to pursue improvements in STR options for HIV, further easing the burden of lifelong therapy and looking for a competitive edge in a maturing market segment.
The enduring appeal of STRs is evident from Therapy Watch HIV, the patient chart audit conducted in Europe by global market-research consultancy Research Partnership. Therapy Watch HIV data from the EU5 countries show STRs gradually expanding their market share from below 50% to around 60% between the first quarter of 2016 and the third quarter of 2018.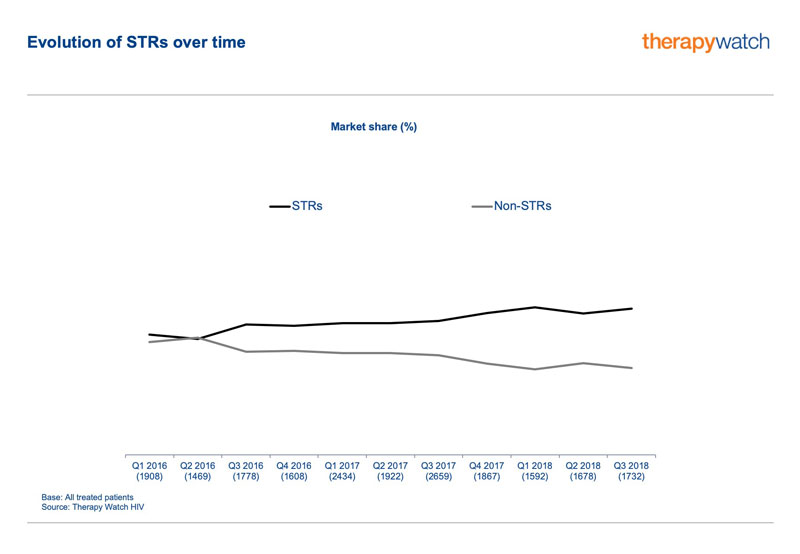 Dual versus triple therapies
Setting aside the issue of preventive therapy or vaccines for HIV, in recent years efforts to sustain the momentum of HIV treatment offerings have revolved largely around the respective benefits or otherwise of dual- or triple-therapy STRs.
This debate essentially boils down to whether dual STRs can match the strong efficacy record of triple therapies that have set the standard for HIV management over the last couple of decades – and do so over extended treatment durations – while also reducing toxicity and costs.
A complicating factor is whether dual therapies might be less capable of evading drug-resistant strains of HIV (another key issue in treatment strategies going forward) than triple STRs. On the other hand, doctors may find it easier to diagnose problems with existing treatments if they are looking at only two rather than three drugs in combination.
ViiV versus Gilead
One company firmly committed to the dual-therapy route is ViiV Healthcare, the HIV-focused joint venture set up by GlaxoSmithKline and Pfizer, then later joined by a third partner, Shionogi.
Its combination product Juluca (rilpivirine + dolutegravir), which was co-developed with Janssen, was approved by the US Food and Drug Administration (FDA) in November 2017 and by the European Commission (EC) in May 2018.
Viiv's main rival in the triple-therapy corner is Gilead Sciences, which has set benchmarks with fixed-dose combinations such as Atripla (efavirenz, emtricitabine and tenofovir disoproxil fumarate (TDF)) and, latterly, Biktarvy (bictegravir, emtricitabine/tenofovir alafenamide (TAF)).
Therapy Watch HIV data illustrate how TAF-based regimens, with their promise of a better side-effect profile, are displacing the older TDF-based therapies in the EU5 markets. Specifically, the market share of TAF regimens climbed from virtually nothing in the first quarter of 2016 to more than 30% in Q3 2018. Over the same period, the market share of TDF declined from over 70% to less than 40%.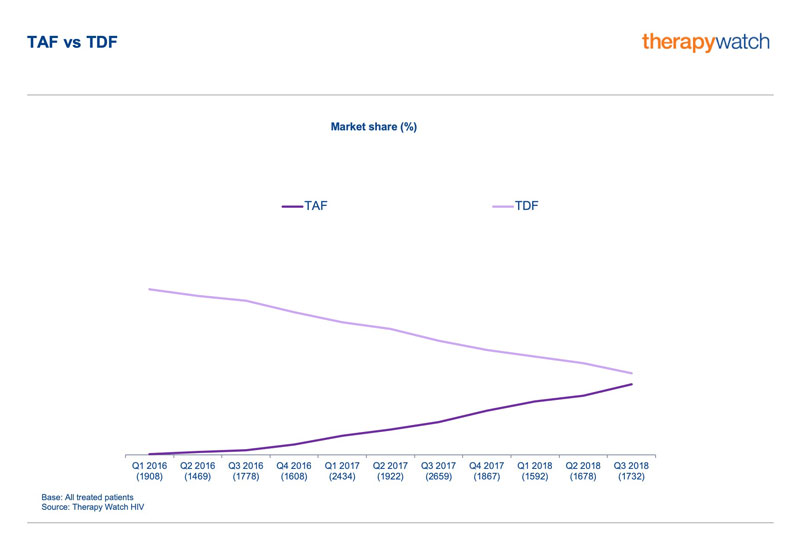 Gilead has already carved out a dominant position in the HIV market worldwide with its triple-therapy strategy. In defence of this position, the company argues against meddling with a successful treatment formula, particularly if it runs the risk of lowering defences to drug-resistant HIV.
ViiV Healthcare is the ambitious challenger, looking to outstrip Gilead by the mid-2020s in a $26 billion HIV segment in which ViiV's current 22% market share trails a long way behind Gilead's 52%.
Consolidating HIV market leadership
Gilead is counting on Biktarvy, its latest triple-therapy STR, to extend its lead in the HIV market by bringing together "the potency of an integrase inhibitor [bictegravir] with the most-prescribed dual-NRTI" (nucleoside reverse transcriptase inhibitor – Descovy or emtricitabine + tenofovir alafenamide) in a once-daily single tablet regimen.
This combination, which the FDA approved in February 2018 and the EC in June 2018, holds the promise of strong efficacy, an acceptable tolerability profile, no indications of treatment-emergence resistance, and other benefits such as no food-intake requirements or baseline viral load/CD4-count restrictions.
Gilead has positioned Biktarvy as a suitable option for treatment-naïve HIV patients or those switching from other treatment regimens.
EU HIV market dynamics
The HIV market is not all about Gilead versus ViiV Healthcare. And catering to all segments of the HIV-positive population means more than a choice between double- and triple-therapy STRs.
For example, Janssen secured FDA approval in July for Symtuza, a single-tablet regimen incorporating darunavir, cobicistat, emtricitabine and tenofovir alafenamide. The EC cleared this combination for marketing in September 2017.
In Europe, there are strong indications that new contenders such as Juluca and Biktarvy are cutting into Symtuza uptake. For example, Symtuza's HIV-market share in Germany was 22% in the second quarter of 2018, dropping right down to 8% in Q3.
In August Merck announced US approval for both its triple-therapy STR Delstrigo (doravirine/lamivudine/tenofovir disoproxil fumarate) and for the non-nucleoside reverse transcriptase inhibitor Pifeltro (doravirine). The European Medicines Agency's Committee for Medicinal Products for Human Use (CHMP) recommended EU approval for these two products the following month.
Optimal STR format
Nonetheless, the Gilead-ViiV battle does crystallise the particular arguments around dual versus triple as the optimal STR format for long-term disease management in an aging HIV population.
This is a narrative we see played out in EU markets such as Germany, where data from the Therapy Watch HIV panel give some sense of how physicians view the latest STR options and what drives prescribing behaviour in this segment.
The launch of Biktarvy in Germany last July was one of the more significant developments in the country's HIV-therapy market. Biktarvy's main competitor in that market is Juluca, which ViiV Healthcare launched in June 2018.
The early signs are that physicians in Germany are significantly more inclined to prescribe Biktarvy for treatment-naïve patients than Juluca, although as a joint venture, it may be that the ViiV Healthcare STR has been less aggressively marketed.
The combination of an integrase inhibitor with a well-established dual NRTI in Biktarvy will lend reassurance to physicians that it carries minimal risks as a first-line therapy. Juluca has no such combination, so physicians may be warier of departing from the standard therapeutic strategy.
The Therapy Watch HIV data on prescribing trends in Germany suggest that, for the time being at least, physicians are more convinced by Gilead's brand equity than the potential for better tolerance of Juluca dual therapy, especially in older patients with co-morbidities.
They may also be concerned that if patients fail on dual therapy and have to be switched to Biktarvy or another option, that could make them more susceptible to drug-resistant HIV, with fewer options for treatment in the future. Currently, the indications are that Juluca is more prescribed among switched than treatment-naïve patients.
Whether this pattern will change in Germany – or any other EU member state – when ViiV Healthcare's latest dual-therapy STR enters the market, trailing the prospect of strong efficacy, broad applicability and a favourable side-effect/resistance profile at lower cost, remains to be seen.
One certainty is that the debate over the respective benefits of dual- and triple-therapy STRs for HIV patients and healthcare systems is far from over.
About the author

Raquel Núñez is an Associate Director for Therapy Watch, Research Partnership's real-time syndicated market tracking service. She has a degree in Economics and a second degree in Market Research. She also has a Masters in Marketing. Raquel has been working in market research since 2004, conducting qualitative and quantitative ad-hoc surveys. Since she moved to the UK in 2012, she has specialised in syndicated tracking. Raquel has experience across a range of therapy areas but she is currently focused on virology projects (HIV, HBV and HCV), supporting clients with products or brands in these markets at various life stages.