Birmingham: The UK's new epicentre of health innovation
R&D
The UK's new epicentre of health innovation
Birmingham has a rich history as a manufacturing and innovation powerhouse in the UK. Known as the 'workshop of the world', it has long attracted industry experts from around the globe looking to tap into an ecosystem famed for combining industry and community.
So, it should come as no surprise that plans to develop a healthcare technologies campus in the heart of Birmingham's cluster of health excellence included an ambitious proposal to create opportunities for collaborations between businesses, the University, and NHS partners.
Developed through a partnership between Bruntwood SciTech and the University of Birmingham, and closely aligned with the strategic alliance of Birmingham Health Partners, the Birmingham Health Innovation Campus (BHIC) sits at the heart of the city's integrated clinical and academic ecosystem.
Given the University's prior and ongoing work driving life sciences research and innovation in the West Midlands, it seemed a natural continuation to establish its own research facility in the campus' proprietary building.
The top three floors of No.1 BHIC – the park's flagship building – will be occupied by the Precision Health Technologies Accelerator (PHTA), a bold project offering early incubation, grow-on space, and innovation services, and a place to foster collaboration between academics, entrepreneurs, and clinicians working in life sciences.
"We're trying to create an ecosystem," explains PHTA CEO, Gino Martini. "Within a five-minute walk of the Health Innovation Campus, you'd be accessing the Queen Elizabeth Hospital, the Women's Hospital, one of the largest medical schools in the country, and a prestigious Russell Group University – all on the same site. We think that's quite unique."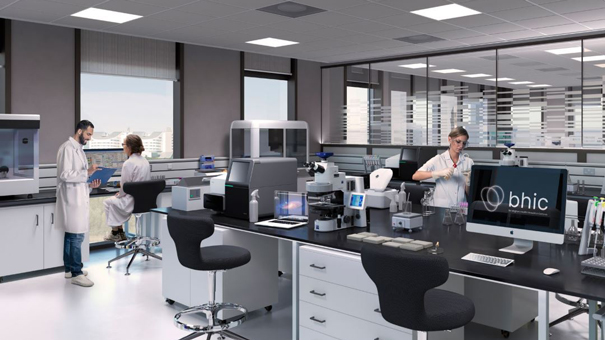 Inside the PHTA
Soon to occupy the top three floors of BHIC's flagship building – the first of six buildings that will make up the planned campus – the PHTA has been closely developed with expertise from Bruntwood SciTech to ensure that all 6,000m2 of lab, office, and incubation space is specifically designed to accelerate the development of next-generation therapies and medical technologies.
To achieve this goal, the three-storey space will be home to both wet and dry laboratories. As Martini explains, the widely reported UK lab space shortages of recent months create substantial barriers to innovation in healthcare, jeopardising growth in the life sciences sector. And with an increasing number of small-scale operations in need of a research base, by providing large state-of-the-art facilities, the PHTA could help to answer this unmet need and attract and support talented innovators to establish operations in the UK. 
"This will be a hub for immunology, diagnostics, and biomarker development, as well as doing clinical trial support," says Martini. "It's a really great opportunity. If industry wants to work with us, they've got access to a lot of expertise. The kind of things you'll need to fight the next pandemic will be found here. Or, if you need somebody to help you develop a new medicine that can be registered across Europe will be here too."
For Martini, an important feature of the new facility is its training centre. In fact, one of his first acts as CEO was to double the proposed capacity for upskilling. When the building opens later this year, it will be able to accommodate 140 people in the training centre, as well as an area for prototype development, where companies can test and refine concepts before trialling with patients. For Martini, the inclusion of this 'maker space' was particularly valuable, giving smaller innovators access to the space and tools needed to produce product prototypes – for example a 3D print of a stent.
 
 
Innovation in arm's reach of excellence 
While the ten-acre campus itself provides a wealth of access and opportunities for SMEs and start-ups to grow and develop, so too does the surrounding region. The Midlands is home to some of the UK's leading universities, extensive research and innovation infrastructure, plus a rich and diverse population – a factor that can be highly beneficial for burgeoning healthcare research.
"What I didn't realise, and I worked in the industry for a long time, was that effectively the West Midlands has over six million people," explains Martini. " So, there's an ethnically-diverse population of potential patients, which makes it a very powerful resource for us to collaborate with and utilise to make sure that patients get the right medicines."
This is where he believes that creating and fostering a community at the epicentre of a life sciences ecosystem can be highly beneficial. Innovation rarely happens within silos, he explains. It is a sharing of ideas and experiences that spark new ideas. While digital meetings have their place, there is no substitute for the inspiration that comes with working alongside like-minded individuals with the expertise and experience to guide developments.
To illustrate his point, Martini highlights Biotherapy Services, a company specialising in point-of-care manufacturing of personalised wound healing therapies, which has elected to establish its Birmingham base within the PHTA.
"They're developing a technology, which they call Bedside Manufacturing, where they're using the patient's own white blood cells, and they're forming, effectively, a concentrated gel of clotting agents. That gel is then put back into the wound. For some people, the results are life changing."
Supporting a burgeoning life sciences sector 
Within the ecosystem of healthcare expertise and infrastructure present across the heart of Birmingham, the PHTA and BHIC are on track to join the 'golden triangle' of Cambridge, London, and Oxford as a hub for life sciences excellence.
Realising the potential of the PHTA as a worthy addition to the UK's existing roster of Life Sciences Opportunity Zones will be a challenging task but, for Martini, it is not only an achievable goal, but an exciting prospect that he is honoured to be at the heart of.
"I think the ambition has been bold," concludes Martini. "We are going to provide a solution here to help us innovate and start up new companies that will grow, create jobs, and generate revenue. I want to create innovative companies. I want to create breakthrough medicines. But I also want to help people get jobs to work in those fantastic environments. That's what we want to do."
While there is still work to be done before the first stage of development opens in 2023, what is already clear is that by spotlighting the unique reputation and health ecosystem found in Birmingham and the West Midlands, BHIC and PHTA can serve to broaden the appeal of the UK as a prime destination for innovation and help to shape the future of healthcare around the world.
About the interviewee


Gino Martini joined PHTA Ltd from the Royal Pharmaceutical Society (RPS), where he held the role of chief scientist for more than three years. With extensive experience in oncology, rare and infectious diseases, and drug development, Martini also brings expertise in policy development and external advocacy to his appointment in Birmingham. An experienced academic, he has also held senior development and advisory positions within industry, including GSK, Roche, and SmithKline Beecham.
About PHTA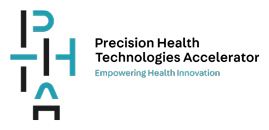 The Precision Health Technologies Accelerator (PHTA) is the University of Birmingham's signature health and life sciences research facility, providing approximately 70,000 sq ft of state-of-the-art laboratory, incubation, and collaboration space and was supported with funding from GBSLEP.
PHTA will soon occupy the top three floors of No.1 BHIC – the flagship building of the ambitious Birmingham Health Innovation Campus, which is being delivered in partnership with experienced investor-developers Bruntwood SciTech.
Working closely alongside Birmingham Health Partners, PHTA offers access to a wide range of expertise in clinical research, trials, and health data, as well as opportunities to work with key opinion leaders across the academic and clinical spectrum. Its physical facilities will include: wet and dry lab space; prototype development and small-batch manufacturing; business incubation space; and flexible hot-desking.
For more information, visit: www.phta.co.uk
@PHTA_Ltd