Combating antimicrobial resistance with a viable alternative to traditional antibiotics
Views & Analysis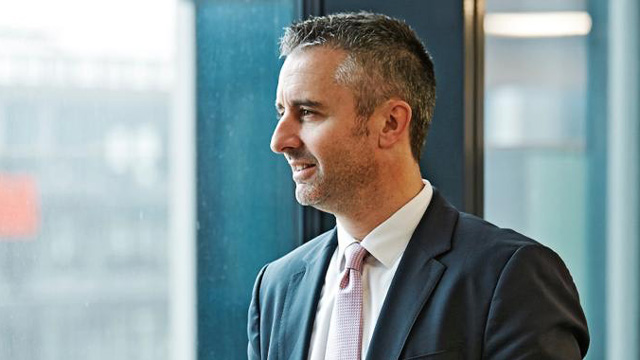 Antimicrobial resistance (AMR) is an issue of global concern, killing roughly 1.2 million1 people per year and projected to rise to 10 million people by 20502. It occurs when bacterial pathogens adapt over time to develop resistance to traditional antibiotics, resulting in "superbugs" that are near impossible to treat. In order to reduce the global healthcare impact of the evolving AMR situation, companies such as Micreos Pharmaceuticals are taking a novel and highly innovative approach to antibacterial drug development by developing targeted antimicrobial products. Matt Regan, the company's CEO, explains how Micreos Pharmaceuticals' technology and its fast evolving Drug Discovery and Drug Development capabilities can help bring novel therapies to market.
The challenge with traditional antibiotics              
The World Health Organization (WHO) calls AMR "one of the top 10 global public health threats facing humanity." In its Strategic Priorities on AMR, the WHO made clear that "unless we act now, common diseases will become untreatable and modern life-saving procedures riskier to perform" as AMR proliferates.
"The problem with bacterial pathogens is that they evolve and develop mechanisms to stay alive over time by generating resistance against traditional antibiotics," Regan explained. "How we respond as a pharmaceutical industry to this global crisis of Antimicrobial resistance is critical in the face of such challenges to what have been mainstay treatments for decades."
A blood infection with methicillin-resistant Staphylococcus aureus, or MRSA, is one of the most dangerous conditions when pathogens develop resistance to the antibiotics used to treat them. S. aureus bloodstream infections affected 120,000 people in the USA alone in 2017, of which 20,000 people died3. People with MRSA bloodstream infections had the highest mortality rates and they represent a population with great unmet medical need. While some treatments exist, they don't work for all patients. If not properly addressed, the global annual death toll from AMR could rise to 10 million by 2050 – surpassing the number of people who die from cancer today.
Not to mention that traditional antibiotics are designed to attack a broad spectrum of bacteria within the host's body. These include the harmful bacterial pathogens that cause an infection, but also the beneficial bacteria which are part of the human microbiome and are essential for good health. As a result, traditional antibiotics often come with a list of side effects in addition to the risk of resistance.
Part of the problem is that, to-date, life science companies are not sufficiently investing in antimicrobial innovation – hence the lack of "novel activity" in the antibiotics pipeline. As the threat of AMR grows ever most serious and widespread, it is critical to develop a toolkit of alternatives to antibiotics that can safely and effectively target harmful pathogens in novel ways while protecting the rest of the microbiome.
"Success means developing medicines that will have a profound and transformational impact on improving standards of care for people living with devastating illnesses,"
Micreos Pharmaceuticals intends to lead the industry in this space by leveraging its innovative technology and portfolio of alternative antimicrobial therapies to transform the treatment landscape.
"The Micreos technology – if validated in randomised controlled trials – has the potential to reduce or even eliminate the need for antibiotics in select medical indications," said Regan. "This would mean that longer term use in chronic conditions that require ongoing care would not be a concern, as 'resistance' to the technology – which is the biggest challenge posed by traditional antibiotics – has not been observed."
A new approach to antibiotic treatment
Micreos Pharmaceuticals is a new company launched as a spinoff from Micreos BV, an established leader in targeted antibacterial products. Micreos' endolysin technology offers an innovative approach to care by targeting and killing only specific pathogens while preserving "good" bacteria without the risk of causing resistance. The products are derived from naturally occurring peptidoglycan hydrolases (enzymes that cut open the cell wall of bacteria), which can selectively kill bacteria at high speed. Micreos Pharmaceuticals carries forward the Micreos heritage and foundational innovative technologies with a sharpened focus on pharmaceutical-grade manufacturing and randomised controlled clinical trials to prove impact in humans to help tackle the AMR crisis.
"Success means developing medicines that will have a profound and transformational impact on improving standards of care for people living with devastating illnesses," explained Regan.
The legacy company Micreos has experienced nearly two decades of success in 'over-the-counter' and food safety sectors. According to Regan, "the key objective in establishing a dedicated pharmaceutical organisation is to build world class expertise while focusing on the great unmet medical needs facing society. We will use the tremendous experience of our senior team to build what really matters to be successful in innovative pharmaceutical drug discovery and drug development in an agile and highly collaborative way, with external partners."
Though a young company, the first of Micreos Pharmaceuticals' many endolysin products, XZ.700, has already proven4 effective in the targeted killing of the harmful S. aureus pathogen without killing the good bacteria that make up the microbiome and without triggering resistance.
"We have confidence that our technology can selectively kill harmful bacteria while protecting the rest of the microbiome - and we also have confidence that this therapeutic dynamic will have a positive health benefit for certain patient profiles with both acute and chronic illnesses," said Regan. "Now we want to take our development efforts to the next level."
Changing the therapeutic landscape for patients with long-term antibiotic needs
One of the key differentiators for new age antimicrobials like those Micreos Pharmaceuticals is developing is their ability to treat infections without triggering resistance. Technology like Micreos' endolysin shows no evidence of resistance in trials, and Regan explains it "can be a game changer for patients who require long-term care to manage their condition."
Take, for example, Cutaneous T-cell lymphoma, a type of non-Hodgkin's lymphoma located in the skin. Clinicians historically treated patients aggressively with antibiotics for six weeks and saw their skin symptoms improve significantly5, including their cancer load. However, chronic treatment with antibiotics is not desired nor should be encouraged due to the risk of developing resistance, while patients with T-cell lymphoma could live with the condition for many years if treated appropriately. Endolysin therapy offers the potential for a new, safer, treatment mode-of-action for extended periods of time, something that is not possible with traditional antibiotics.
"We have a responsibility to society to offer better solutions, and that is why we are working diligently with our internal team and outstanding external collaborators to be a-part of the solution,"
Another condition that can possibly be alleviated with endolysins is atopic dermatitis, a chronic inflammatory skin condition that causes dry and itchy skin in up to 25% of children and up to 10% of adults worldwide. S. aureus has been shown to aggravate flares6 – but antibiotics are not used due to the fear of resistance as atopic dermatitis is a chronic condition that patients suffer from for many years. Endolysin therapy can intervene to safely kill S. aureus and thereby reduce the severity of flares.
Diabetic foot ulcers could also, if proven effective, be treated with endolysins. These ulcers re-occur over time, therefore long-term treatment with antibiotics isn't appropriate to help patients.  As with atopic dermatitis, endolysin therapy can fill standard-of-care gaps to effectively protect those suffering with diabetic foot ulcers while protecting the patient from developing AMR.
As Micreos Pharmaceuticals works to bring treatments to market in these therapeutic areas with a great unmet medical need, Regan expressed optimism for what the future holds for patients and their care teams.
"It gives hope to patients, physicians and policy makers that there are companies like Micreos Pharmaceuticals who are targeting other modes of action to successfully treat these conditions. We have a responsibility to society to offer better solutions, and that is why we are working diligently with our internal team and outstanding external collaborators to be a-part of the solution," said Regan.
Advancing toward an improved standard of care in a post COVID world
In the wake of COVID-19, public health leaders and politicians are proactively planning to manage future, global health crises. The evidence to-date of the rising threat of AMR highlights the concerns of the future. But as Regan explained: "companies like Micreos Pharmaceuticals can be part of the solution and all our energy is going into developing safer, resistance-free alternatives to traditional antibiotics in select medical indications".
Strengthened by new resources and the expansion of its leadership team, Regan is very optimistic about the impact Micreos Pharmaceuticals can have on patients' lives and the ways they receive care.
"My team and I are motivated by the need to make a profound difference in the way patients are treated who live with chronic, lifelong conditions where antibiotics are inadequate," said Regan. "That is our mission - to help patients as well as their caregivers and physicians while leaving a profound legacy to society."
About the interviewee

Healthcare executive with 29-years of Biopharmaceutical experience working with Global leaders such as Abbott, Novo Nordisk and AbbVie. Matt has lived and worked in 7-different countries and has held senior roles across the entire value chain from Engineering & Manufacturing operations to Distribution & Supply chain Management to Human Resource Management to Commercial operations at the country and regional level. In his most previous role, he led the turn-around of the Novo Nordisk business in Europe to deliver double digit growth after 15 years of no growth and market shares losses. Matt has been CEO of Micreos Pharma since Oct-2021.
About Micreos Pharmaceuticals
Micreos Pharmaceuticals develops new biological therapies based on the targeted killing of unwanted bacteria, which has medical potential in a broad range of applications. The company is viewed as a global leader in this field. Its proprietary endolysin technology has been created together with the Swiss Federal Institute of Technology, ETH in Zurich.
Micreos Pharmaceuticals is located in Zug, Switzerland and has a drug discovery / technology research centre in Zurich, Switzerland with a drug development and clinical operation in Bilthoven in the Netherlands.
References
1. 1.27 million people in 2019: Global burden of bacterial antimicrobial resistance in 2019: a systematic analysis C. J. L. Murray, K. S. Ikuta, F. Sharara, L. Swetschinski, G. Robles Aguilar, A. Gray, et al. The Lancet 2022 Vol. 399 Issue 10325 Pages 629-655
2. Tackling drug resistant infections globally: final report and recommendations. J. O' Neil, 2016
3. Deadly Staph Infections Still Threaten the US. Centers for Disease Control and Prevention 2019
4. Linker-Improved Chimeric Endolysin Selectively Kills Staphylococcus aureus In Vitro, on Reconstituted Human Epidermis, and in a Murine Model of Skin Infection. F. Eichenseher, B. L. Herpers, P. Badoux, J. M. Leyva-Castillo, R. S. Geha, M. v. d. Zwart, et al. Antimicrobial Agents and Chemotherapy 2022
5. Antibiotics inhibit tumor and disease activity in cutaneous T-cell lymphoma
L. M. Lindahl, A. Willerslev-Olsen, L. M. R. Gjerdrum, P. R. Nielsen, E. Blumel, A. H. Rittig, et al. Blood 2019 Vol. 134 Issue 13 Pages 1072-1083
6. Host-Microbe Interaction on the Skin and Its Role in the Pathogenesis and Treatment of Atopic Dermatitis. D. Nowicka, K. Chilicka and I. Dzieńdziora-Urbińska. Pathogens 2022 Vol. 11 Issue 1