From healthcare to human care: Shaping a healthier society
Patients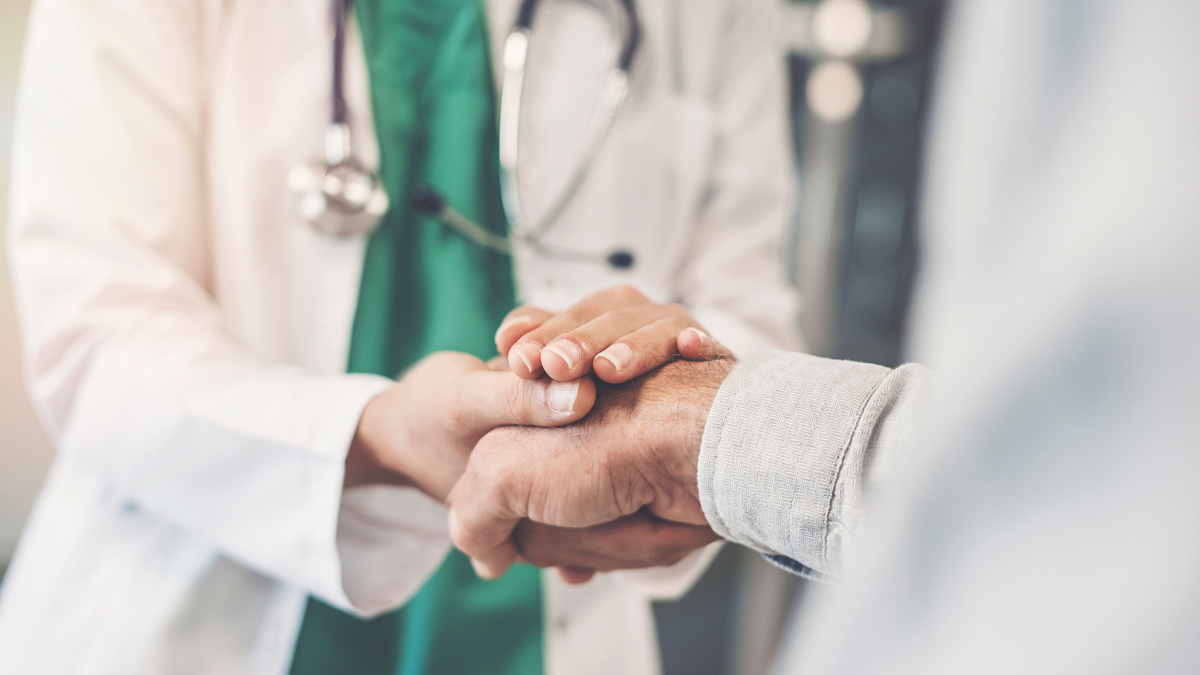 Janssen's Roz Bekker, VP Commercial Strategy for Infectious Diseases & Vaccines at Janssen EMEA, looks at how COVID-19 has reinforced the value of connecting with people, and how healthcare systems need ongoing reform to deliver more holistic, human-centric care.
The connecting effect of COVID-19
No matter where you are in the world, COVID-19 has had an impact. It's affected everything, from the adoption of extra everyday norms like wearing masks and frequent hand-washing, to – at the other end of the spectrum – the devastation of job loss, families separated and, worst of all, loss of life.
Everyone has their own story. Everyone's experience has been different. But despite those differences, COVID-19 is an enemy that has also brought us together.
WhatsApp groups formed to make sure those who had to isolate or who were vulnerable were taken care of. Music was played on balconies across Italy. Family and friends connected over Zoom for a weekly quiz (and suitable refreshments). At the heart of it all was the search for new ways to satisfy our most basic need for human connection.
And all this changed us. It made us stop and think about others and ask ourselves, "What can I do to help?" and "How can we get through this as a community?"
When we ventured back into shops and pubs and saw friends for the first time, it's what we'd talk about. "How did you find lockdown?" and "Are your family all safe and well?" It made us feel like there wasn't a soul out there we couldn't relate to – we all had this same thing in common.
Yet for other infectious diseases, this sense of shared experience and communal support doesn't exist. For many, even well-known and potentially life-threatening diseases like HIV, hepatitis and tuberculosis are viewed from afar.
But imagine if the type of universal understanding we've shared during this pandemic occurred in other disease areas, even the ones that don't directly impact us.
Having COVID-19 as a common enemy meant we could identify with each other as human beings. It encouraged us to be more compassionate, more empathetic, and more open to helping those around us.
If we can somehow retain this united and connected spirit, and approach any disease that threatens individual and public health as a common enemy – and one we'll fight together as a society – we'll have made a huge leap.
The impact on health systems
Over the past 18 months, healthcare systems rightly prioritised fighting COVID-19. But this has had an unfortunate knock-on impact, pushing back the treatment pathways for many other diseases.
Appointments have been missed and cancelled; diagnoses and treatment have been delayed. And the impact of this 'silent pandemic' – the financial and emotional and mental health repercussions – is something we're likely to feel for years.
Despite the perseverance and dedication of our doctors, nurses, front-line workers and many others, COVID-19 exposed the limitations of our healthcare systems.
These systems are broadly equipped to manage disease areas in silos. They are not set up to manage or integrate individuals' 360-degree health needs in the best of times, and especially not during a global public health crisis, where resources are stretched and diverted.
The move from healthcare to human care
We cannot remain in a crisis or emergency mindset forever, of course.
And so as we move forward, we have an opportunity. Can we adapt our health systems? Can we shift towards a more rounded model of healthcare? Can we remove the silos and disease area divisions, and forge a holistic, whole-self approach?
To succeed, we'll need a broader vision of health systems, and we'll need societies that value the holistic wellness, the overall mental and physical health, of everybody. It's a big ask. So, where do we start?
First, we should continue to invest in improved preparedness – this will be essential in tackling a future pandemic and other unforeseen health threats.
Global systems need to help stimulate, support and sustain industry efforts to address these emerging threats as early as possible. We know antimicrobial resistance is a growing area of concern, for example, and we should act now to combat this.
Second, we should continue to work together to fast-track vaccine development for known pathogens before they pose an epidemic threat. Because there will be another public health challenge, and it might be another pandemic.
And one of the most effective preventative measures would be to raise our overall levels of health.
We've seen how the development, review and approval of vaccine candidates can be expedited. Dedicated taskforces were set up to scrutinise data as soon as it became available, implementing a rolling review structure and building the infrastructure for increased manufacturing facilities.
We need to capture these efficiencies and best practices, and define swift, safe and effective processes that are sustainable even outside of an emergency setting.
Third, we need a comprehensive strategy to address the holistic physical, mental, and social health needs of our societies.
There would need to be an initial focus on the direct and indirect effects of COVID-19. But it should be a strategy that's adaptable and disease agnostic.
We can't revert to an approach that applies too narrow a focus on one disease area while neglecting others, only to then swing that focus to one of the neglected areas, and so perpetuate the problem.
The vision of healthy societies
I believe we find ourselves at a crossroads. Two years ago, this conversation might have gained less traction. But our COVID-19 experiences have shown how important it is to achieve both individual AND societal wellness.
We need to pursue a vision for healthy societies where people receive compassionate care from their communities and their health systems.
Societies which value the holistic wellness, the overall parity of mental and physical health, of everyone, and in which everyone is an active participant in keeping themselves and others as healthy as possible.
Societies in which people are more connected, more considerate, and more open to giving and receiving help.
We need to bring that vision into reality – to put better health within reach of everyone, everywhere – and I look forward to playing my part in making it happen.
About the author

Roz Bekker is Vice President Commercial Strategy Infectious Diseases & Vaccines for Europe, Middle East and Africa (EMEA) at Janssen, the Pharmaceutical Companies of Johnson & Johnson.
In this role, within cross-functional and highly matrixed teams, Roz shapes, leads, and executes the EMEA commercial strategy for the therapy area including the Respiratory Infection, Viral Vaccines, Bacterial Vaccines and Hepatitis Disease Area Strongholds. This encompasses end-to-end strategy and portfolio prioritization and ensures EMEA launch readiness and business needs are optimized within the overall global plans.
Roz joined Janssen in 2005, holding various positions across medical and commercial. Prior to joining Janssen, Roz worked in hospital as a medical doctor in South Africa in general medicine and surgery.